Greetings from Dr. Jahnavi K. Srinivasan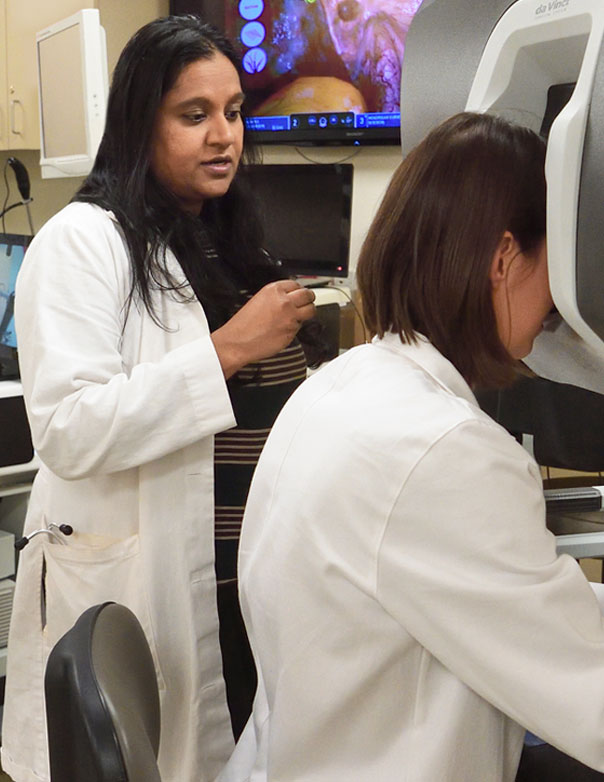 Emory's surgical education program values a strong balance between mentored learning and supervised independence. We recognize that residents are trained physicians whose primary responsibility is to mature into skilled surgeons through clinical experience and directed learning. Our goal is to produce surgeons with the confidence required to transition to autonomous practice safely upon graduation.
Given our geographic location and accompanying status as the only major academic medical center in the region, Emory and its affiliates have the distinct privilege of being a referral center for some of the most complex patients in the country. Residents also benefit from exposure to the diversity of Atlanta's population by rotating through six different clinical sites, all within minutes of one another.
While not mandatory, an advanced degree and/or traditional benchtop research is accessible to any interested resident. In recent years, residents have pursued advanced degrees in public health, combined MPH/MBAs, and masters in clinical research. The collaborative research efforts of our residents working with their mentors as well as PhDs and post docs have contributed to Emory Surgery placing in the top 20 of all departments of surgery nationwide in annual NIH funding since FY2008.
As a result of these broad opportunities and experiences in both the clinical and research realm, Emory residents graduate with an outstanding reputation from one of the most well-respected training programs in the country. Our residents continue to obtain the most prestigious surgical fellowships available, in recent years going to the University of California at San Francisco, MD Anderson, Memorial Sloan-Kettering Cancer Center, Brigham and Women's Hospital, Massachusetts General Hospital, Moffitt Cancer Center, Vanderbilt University, University of Wisconsin, University of Florida, and New York Hospital, amongst others. Of course, many choose to stay at Emory for several of the esteemed fellowships available here, while others choose traditional, private practice opportunities.
We believe that Emory is the finest training program in the country with the most comprehensive clinical exposure of any surgical department in the nation. We recognize that each trainee is an individual, and believe that the variety and breadth of clinical, research, and other educational programs available at Emory allows residents to tailor their education in order to optimize their Emory experience as the foundation of their future careers.
Sincerely,
Jahnavi K. Srinivasan, MD
Program Director, General Surgery Residency Program, Department of Surgery, Emory University School of Medicine