The Division of Neuroradiology is a vital constituent of numerous interdisciplinary clinical management and educational conferences with colleagues in neurology, neuro-ophthalmology, neuro-oncology, neurosurgery, and otolaryngology.
Divisional reading rooms are embedded in clinics for neurology, neurosurgery, and Otolaryngology, as well as within inpatient hospital sites. State-of-the-art imaging equipment is present at all sites to support our clinical service. Multiple collaborative efforts for research are in place with various clinical services as well as with basic researchers. 
The division routinely utilizes advanced neuroimaging techniques including functional MRI, MR perfusion, MR spectroscopy, diffusion tensor imaging, time-resolved MR angiography, CT angiography, and CT perfusion. Head and Neck Imaging includes a busy image-guided head and neck biopsy service. Specialized faculty support Pediatric Neuroradiology based at Children's Healthcare of Atlanta at Egleston. The division also offers its extensive experience with imaging of stroke and head trauma for patients at Grady Memorial Hospital.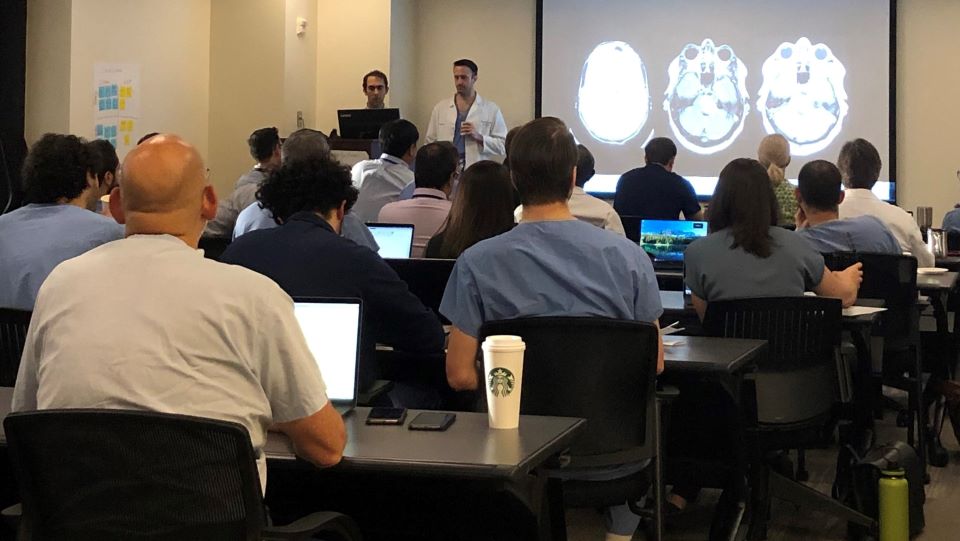 Our Neuroradiology Fellowship Program trains nine ACGME-accredited diagnostic neuroradiology fellows per year. A series of well-designed rotations at the multiple clinical hospital sites and embedded clinics provides tremendous experience in all aspects of diagnostic neuroradiology including advanced MRI applications, head and neck imaging, pediatric neuroradiology, neuroangiography, and image-guided procedures. 
To view our divisional CV, click here.
Structural brain changes correlated with PTSD and mild traumatic brain injury are demonstrated in non-military patients.
SIH patients with cranial nerve findings on MRI were more likely to have associated neurologic symptoms than those without imaging findings. Cranial nerve abnormalities on brain MRI should be reported in suspected SIH patients as they may support the diagnosis and explain patient symptoms.