Medical Imaging Program Best in Class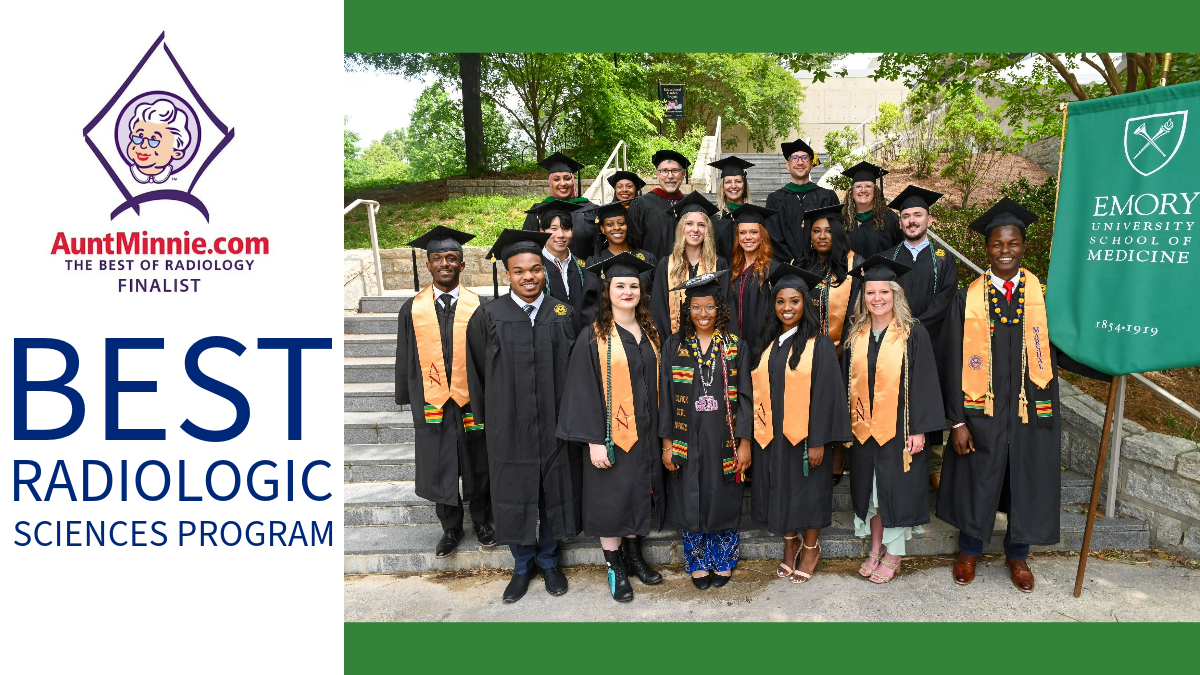 The Medical Imaging Program is
the runner-up
for the Minnies 2023 Best Radiologic Sciences Program. The program previously won in 2018. In its announcement,
AuntMinnie.com
, a national radiology news outlet, hailed the program for offering students "a blend of classroom instruction and direct clinical experience provided by experienced professionals."
Take Your Medical Imaging Career to the Next Level
Program Mission, Goals, and Outcomes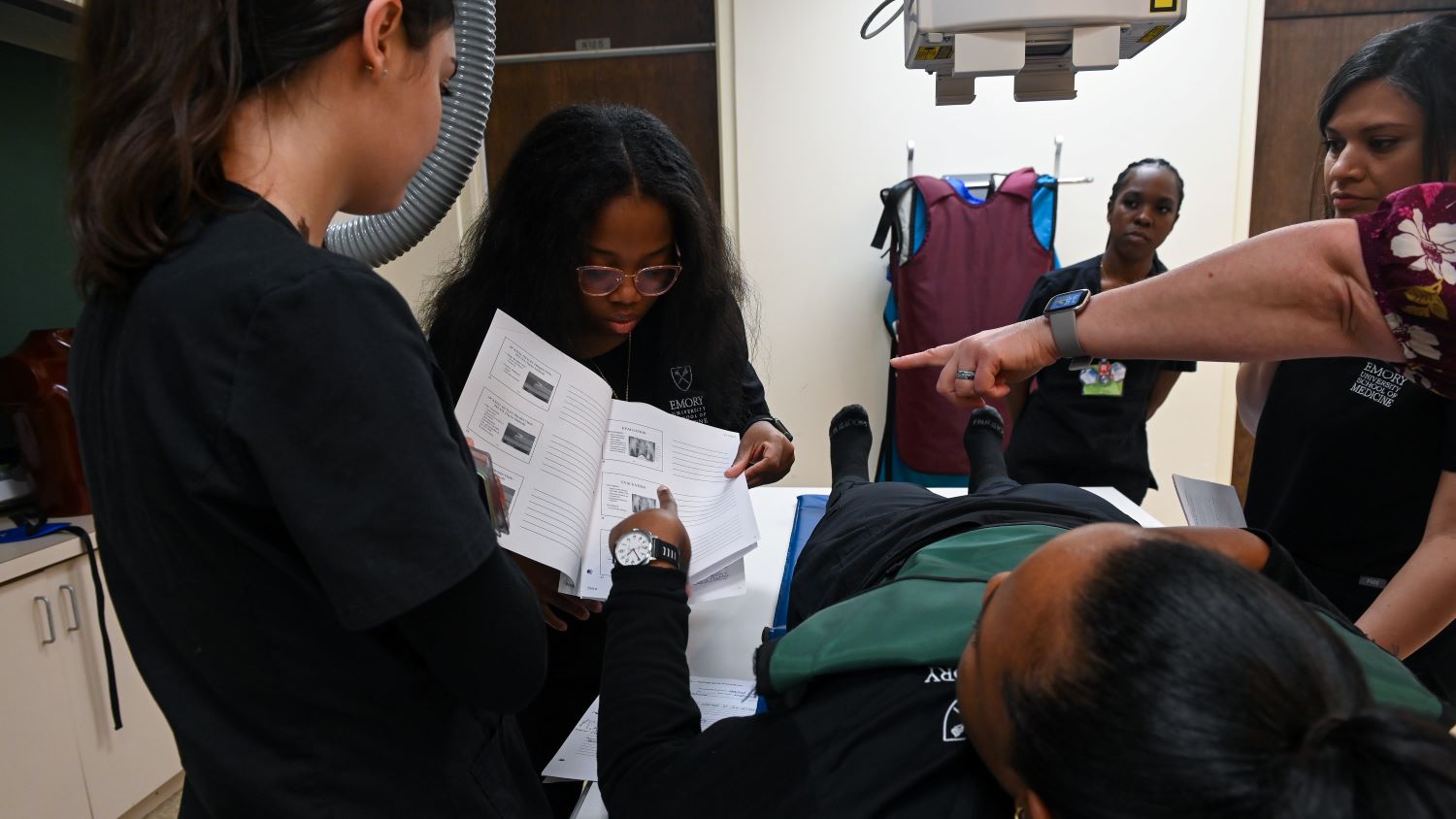 The Emory University Medical Imaging Program seeks to develop leaders in medical imaging who will provide the highest quality compassionate care within a patient- and family-centered environment.
We are committed to recruiting and developing a diverse group of students who will serve the needs of their community as medical imaging professionals.
Specifically, the mission of the program is to produce well-educated, culturally and clinically competent, highly motivated medical imaging professionals who will safely perform quality diagnostic imaging procedures. Program graduates also will possess either advanced imaging skills in a specialty modality or leadership skills in education or management.
Program Goals and Outcomes:
Students will communicate effectively.

Students will utilize effective oral communication skills.
Students will utilize effective written communication skills.
Students will possess the knowledge and skills of an entry-level radiographer.

Students will be able to position the patient for routine radiographic procedures.
Students will set appropriate exposure factors.
Students will develop problem-solving and critical thinking skills.

Students will be able to evaluate radiographic images.
Students will be able to modify standard procedures to accommodate patient or environmental conditions.
Students will demonstrate professional growth.

Students will locate, interpret, and convey research related to professional practice.
Students will demonstrate leadership skills.
See Program Effectiveness Data here. Please note, the Job Placement Rate includes only those actively seeking employment. The JRCERT has defined not actively seeking employment as 1) graduate fails to communicate with program officials regarding employment status after multiple attempts; 2) graduate is unwilling to seek employment that requires relocation; 3) graduate is unwilling to accept employment, for example, due to salary or hours; 4) graduate is on active military duty; and/or 5) graduate is continuing education.
Additional information on applying for admission to these programs may be obtained by writing, phoning, or emailing as follows:
Medical Imaging Program
EUH Education Annex Building
531 Asbury Circle
Room N112
Atlanta, GA 30322
Mailstop: 1600-002-1AA
Phone: (404) 712-5005 
E-mail: (Med.Imaging.Program@emoryhealthcare.org)
Emory University Links
External Professional Links
Regional Accreditation
Emory University is accredited by the Commission on Colleges of the Southern Association of Colleges and Schools to award degrees at the associate, bachelor's, master's, and doctoral levels. This organization can be contacted at the following address:
Commission on Colleges
Southern Association of Colleges and Schools
1866 Southern Lane
Decatur, GA 30033-4907
(404) 679-4501
Programmatic Accreditation
The Medical Imaging Program is also accredited (eight-year award) by the Joint Review Committee on Education in Radiologic Technology. This organization can be contacted at the following address:
JRCERT
20 N. Wacker Drive
Suite 2850
Chicago, IL 60606-3182
Phone: (312) 704-5300
Fax: (312) 704-5304
E-mail: mail@jrcert.org


Emory University School of Medicine created the Office of Multicultural Medical Student Affairs in 1986 to increase minority representation in medicine and biomedical research. In 2019, the office changed its name to the Office of Multicultural Affairs to be more inclusive of all School of Medicine learners. The Office of Multicultural Affairs is an integral part of the School of Medicine's educational mission and its diversity and inclusion strategic vision. 
The office provides programs to support the development and matriculation of diverse learners, including medical students, health professions students, Graduate Medical Education trainees (residents and fellows), and K-12 students interested in health professions. To learn more about the Office of Multicultural Affairs, please visit: https://www.med.emory.edu/education/multicultural-med-student-affairs/index.html.
For further inquiries, please contact
Vanessa Fleites, PhD (she/her)
Assistant Director for Learner Diversity Programs, Academic Health
Office of Multicultural Affairs, Emory University School of Medicine
vfleite@emory.edu
Non-Discrimination Policy
Emory University is an equal opportunity/equal access/affirmative action employer fully committed to achieving a diverse workforce and complies with all applicable federal and Georgia state laws, regulations, and executive orders regarding nondiscrimination and affirmative action in its programs and activities. Emory University does not discriminate on the basis of race, color, religion, ethnic or national origin, gender, genetic information, age, disability, sexual orientation, gender identity, gender expression, and veteran's status. Inquiries should be directed to the Office of Equity and Inclusion, 201 Dowman Drive, Administration Bldg, Atlanta, GA 30322. Telephone 404/727-9867 (V) 404/712-2049 (TDD)