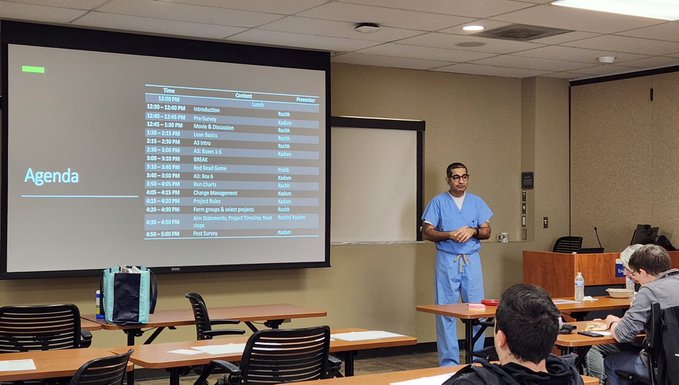 We expect all members of our department to routinely teach more junior learners and there are numerous opportunities to teach as a resident in Emory Radiology. These are just a few of the ways residents have been involved in teaching opportunities:
Teaching in several medical student courses, including the gross anatomy course;
Preparing and giving formal lectures in the classroom setting;
Taking on teaching leadership roles through the Clinical Education Track;
Creating new and innovative educational processes for our Diagnostic Radiology Residency Program curriculum through an Adopt-A-Resident Project Grant;
Teaching residents in other countries as part of our Global Health Initiative, which includes the Global Health Radiology Elective and the Global Health Residency Scholars Program; and
Presenting at national meetings and publishing on educational topics.
Many residents have participated in several of these opportunities and others have combined one or more with Chief Resident positions. We have great mentorship in this area (including some award-winning educators) and do a wonderful job preparing our residents for careers in both academic radiology and private practice, where these skills are valuable for consultations, working conferences, and the like.
Finally, we have outstanding systems to help improve our residents' teaching skills including Emory's "Learning to be Better Teachers" day and structured critique from videotaped teaching sessions.
"As a radiology resident at Emory, I was able to meld my earlier experience as a psychiatrist with my emerging expertise in radiology by teaming up with faculty from the Departments of Radiology and Psychiatry in creating a didactic series on brain imaging for Emory medical students on their psychiatry clerkship. My portion of the project, "Imaging of the Mind," which introduced concepts of functional imaging of dementia and mood disorders, was co-taught by the chair of the Department of Radiology. Two other faculty members of the Division of Neuroradiology, including the Diagnostic Radiology Residency Program director, also participated in this educational experience exploring the nexus between medical imaging and mental health. This unique teaching opportunity is a typical example of a tradition at Emory for interdisciplinary collaboration in all aspects of scholarly activity, particularly resident and medical student education."—Keith Herr, MD
"My experience in diagnostic radiology residency at Emory University was well-rounded and has served me well in private practice. The breadth of pathology and excellent teaching gave me a strong foundation in radiology. Additionally, I was encouraged to develop relationships with residents and medical students outside of our department through lecturing opportunities. As radiologists, we spend a significant amount of time as consultants to our clinical peers. Lecturing to residents in other specialties and medical students helped me not only solidify my understanding of radiology and pathology but also appreciate the implications of our reports on patient care."—Eva Riker, MD