Message from the Program Directors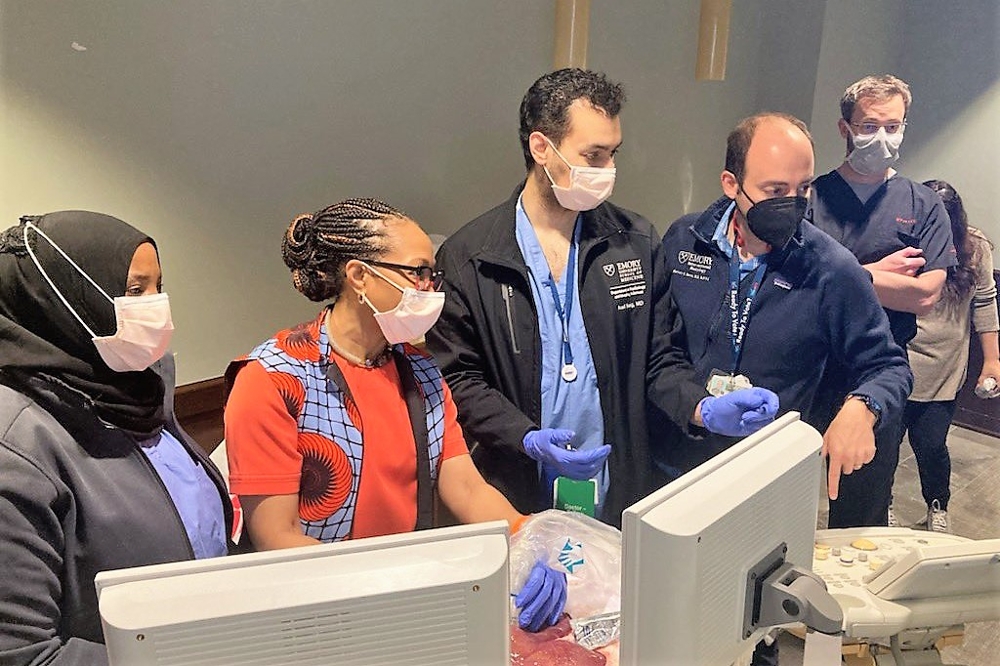 Approved in May 2016, Emory's Interventional Radiology-Integrated (IR-I) Residency began on July 1, 2016 and offers a high-volume, dynamic, and diverse clinical experience with renowned educators. Training includes an incredibly broad range of procedures as well as inpatient and outpatient consultation opportunities, with interventional radiology clinics running every day of the week. 
Residents rotate at several hospitals in the metropolitan Atlanta area, each one providing specific experiences with interventional radiology practice. Emory includes the prestigious Winship Cancer Institute, a National Cancer Institute-Designated Comprehensive Cancer Center, with a large presence on the Emory University Hospital and Emory University Hospital Midtown campuses (including the new 450,000 square foot Winship at Midtown Tower, which will include a state-of-the-art interventional oncology center when it opens in mid-2023).
We pride ourselves on an incredible educational program providing today's trainees with the tools to solve tomorrow's challenges in dynamic high-volume, clinical needs-driven image-guided medicine. We insist on ethical care of the communities we serve and advocating for health-care justice and equality. We encourage our residents to become agents of positive change in technology-driven, patient-focused health care.
We require a clinical internship of the applicant's choosing. Transitional positions are available at Emory through a separate match. We invite you to learn more about our pathways to interventional radiology residency and practice. 
Best regards,
Zachary Bercu, MD, RPVI
Interventional Radiology-Integrated Residency Program Director (interim)
Nima Kokabi, MD, FRCP
Interventional Radiology-Independent Residency Program Director (interim)
Exceptional Clinical Experience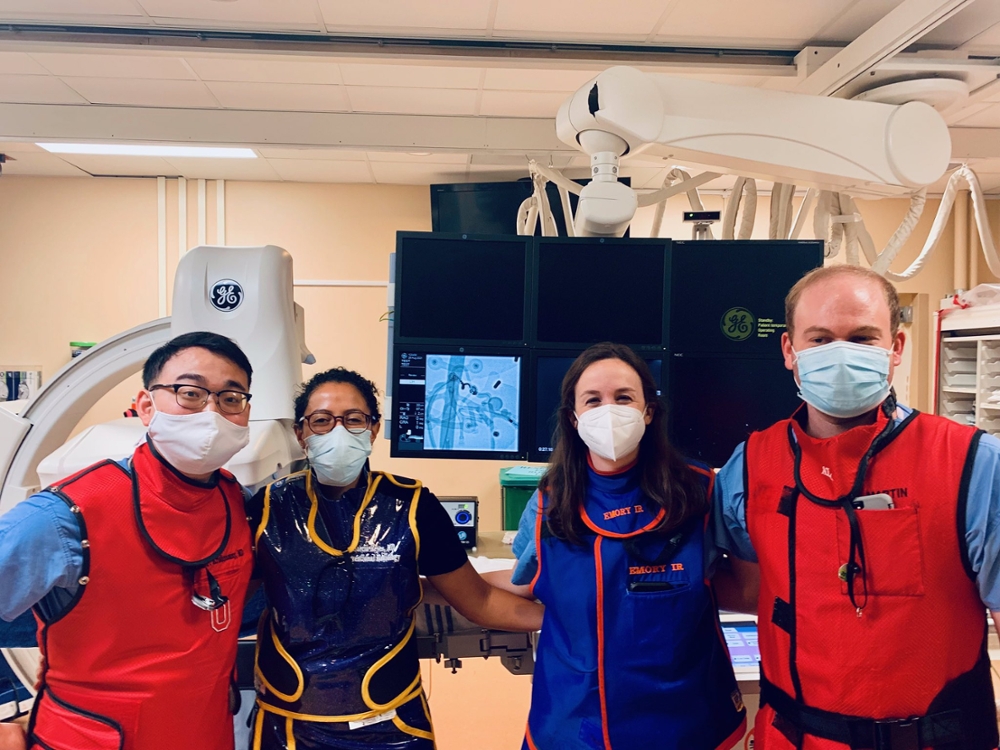 Trainees' experiences include exposure to the following areas of image-guided medicine (in no specific order):
Interventional oncology including selective internal radiotherapy/radioembolization/dosimetry), ablation, chemoembolization, bland embolization
Transplant interventions
Hepatobiliary interventions including percutaneous biliary duct placement, percutaneous cholecystostomy, transjugular intrahepatic portosystemic shunt, and balloon-occlusion retrograde transvenous obliteration
Reproductive health interventions including uterine fibroid embolization, postpartum hemorrhage embolization, pelvic venous disorder, and prostate artery embolization
Trauma interventions
Endocrine interventions including adrenal venous sampling and selective arterial calcium injection
Venous interventions including venous access, central venous stenosis recanalization, complex inferior vena cava filter retrieval
Deep vein thrombosis/pulmonary embolism thrombectomy/thrombolysis
Pain/palliation interventions including genicular nerve ablation, shoulder/hip pain therapies, cryoneurolysis
Cross-sectional procedures (CT/US-guided interventions including percutaneous robotics)
Transradial interventions
Several areas are seeing continually increasing growth at Emory:
Arterial interventions (peripheral arterial disease, acute limb ischemia, and critical limb ischemia)
Dialysis interventions (including percutaneous arteriovenous fistula creation, fistulograph, declot)
Please note this list is not exhaustive and encompasses only what is seen in higher volume at Emory. Several of these areas include topics for which Emory Radiology faculty have unique expertise and have served as pioneers. Many program graduates serve in leadership roles in their practices, bringing a wealth of expertise with them.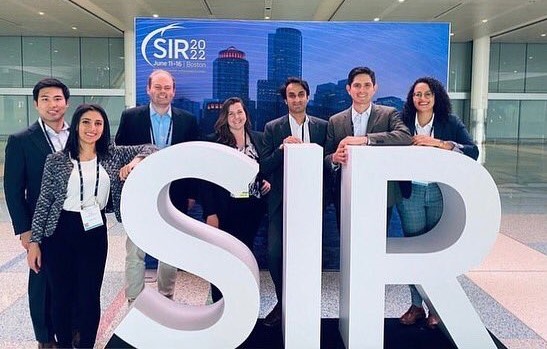 Emory residents have significant opportunities to perform basic and clinical research, as well as engage in unique areas of scholarship such as addressing health inequity in interventional radiology, global/glocal interventional radiology, and innovation/biodesign. We provide a well-rounded experience that encourages participation in professional associations and annual conferences such as RSNA, SIR, and others.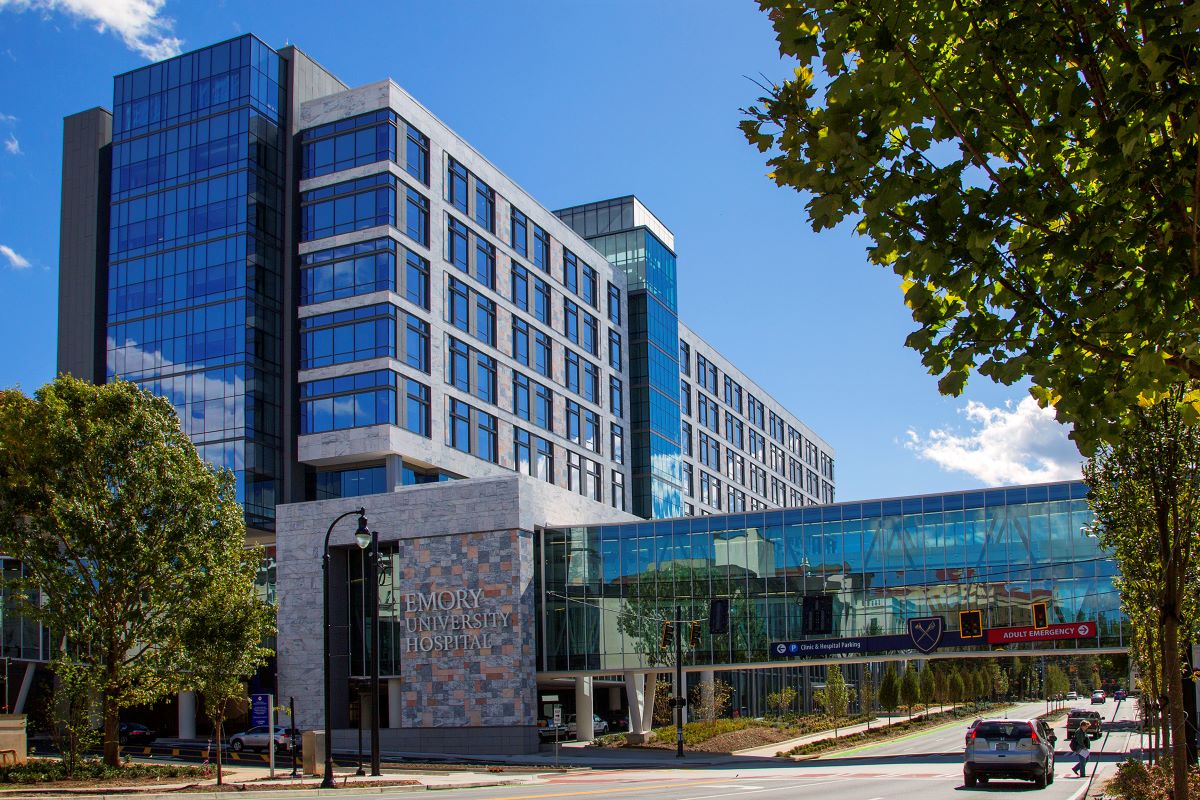 Emory University Hospital, a 733-bed tertiary care hospital on the Emory University Druid Hills campus, consistently ranked one of U.S. News' "America's Best Hospitals" in multiple adult specialties and a leader in transplant care.
Emory University Hospital Midtown, a 583-bed acute care teaching facility in the heart of Atlanta which includes reproductive health (serving as Emory's labor and delivery center) and the new Winship at Midtown Tower. Emory Midtown also is a center for interventional radiology partnership with Georgia Institute of Technology; its proximity to GA Tech's campus provides ample opportunities for collaboration with biomedical engineering and industrial and systems engineering design teams.
Grady Memorial Hospital, a 989-bed level I trauma center with renowned expertise in emergency and trauma services and public hospital serving the needs of patients across Fulton and DeKalb counties (the two counties comprising most of the city of Atlanta).
Children's Healthcare of Atlanta, comprising three different hospitals for patients under 21 years of age. Most of the current trainee experience is at Children's Healthcare of Atlanta Egleston Hospital adjacent to Emory University Hospital. Egleston has top-rated programs in level I pediatric trauma, pediatric intensive care, and pediatric surgery/transplant, as well as a vascular anomalies clinic led by the interventional radiology team. The new state-of-the-art Arthur M. Blank Hospital is nearing completion and will set a new standard for pediatric care.
Atlanta Veterans Affairs Medical Center, a 466-bed level IA tertiary care facility with expertise in delivering image-guided medical services to veterans and advanced experience in oncology and hepatobiliary service lines.
Additional hospitals in the Emory system for which the Emory interventional radiology team provides services includes Emory Saint Joseph's Hospital, Emory Johns Creek Hospital, Emory Decatur Hospital, and Emory Hillandale Hospital. These hospitals deliver high-level and exceptional interventional radiology services to the highly diverse metro Atlanta region. Research and elective experiences may be available at these institutions for residents over the course of training.