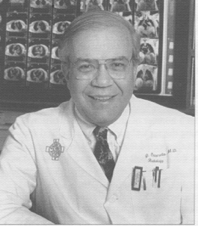 William Casarella, MD, served as chair of the Department of Radiology from 1981 to 2004, and executive associate dean for clinical affairs in the Emory School of Medicine from 1999 to 2013. Highlights of his Emory Radiology career include recruiting outstanding scientists and clinicians who were leaders in the field of radiology; building one of the premier residency training programs in the country; creating a high-tech, advanced outpatient radiology clinic; and developing a filmless radiology system.
Dr. Casarella also served Emory as professor and interim chair of the Department of Rehabilitation Medicine and as executive director for the School of Medicine Continuing Medical Education.
Among his many honors are four Gold Medals: from the Society of Interventional Radiology (SIR) in 2003 and the American Roentgen Ray Society (ARRS) in 2005, the American College of Radiology (ACR) in 2009, and the Radiological Society of America (RSNA) in 2018.
Dr. Casarella served as president of ARRS, the Society of Cardiovascular & Interventional Radiology, and the American Board of Radiology (ABR). In the latter role, he was a driving force to establish sub-specialty certification for radiologists by the Accreditation Council for Graduate Medical Education (ACGME) and American Board of Medical Specialties (ABMS). He published more than 100 research articles and numerous book chapters. A longtime RSNA member, Dr. Casarella presented the RSNA Annual Oration in Diagnostic Radiology in 1987.
Dr. Casarella received his bachelor's degree from Yale University and his medical degree from Harvard Medical School. Upon finishing a rotating internship at the University of Pennsylvania, he became a flight surgeon in the US Army and a Unit Commander in Korea. When he returned to the US, Dr. Casarella completed a year of residency in internal medicine at Boston City Hospital and radiology residency training at Columbia-Presbyterian Medical Center.
Following his radiology residency, he joined the faculty as chief of the cardiovascular section of radiology at Columbia-Presbyterian Medical Center for 11 years. During this time, Dr. Casarella participated in the early development of interventional radiology by contributing to the understanding of gastrointestinal bleeding, hepatic tumors, and angioplasty. The findings on GI bleeding were published in a 1972 issue of the New England Journal of Medicine, and are frequently referenced today.