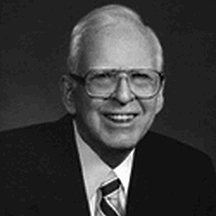 Dr. Ted Leigh joined the Emory University faculty on January 1, 1948. During his 50-year career, he served as director of radiology at Emory Hospital until 1973, when he became director of residency training, a position he held until he retired in 1980. Not one to stay still, he spent the next 19 years as a part-time radiologist, mentor, and teacher at Grady Memorial Hospital. 
Dr. Leigh's many leadership positions included serving as president of the Atlanta Radiology Society, the Eastern Radiology Society, and the Atlanta Clinical Society. He served as chairman of the Radiology Section of both the American Medical Association and the Southern Medical Association. He was vice president of the American College of Radiology and the Radiological Society of North America. In 1975, he was elected president of the American Roentgen Ray Society (ARRS) after serving as secretary  for a number of years. In 1990, he was awarded the Gold Medal from the ARRS for "Distinguished Service to Radiology."
Dr. Leigh was the auther of several chapters in leading medical books. He co-authored the monograph, "The Mediastinum," with Dr. Heinz S. Weens. Drs. Leigh and Weens were partners in developing radiology at Emory. Upon their formal retirements in 1980 and 1981 respectively, the Department of Radiology honored their partnership by establishing the Weens-Leigh Radiology Library and the Weens-Leigh Endowment Fund to support education.
Dr. Leigh completed undergraduate studies at Birmingham-Southern College in 1933 and earned his medical degree from Emory University School of Medicine in 1938. He interned at Flower-Fifth Avenue Hospital in New York City from 1938 to 1940. After a short practice in New York City, he entered the Medical Corps of the United States Army and served with the 27th National Guard Division of New York in Alabama and Hawaii, and later at the 369th Hospital on the island of Saipan in the Mariana Islands. The hospital served the B-29 bomber groups which targeted Japan during the later phase of World War II. He rose from 1st lieutenant to major during his 5-year tenure.
Dr. Leigh credited his radiology career to the Army. While in Hawaii, he had avidly pursued his hobby of photography. When he was assigned to a station hospital equipped with an x-ray unit, his colonel said, "Well, Leigh likes photography, and that's all x-ray is, so make him the x-ray man."
Following the war, he completed his residency in radiology at what is now New York-Presbyterian/ Columbia University Irving Medical Center and graduated in December 1947.