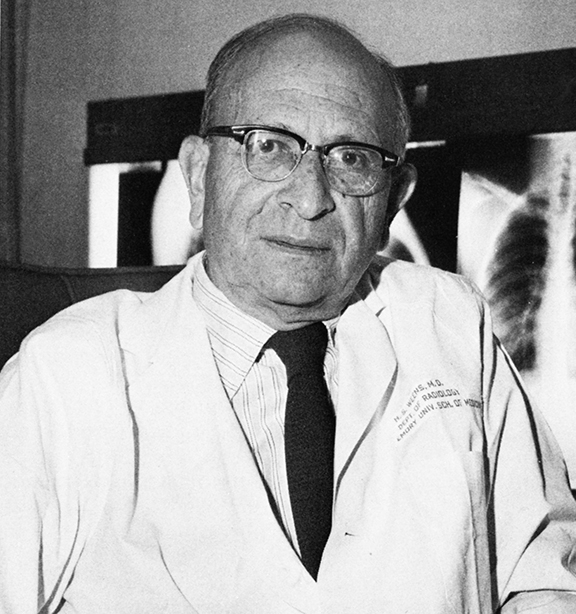 A great teacher, clinician, scholar, and investigator, Dr. Heinz Weens launched Emory's radiology training program in 1946. By 1947, he was a full professor and chairman of the department, a position he held until 1981. In 1960 he became the Charles Howard Candler Professor of Radiology.
Dr. Weens is credited with building the department into a robust enterprise and expanding clinical care and education opportunities to benefit Emory, metro Atlanta, and the Southeast. A persuasive leader, he created a talented team to help build the department to eminence. Dr. Ted Leigh was Dr. Weens' partner in developing the department, which is why the Department of Radiology honored their partnership by establishing the Weens-Leigh Radiology Library and the Weens-Leigh Endowment Fund to support education.
Dr. Weens also was an innovative investigator. In 1944, he was part of the team that performed the first diagnostic cardiac catheterization and angiocardiography. He pioneered 35-mm cineradiography. He described the findings in aortic dissection and observed the nephrogram after contrast injections. He was a major contributor to the development of the rotating anode X-ray tube and helped develop the first cobalt therapy machine in Atlanta. To improve imaging safety, he quantified radiation exposure in diagnostic examinations and improved the dose rate to protect patients and staff. Dr. Weens co-authored the monograph, "The Mediastinum" with Dr. Ted Leigh, and authored numerous papers and book chapters.
Above all, Dr. Weens was a cherished mentor and role model for an entire generation of radiology faculty and trainees.
Dr. Weens was born in Berlin in 1912. He trained in medicine at the Universities of Berlin, Heidelberg, and Berne, and received his medical degree in 1937. He moved to Chicago for a medical internship in 1938 on the eve of the Holocaust and then moved to Piedmont Hospital in Atlanta for another year of training. Dr. Weens became the first radiology resident at Grady Memorial Hospital in Atlanta. In 1941, Dr. Weens became responsible for the radiology services at both these major hospitals. Committed to ensuring all patients received appropriate medical services, the young resident often worked 18-20 hours. Once he completed his residency in 1944 and acquired additional training at the Massachusetts General and Peter Bent Brigham Hospitals in Boston, Dr. Weens returned to Emory.