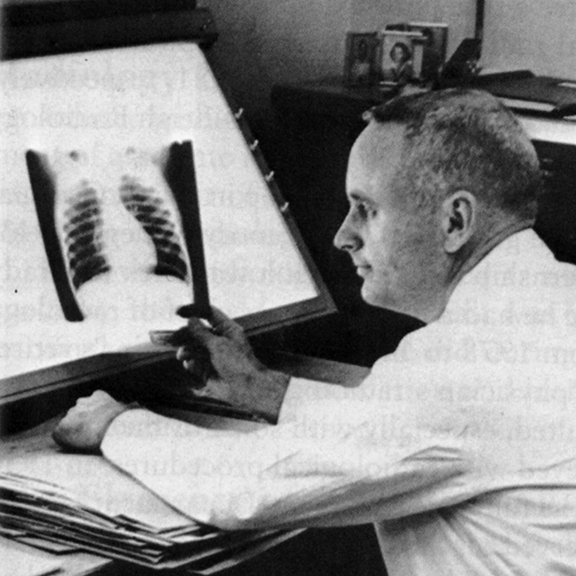 Dr. Brit Gay joined the radiology faculty at Emory in 1952, where he pioneered pediatric radiology. Dr. Gay firmly believed "children are not just small adults" when it comes to x-ray imaging; they require special equipment, techniques, and most importantly, radiologists with extensive training and experience in this very special clinical activity.  In 1962, Dr. Weens appointed Dr. Gay to direct and develop a pediatric radiology program at Egleston Children's Hospital, which had become the pediatric teaching hospital on the Emory campus in 1958. Dr. Gay served as director of pediatric radiology until 1986.
For ten years, Dr. Brit served as radiologist for the Yerkes Primate Research Center. He leveraged that position to enrich resident training; he was renowned for using radiographs of primates in conference and asking the unsuspecting residents to identify the dysplasia. Indeed, Dr. Gay was a beloved pioneer in pediatric radiology resident training. The radiology residents at Emory gave an annual award for excellence in teaching. Dr. Brit won the award so many times he was finally retired from consideration. The annual award now is named the Brit B. Gay Award for Excellence in Teaching. Even when Dr. Gay officially became professor emeritus in 1992, he continued to work four mornings a week and give his ever-popular conferences for residents.
Dr. Gay's awards are many. In 1995, the board of trustees at Egleston Hospital named the radiology department The Brit B. Gay Department of Radiology and Diagnostic Imaging.  He also is the only non-pediatrician to receive Grater Atlanta Pediatric Society's Katherine Dodd Award, given for exceptional service to children. In 2003, he received the Gold Medal of The Society for Pediatric Radiology, the most distinguished honor given to a pediatric radiologist for a lifetime of service and contributions.
Dr. Gay graduated from both Emory College and Emory School of Medicine. After returning from service in World War II, Dr. Gay applied for a residency in pediatrics at Emory but was informed all the pediatric resident positions were already filled; upon learning of a vacancy in the radiology program, he applied and was accepted.