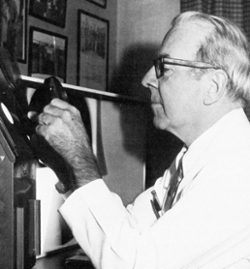 Mammography, 1964-1988
Robert L. Egan, MD, joined the Emory faculty in 1965 coming from the M.D. Anderson Cancer Center in Houston where he began his pioneering work in mammography while he was in his residency training.  He brought several major research grants and teaching programs that were the results of his extensive work in the development of modern mammography.  With his coming Emory developed as one of the major medical centers leading the way with research and education in the effective clinical application of modern mammography. 
Perhaps his greatest contribution, beyond research and teaching, was the promotion of mammography as an effective method of cancer diagnosis that could save many lives.  It was his development of "the Egan technique" for performing the x-ray examinations and conducting clinical studies to demonstrate its diagnostic capabilities that convinced the medical profession of its value in the battle against breast cancer.
During his lifetime he received many national and international recognitions and awards, including the American Cancer Society's Distinguished Service Award in 1975 and the Gold Medal of the American College of Radiology in 1992 .  In 2001 at the age of 80 he lost his personal battle with cancer, apparently initiated by years of exposing his unprotected arms and hands to x-rays during his investigations to develop new methods to save lives.
Perhaps Dr. Gerald Dodd, his former professor at M.D. Anderson when he was completing his residency in 1955 described it best,   "Egan was the man who developed a smooth-riding automobile compared to a Model T. He put mammography on the map and made it an intelligible, reproducible study. In short, he was the father of modern mammography."