A Surgery and Research Pioneer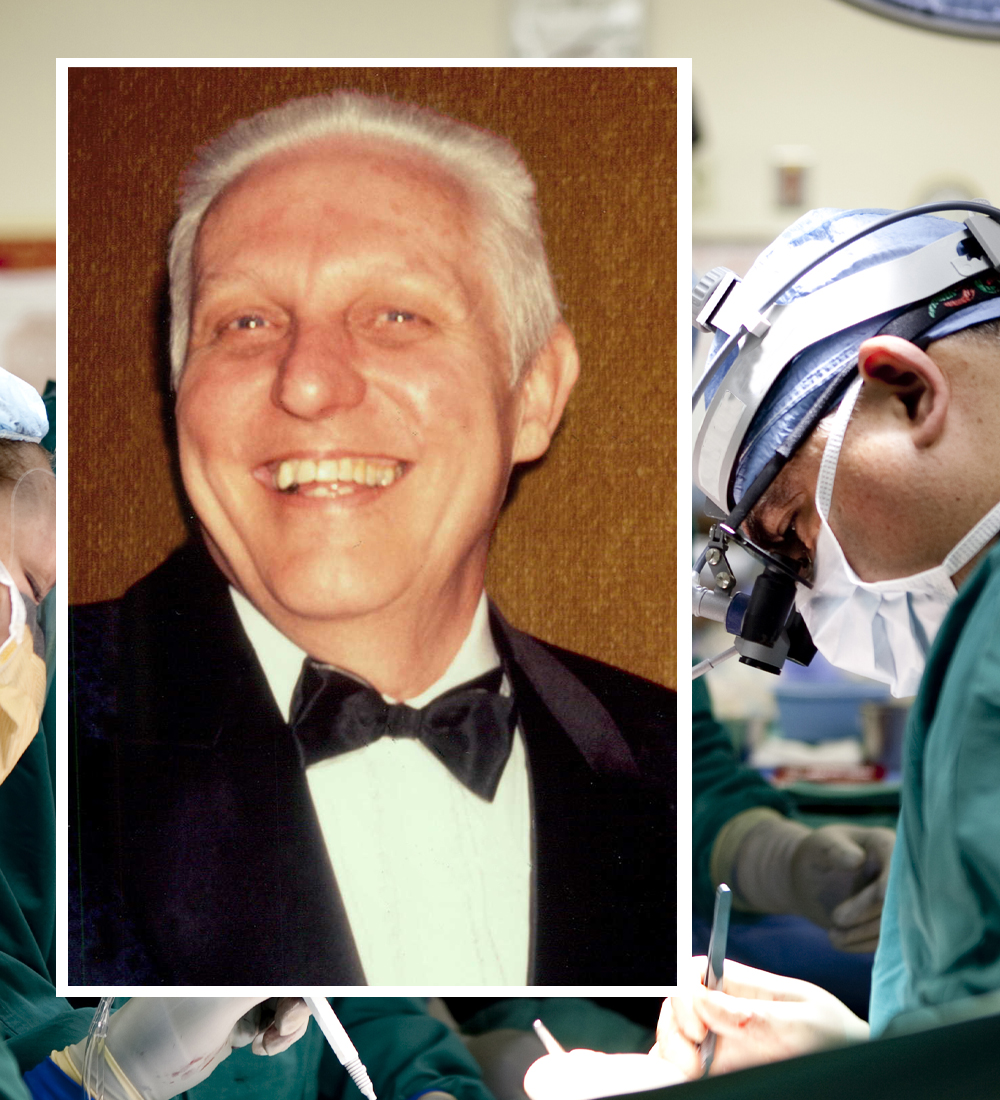 Dr. W. Dean Warren was the Joseph Brown Whitehead Professor of Surgery and Chairman of the Department of Surgery from 1971 until his death in 1989. Previously, he had been Professor and Chairman of Surgery at the University of Miami.
Dr. Warren was a leading investigator of portal hypertension for three decades and a co-originator of the distal splenorenal shunt. Leading by example, Dr. Warren instilled his own commitment to academic research in both the department and the residency, and his legacy remains in the vitality and pervasiveness of the department's research endeavors.
Dr. Warren was president of the American Surgical Association, the Southern Surgical Association, the Society for Surgery of the Alimentary Tract, the Whipple Society, and the Society of University Chairmen. In 1986, he was installed as the 67th president of the American College of Surgeons. After his death, Dr. Warren's pioneering spirit was memorialized by the creation of the W. Dean Warren Scholars in Surgery program and the initiation in 1995 of the annual W. Dean Warren Lectureship.
Speakers, 1995 – To Date

Speaker
Affiliation
Topic
Date

Kevin Behrns, MD

– Chief Medical Officer, University of Florida Health Central Florida
Reflective Decision-Making Fosters Excellence in Healthcare
1/12/2023
Steven M. Strasberg, MD
– Pruett Professor of Surgery, Section of Hepatobiliary-Pancreatic and Gastrointestinal Surgery, Washington University School of Medicine
Understanding and Preventing Bile Duct Injuries
11/14/2019
Jean-Nicolas Vauthey, MD
– Chief, Hepato-Pancreato-Biliary Section, Department of Surgical Oncology, The University of Texas MD Anderson Cancer Center, Houston, TX
– Professor, Department of Surgical Oncology, Division of Surgery, The University of Texas MD Anderson Cancer Center
Biology Predicts Outcome in Patients Undergoing Local Therapy for Colorectal Liver Metastases
10/18/2018
Charles B. Rosen, MD
– Professor of Surgery, Mayo Clinic College of Medicine
– Chair, Division of Transplantation Surgery, Mayo Clinic
The Emergence and Role of Neoadjuvant Therapy and Liver Transplantation in the Treatment of Hilar Cholangiocarcinoma
10/19/2017
Carlos Fernandez-del Castillo, MD
– Jorge and Darlene Pérez Endowed Chair in Surgery, Massachusetts General Hospital
– Director, Pancreas and Biliary Surgery Program, MGH
– Professor of Surgery, Harvard Medical School
Intraductal Papillary Mucinous Neoplasms of the Pancreas
09/08/2016
David M. Nagorney, MD
– Professor of Surgery, Division of General and GI Surgery, Department of Surgery, Mayo Clinic, Rochester
– Program Director, Hepato-Pancreatico-Biliary Fellowship, Mayo Clinic
The Operative Management of Metastatic Neuroendocrine Cancer to the Liver: Impact or Not?
10/29/2015
Clifford Ko, MD, MS, MSHA
– Director, Division of Research and Optimal Patient Care, American College of Surgeons
– Professor of Surgery, Surgical Vice Chair of Clinical Research, Robert and Kelly Day Endowed Chair of Clinical Outcomes, UCLA School of Medicine
Achieving High Quality Surgery: Observations from the ACS NSQIP
10/16/2014
Steven Wexner, MD, PhD (Hon)
– Cleveland Clinic Florida: Director, Digestive Disease Center; Chairman, Department of Colorectal Surgery 
Controversies in IPAA Surgery
9/12/13
Steven J. Hughes, MD
– Associate Professor and Chief of General Surgery, Department of Surgery, University of Florida College of Medicine
Implementing Minimally Invasive Techniques to Pancreatic Disease
9/6/12
John Maa, MD
– Assistant Professor of Surgery, Department of Surgery, UCSF School of Medicine
– Director, Surgical Hospitalist Program, Division of General Surgery, UCSF
– Associate Clerkship Director, UCSF Surgery 110
– Assistant Chair, Quality Improvement Program, Department of Surgery, UCSF
The Future of Emergency Surgical Care in America
10/6/11
Keith D. Lillemoe, MD
– Jay L. Grosfeld Professor and Chairman, Department of Surgery, Indiana University School of Medicine
Current Management of Biliary Bile Duct Injuries
10/14/10
F. Charles Brunicardi, MD
– DeBakey/Bard Professor and Chair, Michael E. DeBakey Department of Surgery, Baylor College of Medicine
Leadership Principles of Dr. Martin Luther King, Jr.
9/3/09
Monica Morrow, MD
– Chief, Breast Service, Department of Surgery, Memorial Sloan-Kettering Cancer Center
Breast Conserving Therapy: Has the Promise Been Fulfilled?
9/25/08
Michael W. Mulholland, MD, PhD
– Frederick A. Coller Distinguished Professor of Surgery and Chairman, Department of Surgery, University of Michigan
– Surgeon in Chief, University Hospital, University of Michigan Health System
Generational Change in Surgery
9/13/07
Bruce V. MacFadyen, MD
– Professor and Moretz/Mansberger Distinguished Chair of Surgery, Medical College of Georgia
Transluminal Surgery: Should the Surgeon be Involved?
9/7/06
R. Daniel Beauchamp, MD
– J.C. Foshee Distinguished Professor of Surgery
– Chairman, Section of Surgical Sciences, Vanderbilt University School of Medicine
Colorectal Cancer: Bench to Bedside
9/29/05
William G. Cance, MD
– Professor and Chairman, Department of Surgery, University of Florida School of Medicine
Challenges for the Academic Surgical Oncologist: Confronting the Biological limitations
9/30/04
William O. Richards, MD
– Professor of Surgery, Director of Laparoendoscopic Surgery, Division of General Surgery, Vanderbilt University
Surgical Treatment of Achalasia Two Decades after Fellowship with W. Dean Warren, MD
9/18/03
Hardy W. Hendren, MD
– Robert E. Gross Distinguished Professor of Surgery, Harvard Medical School
– Chief of Surgery Emeritus, Children's Hospital, Boston, Massachusetts
John Hunter: The First Academic Surgeon
9/19/02
Barbara L. Bass, MD
– Professor of Surgery, Associate Chair for Academic Affairs and Research, University of Maryland School of Medicine
– Director, Surgical Care Center, VA Maryland Health Care Center
Short Gut Syndrome: Clinical Issues, Laboratory Strategies
5/3/01
C. James Carrico, MD
– Professor, Department of Surgery, Doris and Bryan Wildenthal Distinguished Chair in Medical Science, University of Texas Southwestern Medical Center
Trauma: A Clinical, Biologic and Public Health Challenge
10/5/2000
Timothy Eberlein, MD
– Bixby Professor and Chairman, Department of Surgery, Washington University School of Medicine, St. Louis, MO
Surgery in the New Millennium
11/18/99
Layton F. Rikkers, MD
– University of Wisconsin
Surgery for Variceal Bleeding: Sclerotherapy, Shunt, TIPS, or Transplant?
3/19/98
J. Michael Henderson, MD
– Cleveland Clinic Foundation
Distal Splenorenal Shunt: It's Impact on Portal Hypertension Over 30 Years
4/3/97
Thomas E. Starzl, MD
– University of Pittsburgh
Allograft Acceptance and its Achievement
5/2/96
Tom R. DeMeester, MD
– University of Southern California
The Epidemic of Barrett's Esophagus and its Surgical Implications
4/22/95