An Outstanding Clinician and Educator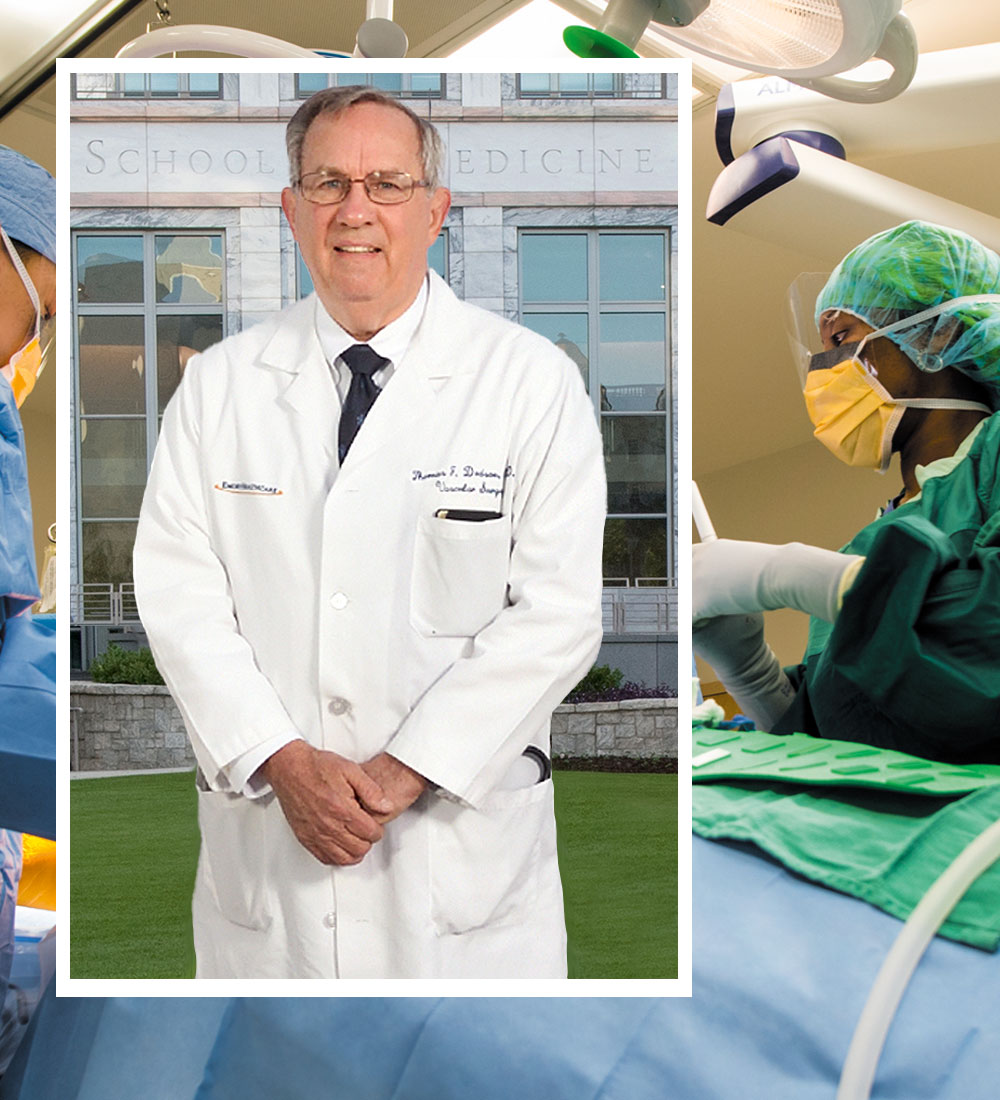 Thomas F. Dodson, MD, has made important and significant contributions in academic vascular surgery that have brought recognition to the Emory Department of Surgery, School of Medicine, and Emory University as a whole. As an active Emory faculty member for more than 30 years, Dr. Dodson performs the full complement of arterial and venous endovascular and open surgical therapies and is dedicated to the teaching and education of future surgeon leaders.
Prior to enrolling in Emory's vascular surgery fellowship in 1987, Dr. Dodson was an assistant professor of surgery and coordinator of the third-year surgical clerkship at Harvard Medical School and associate director of the Surgical Intensive Care Unit at New England Deaconess Hospital. Upon completing his fellowship and joining our faculty, Dr. Dodson continued his involvement in surgical education.
Dr. Dodson served as director of the pediatric liver transplant program at Children's Healthcare of Atlanta at Egleston from 1990-1996. He was appointed associate program director of the general surgery residency in 1991 and full director in 1997, a position he held until June 2011. His Department of Surgery leadership positions also included serving as vice chairman for education from 1996-2015, associate chairman from 2006-2015, and chief of the Emory Division of Vascular Surgery and Endovascular Therapy from 2010-2015.
Dr. Dodson has received numerous teaching and best doctor awards, served as president of the Georgia Surgical Society, and was a member of the Education Task Force of the American College of Surgeons. In addition to being an associate editor of Medical Management of the Surgical Patient, 5th Edition, Dr. Dodson has authored more than 35 books and other monographs, and published more than 80 scientific journal articles.
Speakers, Thomas F. Dodson Lectureship, 2018–to Date

Speaker
Affiliation
Topic
Date
Jacob Andrew Greenberg, MD, EdM
– Leon Henri Charbonnier Endowed Chair of Surgical Education
– Director of Surgical Education
– Director of the AU Health Comprehensive Hernia Center
– Minimally Invasive Surgery and Bariatric Surgeon
– Professor of Surgery
– Augusta University Medical College of Georgia
Surgical Psychology 101
8/25/2022
Margaret "Gretchen" Schwarze, MD, MPP
– Associate Professor, Endowed Professor
– Morgridge Professorship in Vascular Surgery, Division of Vascular Surgery, Department of Surgery, University of Wisconsin School of Medicine and Public Health
What We Talk About When We Talk About Surgery… and Four Things We Would Do Better
1/23/2020
Lillian S. Kao, MD, MS
Department of Surgery, McGovern Medical School at the University of Texas Medical School at Houston:
– Jack H. Mayfield, MD, Chair in Surgery
– Division Chief, Acute Care Surgery
– Vice-Chair for Research and Faculty Development
– Vice-Chair for Quality of Care
Aligning Quality Improvement, Clinical Practice, and Research
1/17/2019
Karl Y. Bilimoria, MD, MS
– John Benjamin Murphy Professor of Surgery, Associate Professor of Surgery (Surgical Oncology) and Medical Social Sciences, Northwestern Medicine Feinberg School of Medicine, Chicago
Generating Evidence to Inform Policy: The FIRST Resident Duty Hour Trial
2/15/2018