First African American Woman to Complete Emory's Surgical Program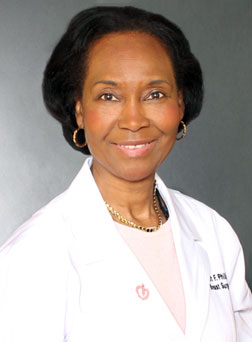 The Rogsbert Phillips-Reed DEI Lectureship was established by Emory University's School of Medicine Surgery Department on February 2, 2023, the first Department of Surgery Grand Rounds lecture named after an African American. The inaugural lecture was presented by Dr. Rogsbert Phillips-Reed herself, a general surgeon and Fellow of the American College of Surgeons with a specialization in breast surgery.
Dr. Phillips-Reed graduated from Columbia University's School of Physicians and Surgeons in 1977 before becoming the second woman and first African-American woman to successfully complete Emory University's Surgical program in 1982.
In 1989, she founded the nonprofit organization Sisters By Choice (SBC) to function as a support group for breast cancer diagnosed women and their families. Today, SBC is a multi-faceted organization that serves women across Georgia in the fight against breast cancer.
Today, Dr. Phillips-Reed heads the Metro Surgical Associates, a community based surgical practice with offices in Atlanta and Lithonia, Georgia. She has received more than 60 awards and honors, including the American Society of Breast Surgeons Arnold P. Gold Foundation "Humanism in Medicine Award", Atlanta Medical's Association's "Physician of the Year Award", American Association for Access Equity and Diversity "Rosa Parks Award". Additionally, she has been recognized by the Georgia House of Representatives, the Georgia Senate and the Secretary of State's office.
Rogsbert Phillips-Reed DEI Lectureship Speakers, 2023 – To Date

Speaker
Affiliation
Topic
Date
Rogsbert Phillips-Reed, MD, FACS
– Board Certified in General Surgery
– Specializing in Breast Surgical Oncology, Metro Surgical Associates
Intraoperative Radiation Therapy for Early Breast Cancer
2/02/2023