The 1st Official Chief of the Division of Oral and Maxillofacial Surgery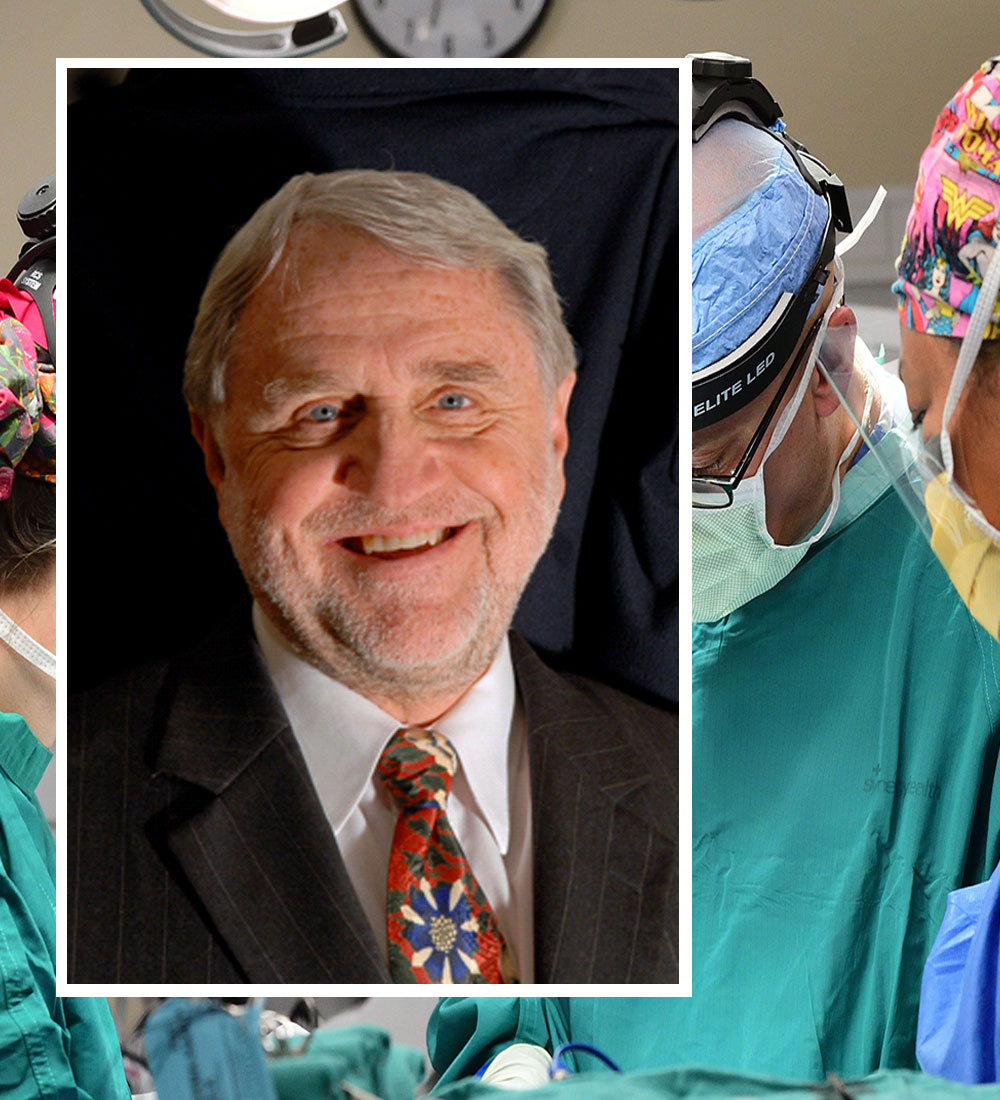 The Division of Oral and Maxillofacial Surgery of the Emory University School of Medicine established the Robert A. Bays Lectureship in 2010 in recognition of Dr. Bays' 17 years of exemplary service to Emory.
Dr. Bays began chairing the Department of Oral and Maxillofacial Surgery of the Emory School of Dentistry in 1986. When the program became a division of the Department of Surgery in 1991, he continued as chief until his retirement in 2003.
Dr. Bays also directed oral and maxillofacial surgery and dentistry services at Emory University Hospital, Emory University Hospital Midtown, Grady Memorial Hospital, and Children's Healthcare of Atlanta at Egleston. He is considered an essential figure in the elevation of Emory to a referral center for the surgical correction of dentofacial jaw deformities and temporomandibular joint disorders, with patients coming from the southeast and beyond.
A sampling of Dr. Bays' achievements during his Emory years include receiving the Simon P. Hullihen Award of the West Virginia University School of Dentistry in 2000, serving as president of the Georgia Society of Oral and Maxillofacial Surgeons from 1999-2000, serving as the designated OMS surgeon of the 1996 Atlanta Olympic Games, being a consultant to the ADA Commission on Dental Accreditation for OMS Residency Programs from 1987-1995, and sitting on the Advisory Committee of the American Board of Oral and Maxillofacial Surgery, 1987-1993.
Speakers, Robert Bays Lectureship, 2010 – To Date

Speaker
Affiliation
Topic
Date
Shahid R. Aziz, DMD, MD
Professor, Department of Oral & Maxillofacial Surgery, Rutgers School of Dental Medicine
Selected History of Maxillofacial Surgery
3/10/2022
Eric R. Carlson, DMD, MD, EdM
– Professor and Kelly L. Krahwinkel Chairman, Department of Oral and Maxillofacial Surgery, University of Tennessee Health Science Center
– Director, Oral/Head and Neck Oncologic Surgery Fellowship, University of Tennessee Cancer Institute
Change: The Pathway to Durable Faculty Development
3/11/2021
Pat Ricalde, MD, DDS
– Director, Florida Craniofacial Institute, Tampa, FL
– Director, Cleft and Craniofacial Center, Saint Joseph's Hospital, Tampa
– Adjunct Faculty Member, University of South Florida, Tampa
Pediatric Skull Surgery: Learning from the Past and Looking Toward the Future
3/7/2019
David B. Powers, MD, DMD
– Associate Professor of Surgery, Division of Plastic, Maxillofacial, and Oral Surgery, Duke University School of Medicine
– Director, Craniomaxillofacial Trauma Program, Duke University Medical Center
Ballistic Injuries to Craniomaxillofacial Complex as Seen in Mass Casualty Scenarios – Concepts, Triage and Management
3/29/2018
David E. Frost, DDS, MS
– Oral and Maxillofacial Surgery Associates, Chapel Hill
– Adjunct Associate Professor, Department of Oral and Maxillofacial Surgery, University of North Carolina, Chapel Hill
– National Civilian Consultant, Surgeon General for Oral and Maxillofacial Surgery, United States Air Force
Volunteering in the Developing World: Health Volunteers Overseas and OMS
3/23/2017
Sean P. Edwards, MD, DDS
C.S. Mott Children's Hospital, University of Michigan Health System:
– Clinical Associate Professor
– Residency Program Director, Oral and Maxillofacial Surgery
– Chief, Pediatric Maxillofacial Surgery
Contemporary Overview of Oral Cancer
3/10/2016
Eric R. Carlson, DMD, MD
– Professor and Kelly L. Krahwinkel Chair, Department of Oral and Maxillofacial Surgery, University of Tennessee Graduate School of Medicine
– Director, Residency Program, Director, Oral/Head and Neck Oncologic Surgery Fellowship, Department of Oral and Maxillofacial Surgery, University of Tennessee Graduate School of Medicine
– Chief, Oral and Maxillofacial Surgery, University of Tennessee Medical Center & University of Tennessee Cancer Institute
Medication Related Osteonecrosis of the Jaws: Update 2015
3/12/2015
Peter D. Waite, MPH, DDS, MD
– Professor and Charles A. McCallum Chair, Department of Oral and Maxillofacial Surgery, School of Dentistry, University of Alabama at Birmingham
Obstructive Sleep Apnea: Surgical Treatment Options and Long Term Outcomes
3/6/2014
Gary F. Bouloux, DDS, MD, MDSc
– Associate Professor of Surgery, Division of Oral and Maxillofacial Surgery, Department of Surgery, Emory University School of Medicine
– Residency Program Director, Division of Oral and Maxillofacial Surgery, Emory
– Director of Research, Division of Oral and Maxillofacial Surgery, Department of Surgery, Emory
– Chief, Oral and Maxillofacial Surgery Service, Grady Memorial Hospital
Temporomandibular Joint Reconstruction: A Paradigm Shift
3/21/2013
Col. Robert G. Hale, DDS
– Commander, US Army Dental & Trauma Research Detachment, Fort Sam, Houston
Facial Restoration: Military Medical Research to
Address Severe Maxillofacial Battle Injuries
2/23/2012
James Holton, DDS, MSD
– Tyler Oral and Facial Surgery, Tyler, TX
Upper Midface Trauma: Loss of the Cribiform Plate
3/3/2011
Richard Haug, DDS
– University of Kentucky College of Dentistry: Professor and Chief, Division of Oral and Maxillofacial Surgery; Associate Dean for Clinical Affairs
Gunshot Injuries to the Face
1/21/2010