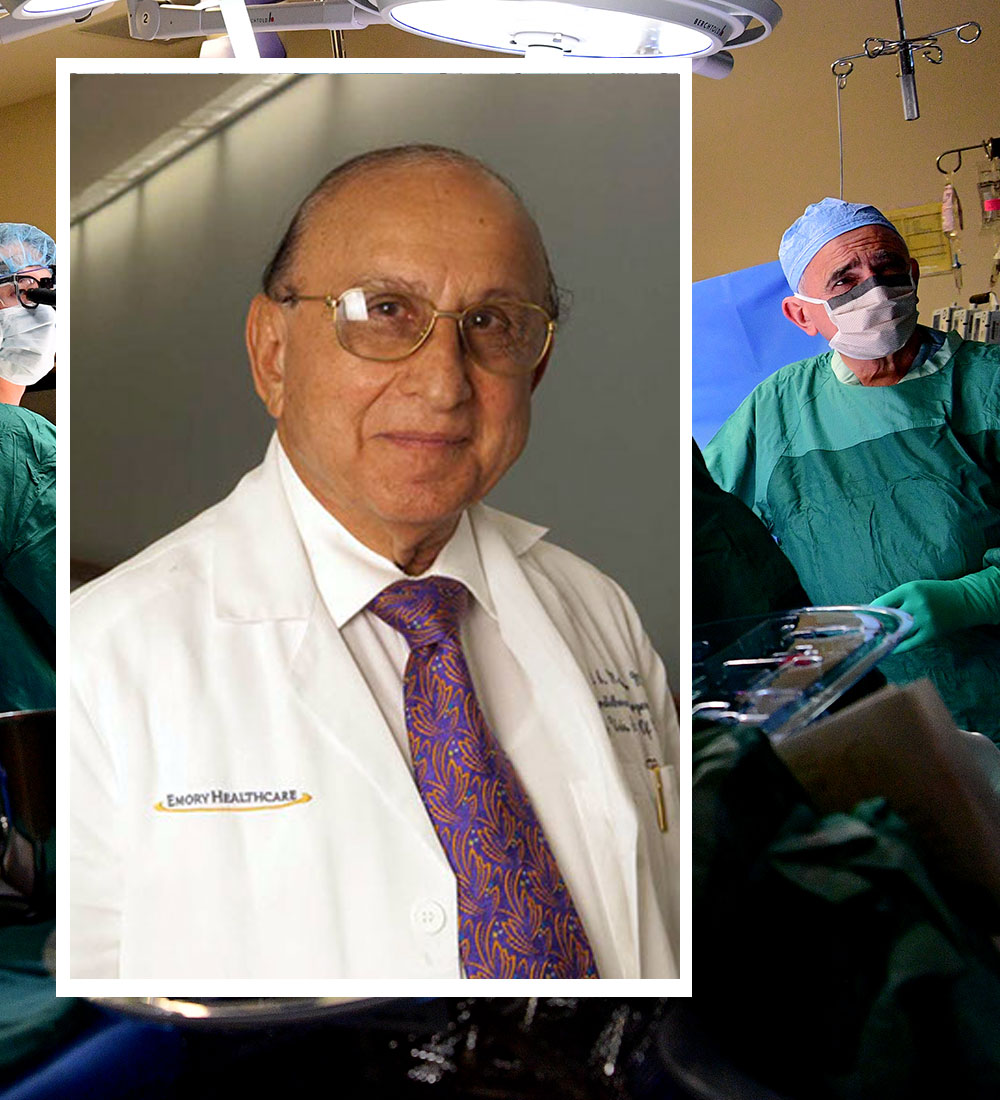 An Emory Department of Surgery faculty member for 48 years, Kamal Mansour, MD, was affectionately dubbed "The Professor" by generations of Emory residents.
"Dr. Mansour was a passionate, critical surgical educator who taught his residents to be fearless and uphold the highest standards of patient care when it came to dealing with complex surgical problems," says Edward Chen, MD, who trained with Dr. Mansour and later became his colleague at Emory.
Dr. Mansour graduated from Tewfik College in Cairo in 1947 and earned his master's degree from Ein Shams University Medical School in 1954. He trained at several institutions in Egypt and Jordan before coming to the United States and finishing his surgical training at Emory University Hospital in 1968. Dr. Charles Hatcher, former director of the Emory Clinic and later director of the Woodruff Health Sciences Center, immediately invited Dr. Mansour to join Emory's then three-member section of cardiothoracic surgery.
Dr. Mansour's significant perfection of a technique that replaces the esophagus with a section of bowel is still identified with Emory. In 2001, he was awarded the Shield of Medicine by the Medical Society of Egypt for being one of the ten most outstanding Egyptian doctors in the world—throughout his career, Dr. Mansour frequently traveled back to Egypt to teach and work. He was also the 2008 recipient of the prestigious Emory Medal for distinguished service and notable achievements, honored with the Inspiration Award of the Southern Thoracic Surgical Association in 2010, and recognized as one of Emory University's Makers of History during its 175th anniversary in 2011.
After making a substantial gift to Emory in 2010 that established the Kamal A. Mansour Professorship of Thoracic Surgery, Dr. Mansour said: "I am deeply indebted to Emory for my many years of association here, including the freedom to practice surgery, teach residents, and help establish the section of general thoracic surgery, in addition to training residents and assisting physicians in Egypt. I hope this professorship will encourage young surgeons who are interested in working in this field."
Dr. Mansour retired in 2004, but remained active in the Emory community until his passing on June 6, 2016.
Speakers, Kamal Mansour Lectureship, 2015 – To Date

Speaker
Affiliation
Topic
Date
Eric Grogan, MD, MPH
- Associate Professor of Thoracic Surgery, Vanderbilt University Medical Center
- Vice Chairman of Research, Vanderbilt University Medical Center
- Associate Professor of Medicine, Vanderbilty University Medical Center
Improving the Early Diagnosis and Treatment of Lung Cancer
12/1/2022
Sudish Murthy, MD, PhD
– Daniel and Karen Lee Endowed Chair in Thoracic Surgery
– Professor of Surgery, Cleveland Clinic Lerner College of Medicine, Case Western Reserve University
– Section Head, Thoracic Surgery at Cleveland Clinic
– Surgical Director, Center for Major Airway Disease, Cleveland Clinic Cancer Institute
– Associate Program Director, Thoracic Surgery Residency, Cleveland Clinic
The Complexity of Simplicity – Screening for Venous Thromboembolism in Thoracic Surgical Oncology Patients (and Other Musings)
1/24/2022
Manu S. Sancheti, MD
– Associate Professor of Surgery, Division of Cardiothoracic Surgery, Department of Surgery, Emory University School of Medicine
– Chief, Section of General Thoracic Surgery, Emory Saint Joseph's Hospital
–Director, Robotic Thoracic Surgery, Emory Healthcaree
Robotic Thoracic Surgery – Past, Present, Future
11/12/2020
John D. Mitchell, MD
– Courtenay C. and Lucy Patten Davis Endowed Chair in Thoracic Surgery
– Professor and Chief, Section of General Thoracic Surgery, Division of Cardiothoracic Surgery, University of Colorado School of Medicine
Surgery for Pulmonary Mycobacterial Disease – The Good, The Bad, and Often the Ugly
10/24/2019
Michael Lanuti, MD
– Associate Professor of Surgery, Harvard Medical School
– Director of Thoracic Oncology, Division of Thoracic Surgery, Massachusetts General Hospital
Tracheal Surgery – A Potpourri of Indications
11/29/2018
Wayne L. Hofstetter, MD
– Professor and Deputy Chair, Department of Thoracic and Cardiovascular Surgery, University of Texas MD Anderson Cancer Center
– Director, Esophageal Surgery Program, MD Anderson
Evolving Management of Esophageal Cancer
11/30/2017
Benjamin D. Kozower, MD, MPH
Professor of Surgery, Cardiothoracic Surgery, Washington University School of Medicine
Public Reporting of Surgical Outcomes
11/17/2016
Shanda H. Blackmon, MD, MPH
Associate Professor, Division of Thoracic Surgery, Department of Surgery, Mayo Clinic, Rochester
Jejunal Interposition for Esophageal Reconstructions
11/19/2015