Chair of Surgery From 1957-1971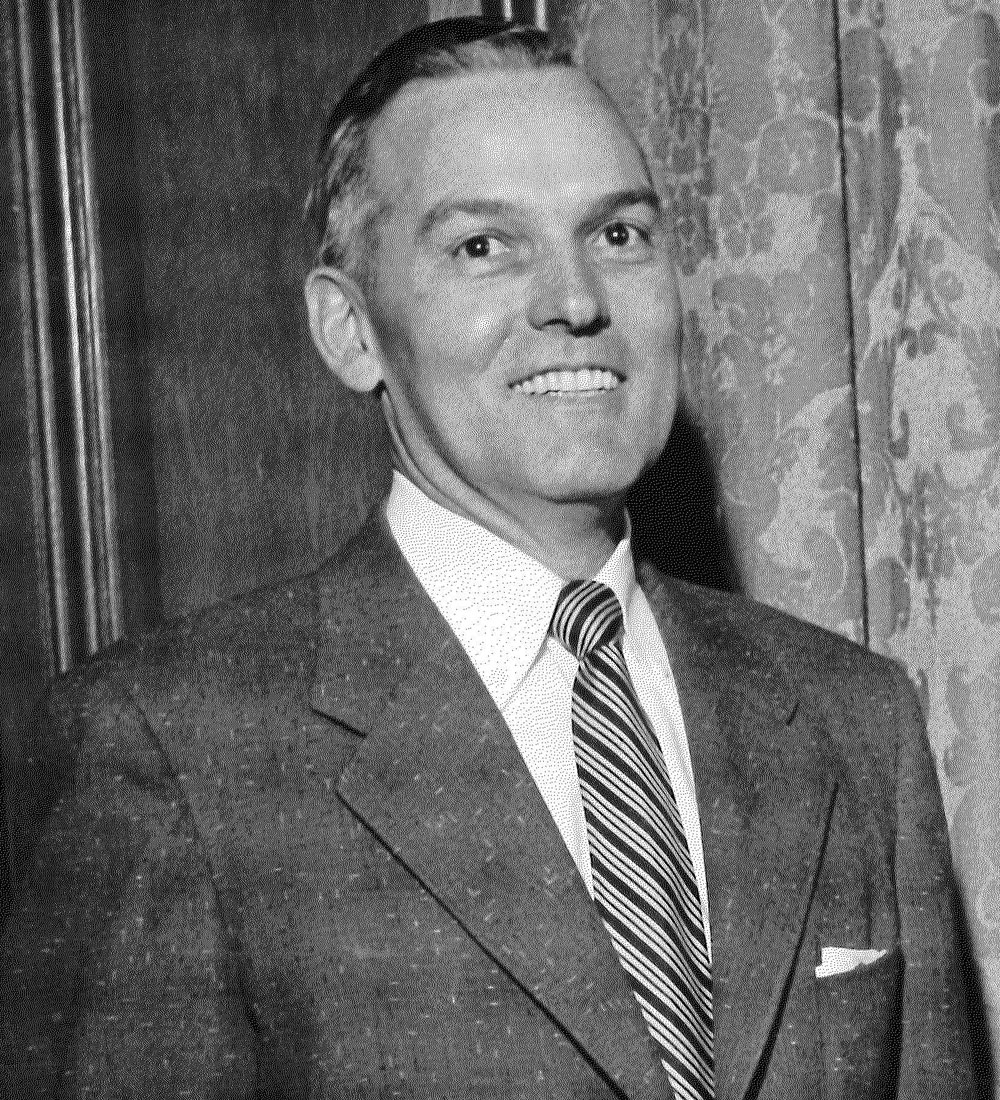 John D. Martin, MD, was associated with Emory University for more than 70 years. A graduate of Emory College and the Emory University School of Medicine, Dr. Martin joined the faculty as an Assistant in Surgery in 1930 and served as Professor and Joseph B. Whitehead Chairman of the Department of Surgery from 1957-1971.
During his tenure as chair, Dr. Martin successfully integrated the separate residency programs at Grady Memorial Hospital, Piedmont Hospital, Emory University Hospital, and the Atlanta VA Medical Center, streamlining and creating an even more effective curriculum.
Dr. Martin served as president of the Southern Surgeon's Club, the Southeastern Surgical Congress, and the Southern Surgical Association.
The J.D. Martin Visiting Professorship and Lectureship was inaugurated in 1977. In 1979, Dr. Martin coauthored the book History of Surgery at Emory University School of Medicine. He remained an active participant in the department during his years as emeritus professor until his passing in 1991.
J.D. Martin Visiting Professorship Speakers 1992 – To Date

Speaker
Affiliation
Topic
Date
Steven C. Stain, MD
– Chair, Department of Surgery, Lahey Hospital and Medical Center
– Professor, Department of Surgery, Tufts University School of Medicine
The Atlanta Compromise and the Talented Tenth
8/10/2023
William M. Stone, MD
– Professor of Surgery, Vascular and Endovascular Surgery, Mayo Clinic Alix School of Medicine, Phoenix, AZ
– Emeritus Vice Dean for Clinical Practice, Mayo Clinic
Generational Changes in Surgical Influence
9/1/2022
Leigh A. Neumayer, MD, MS
– Professor of Surgery and Chair, Department of Surgery, University of Arizona College of Medicine
– Margaret E. and Fenton L. Maynard Endowed Chair in Breast Cancer Research
So You Want to be a Leader — Lessons Learned From a Path Less Traveled
8/22/2019
Mary T. Hawn, MD, MPH
– Professor of Surgery and Chair, Department of Surgery, Stanford University School of Medicine
Big Data – Promises and Pitfalls
8/30/2018
Lynt B. Johnson, MD, MBA
MedStar Georgetown University Hospital:
– Robert J. Coffey Professor of Surgery
– Chair, Department of Surgery
– Director, Hepatobiliary Surgery
Advanced Techniques in Surgery for Pancreatic Cancer: Is More Better?
8/17/2017
Spence M. Taylor, MD
– Senior Associate Dean for Academic Affairs and Diversity, University of South Carolina School of Medicine Greenville
– Vice President of Physician Engagement, Chief Academic Officer, President: GHS Clinical University, Greenville, SC
Conscious Leadership: Lessons Learned While Building a Medical School
8/25/2016
Carlos A. Pellegrini, MD
– Henry N. Harkins Professor and Chair, Department of Surgery, University of Washington School of Medicine
Leadership
8/20/2015
B. Mark Evers, MD
– Professor of Surgery
– Mark McDowell Cancer Foundation Chair in the Lucille P. Markey Cancer Center
– Director, Markey Cancer Center
– Physician-In-Chief, Oncology Service
– University of Kentucky College of Medicine
A Tribute to the "Greatest Generation" and Challenges to Training the Next Generation
7/31/2014
Gary L. Dunnington, MD
– Chairman, Department of Surgery, Indiana University School of Medicine
– Jay L. Grosfeld Professor of Surgery
Evaluating and Improving Resident Performance
7/11/2013
John D. Birkmeyer, MD
– George D. Zuidema Professor of Surgery
– Director, Center for Healthcare Outcomes and Policy, University of Michigan
Strategies for Improving the Qualities of Surgical Care
7/12/2012
Haile T. Debas, MD
– University of California, San Francisco: Senior Global Health Advisor; Founding Executive Director, Global Health Sciences; Director, UC Global Health Institute; Maurice Galante Distinguished Professor of Surgery; Dean Emeritus, School of Medicine; Vice Chancellor Emeritus, Medical Affairs; Chancellor Emeritus
Surgery in a Globalized 21st Century
3/17/2011
Charles J. Yeo, MD
– Samuel D. Gross Professor and Chairman, Department of Surgery, Jefferson Medical College, Thomas Jefferson University
The New Faces of Pancreatic Cancer Surgery
3/18/2010
Bruce L. Hall, MD, PhD, MBA
– Associate Professor of Surgery, Section of Endocrine and Oncologic Surgery, Department of Surgery, Washington University School of Medicine
Evaluating Surgical Quality in the ACS-NSQIP: Where are We Now and Where are We Going?
5/7/2009
Robert Udelsman, MD, MSB, MBA, MA
– William H. Carmalt Professor of Surgery and Oncology
– Chairman, Department of Surgery, Yale University School of Medicine
– Surgeon-in-Chief, Yale-New Haven Hospital
Minimally Invasive Parathyroidectomy
5/22/2008
John G. Hunter, MD
– Mackenzie Professor and Chair, Department of Surgery, Oregon Health and Science University
Minimally Invasive Surgery: The Future in Perspective
4/19/2007
Timothy Fabian, MD
– Wilson Alumni Professor of Surgery and Chairman of the Department of Surgery, University of Tennessee Health Science Center
H. Harlan Stone and Ernest Amory Codman: Academic Surgeons Ahead of Their Time
5/25/2006
Danny O. Jacobs, MD, MPH
– Professor and Chairman, Department of Surgery, Duke University Medical Center
Nutritional and Metabolic Support of Surgical Patients – An Update
5/12/2005
Julie A. William Freischlag, MD
– Stewart Halsted Professor, Chair of the Department of Surgery, Surgeon-in-Chief, Johns Hopkins Medicine
Abdominal Aortic Aneurysms –
How Things Have Changed Over 50 Years
5/6/2004
Kirby I. Bland, MD
– Fay Fletcher Kerner Professor and Chairman, Department of Surgery, University of Alabama at Birmingham School of Medicine
Historical Evolution and Outcomes for Treatment of Rectal Carcinoma
5/29/2003
J. Patrick O'Leary, MD
– Chairman, Department of Surgery, LSU School of Medicine
Looking Back Into the Future from the Perspective of a Surgical Educator
3/11/2002
John M. Daly, MD
– Lewis Atterbury Stimson Professor and Chairman, Department of Surgery, Joan and Sanford I. Weill Medical College, Cornell University
– Surgeon-in-Chief, New York Presbyterian Hospital
Current Management of Patients with Hepatic Malignancies
3/21/2001
Alden H. Harken, MD
– Professor of Surgery and Chairman, Department of Surgery, University of Colorado Health Sciences Center
Anyone Can Do Cardiac Arrhythmias
3/15/2000
Sir Peter J. Morris
– University of Oxford
Renal Transplantation: Problems and Prospects
3/10/1999
Judah Folkman, MD
– Harvard Medical School
New Directions in Angiogenesis Research
2/21/1998
R. Scott Jones, MD
– University of Virginia Medical Center
Evaluation of the Jaundiced Patient
3/8/1997
LaSalle D. Leffall, Jr., MD
– Howard University
– President, American College of Surgeons
Ethics in Surgical Practice
2/16/1996
Alexander J. Walt, MD, ChB
– Wayne State University
Carcinoma in Situ of the Breast: A Dilemma of the 90s
3/1/1995
H. Harland Stone, MD
– Good Samaritan
Selective Management of Acute Pancreatitis
3/26/1994
David C. Sabiston, Jr., MD
– Duke University
Surgery of the Coronary Circulation: 1993
3/25/1993
Joseph E. Murray, MD
– Harvard Medical School
The Role of the Surgeon-Scientist in Medical Progress
4/2/1992