From Emory to Grady, WWII, and the Atlanta V.A.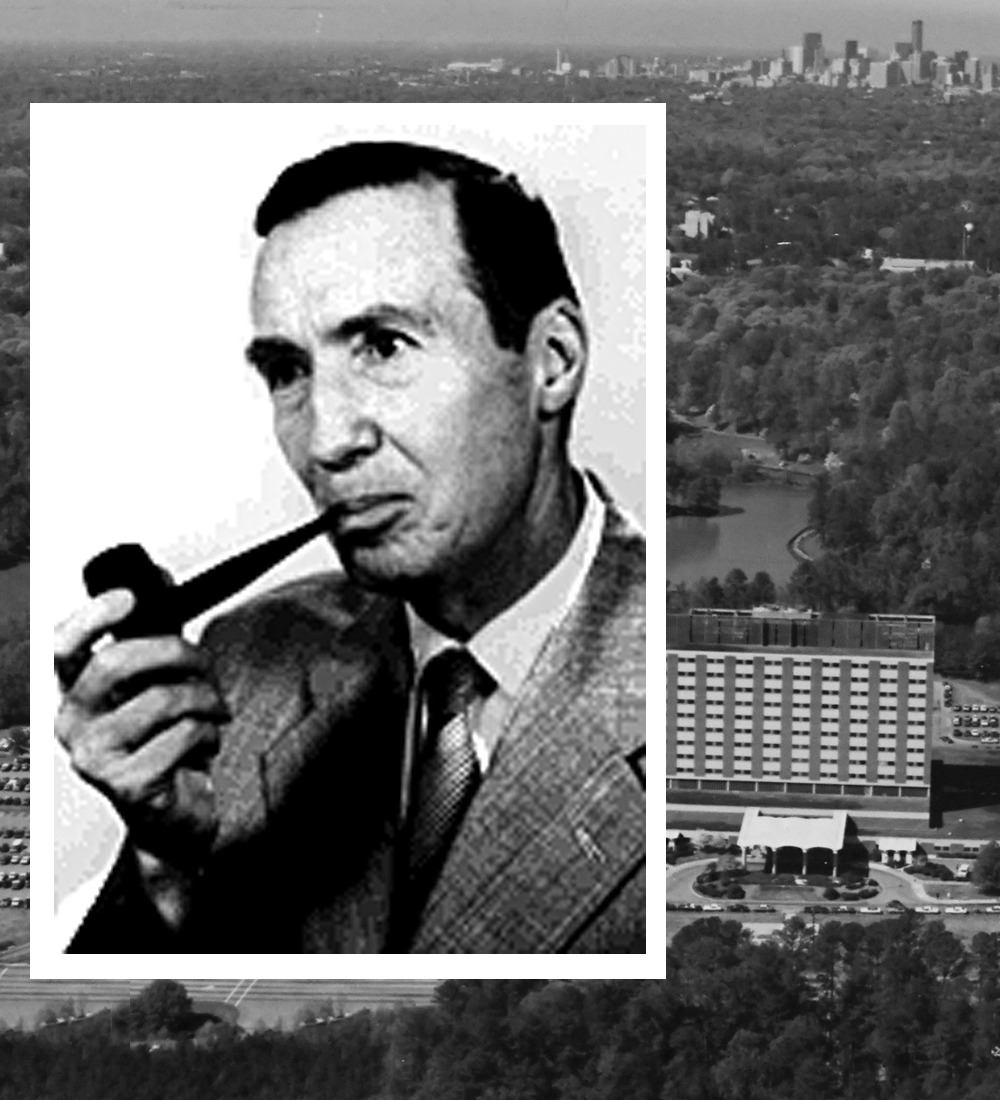 James C. Thoroughman, MD, attended Emory College and the Emory University School of Medicine, receiving his MD in 1927. Following his internship and surgical residency at Grady Memorial Hospital, he moved to China and served as chief surgeon of hospitals in Changchow and Soochow. During WWII he returned to China as a member of the U.S. Army.
From 1953 until his retirement in 1969, he was chief of surgical services at the Atlanta V.A. Medical Center. He also co-founded and served as president of both the Association of Veterans Administration Surgeons and the Georgia Surgical Society.
Dr. Thoroughman was an outstanding teacher and clinical investigator, and a prominent advocate of the Atlanta VA–Emory University alliance as an exemplary system for surgical education. Dr. Thoroughman's surgical trainees formed the J.C. Thoroughman Surgical Society in 1956, later initiating the J.C. Thoroughman Visiting Professorship after his death in 1972.
Speakers, 1992 – To Date

Speaker
Affiliation
Topic
Date
Jason Fleming, MD, FACS
– Chair, Surgical Oncologist, Department of Gastrointestinal Oncology, Moffitt Cancer Center - Tampa, Florida
Reducing Postoperative Mortality To Zero: Our Strategy for Improvement
6/22/2023
Andrew M. Lowy, MD
– Professor of Surgery and Chief, Division of Surgical Oncology, University of California San Diego
– Leader, Gastrointestinal Oncology Team, Moores Cancer Center, UC San Diego Health
Beside to Bench and Back: A Journey to Develop and Test Novel Therapies for GI Cancer
3/24/2022
Nipun B. Merchant, MD
– Professor and Alan Livingstone Endowed Chair in Surgical Oncology
– Chief Surgical Officer and Associate Director of Translational Research, Sylvester Comprehensive Cancer Center
– Vice Chair of Surgical Oncology Services, Department of Surgery, University of Miami Health System
Shaping the Future of Cancer Care
2/20/2020
Douglas Scott Tyler, MD
– John Woods Harris Distinguished Chair in Surgery
– Professor and Chairman, Department of Surgery
– University of Texas Medical Branch
The Evolving Role of Surgery in the Management of Malignant Melanoma
2/7/2019
Professor John Primrose MB, ChB (Honours), FRCS, MD
– Professor of Surgery, University of Southampton, UK
Unraveling the Optimal Management of Biliary Tract Cancer
2/22/2018
Carol J. Swallow, MD, PhD
– Bernard & Ryna Langer Chair, Division of General Surgery, University of Toronto
– Professor, Department of Surgery and Institute of Medical Science, University of Toronto
– Head, Division of General Surgery, Mount Sinai Hospital, Toronto
Evolution in the Management of Retroperitoneal Sarcoma: From Nihilism to Hope
2/16/2017
Herbert Chen, MD
– Professor and Chairman, Department of Surgery, University of Alabama at Birmingham
– Surgeon-in-Chief, UAB Hospital
Top Ten Strategies for Success in Academic Surgery
2/11/2016
Kelly K. Hunt, MD
– Professor, Department of Surgical Oncology, Division of Surgery, The University of Texas MD Anderson Cancer Center
– Chief, Breast Surgical Oncology Section, Department of Surgical Oncology, MD Anderson
– Hamill Foundation Distinguished Professor in Honor of Dr. Richard G. Martin, Sr., Department of Surgical Oncology, MD Anderson
New Paradigms in the Management of the Regional Nodes in Breast Cancer
2/12/2015
Miguel A. Rodriguez-Bigas, MD
– Professor, Department of Surgical Oncology, Division of Surgery, University of Texas MD Anderson Cancer Center
Hereditary Colorectal Cancer Practical Points for the Surgeon
5/8/2014
Daniel G. Coit, MD
– Professor of Surgery, Memorial Sloan-Kettering Cancer Center and the Weill Medical College at Cornell University
– Co-Leader, Melanoma Disease Management Team, Memorial Sloan-Kettering
Contemporary Workup and Management of Gastric Cancer
2/7/2013
Kelly M. McMasters, MD, PhD
– Ben A. Reid, Sr, MD Professor and Chairman, Department of Surgery, University of Louisville
Melanoma 2012
2/2/2012
Douglas B. Evans, MD
– Donald C. Ausman Family Foundation Professor of Surgery and Chairman, Department of
Surgery, The Medical College of Wisconsin
Controversies in the Management of
Thyroid Cancer
2/10/2011
Mitchell C. Posner, MD
– Chief of General Surgery, Director of the Surgical Oncology Fellowship Program, Director for the Center of GI Oncology, Department of Surgery, University of Chicago
Improving Outcome for Patients with Cancer of the Pancreas: Mission Accomplished or Mission Impossible
2/25/2010
Anton N. Sidawy, MD
– Chief, Surgical Services, Veterans Affair Medical Center, Washington, DC
– Professor of Surgery and Director, Vascular Surgery Residency Program, Georgetown University School of Medicine
Clinical and Scientific Observations in Diabetic Lower Extremity Arterial Disease
2/19/2009
Gregorio A. Sicard, MD
– Eugene M. Bricker Professor of Surgery, Department of Surgery
– Division Head, General Surgery
– Section Head, Vascular Surgery
– Vice Chairman, Department of Surgery
– Washington University School of Medicine in St. Louis
The Training of Vascular Surgeons in an Endovascular Era
2/7/2008
Gregory L. Moneta, MD
– Eugene M. Bricker Professor of Surgery, Department of Surgery
– Division Head, General Surgery
– Section Head, Vascular Surgery
– Vice Chairman, Department of Surgery: Washington University School of Medicine in St. Louis
Evaluation and Management of Upper Extremity Ischemia
5/3/2007
James M. Seeger, MD
– Professor of Surgery, Chief of the Division of Vascular Surgery, Associate Chairman, University of Florida
Changing Times in Vascular Surgery Training: Primary Certification And Beyond
3/16/2006
Thomas S. Riles, MD
– George David Stewart Professor of Surgery and Chair, Department of Surgery, New York University School of Medicine
The Changing Paradigm for Surgical Education
3/24/2005
Jack L. Cronenwett, MD
– Professor of Surgery, Dartmouth Medical School
– Chief, Section of Vascular Surgery, Dartmouth Hitchcock Medical Center
Improving the Care of Patients with Abdominal Aortic Aneurysms
4/8/2004
William H. Pearce, MD
– Violet R. and Charles A. Baldwin Professor of Vascular Surgery
– Chief, Division of Vascular Surgery, Northwestern University, Feinberg School of Medicine, Chicago, IL
Update on the Pathogenesis of Abdominal Aortic Aneurysms
3/13/2003
William M. Abbott, MD
– Professor of Surgery, Chief of Vascular Surgery Emeritus, Massachusetts General Hospital
Arterial Prostheses: The Challenge Unmet
2/14/2002
Larry H. Hollier, MD
– Julius H. Jacobson II Professor of Vascular Surgery and Chairman, Department of Surgery, Mount Sinai Medical Center, New York, NY
The Role of Endovascular Surgery in Complex Aortic Disease
11/14/2000
Mr. Peter L. Harris
– Directorate of Vascular and Transplant Services, The Royal Liverpool University Hospitals, Broadgreen and Liverpool, UK
Anastomotic Engineering
11/13/1999
James S. T. Yao, MD, PhD
– Northwestern University
Atheroembolism: A Clinical Challenge
11/14/1998
Jerry Goldstone, MD
– Case Western University
Controversies and Complexities in the Management of Abdominal Aortic Aneurysms
11/18/1997
Lazar J. Greenfield, MD
– University of Michigan
Update on Thromboembolism
11/2/1996
G. Patrick Clagett, MD
– University of Texas
Prevention of Venous Thromboembolism: An Update
11/4/1995
Calvin B. Ernst, MD
– Henry Ford Hospital
Contemporary Management of Infrarenal and Pararenal AAA
10/27/1994
Norman R. Hertzer, MD
– Cleveland Clinic Foundation
Quality Control in Vascular Surgery: Results Mean Everything
9/23/1993
Robert B. Rutherford, MD
– University of Colorado
Options in the Management of Aortoiliac Disease
10/1/1992