An Original Architect of the Emory General Surgery Curriculum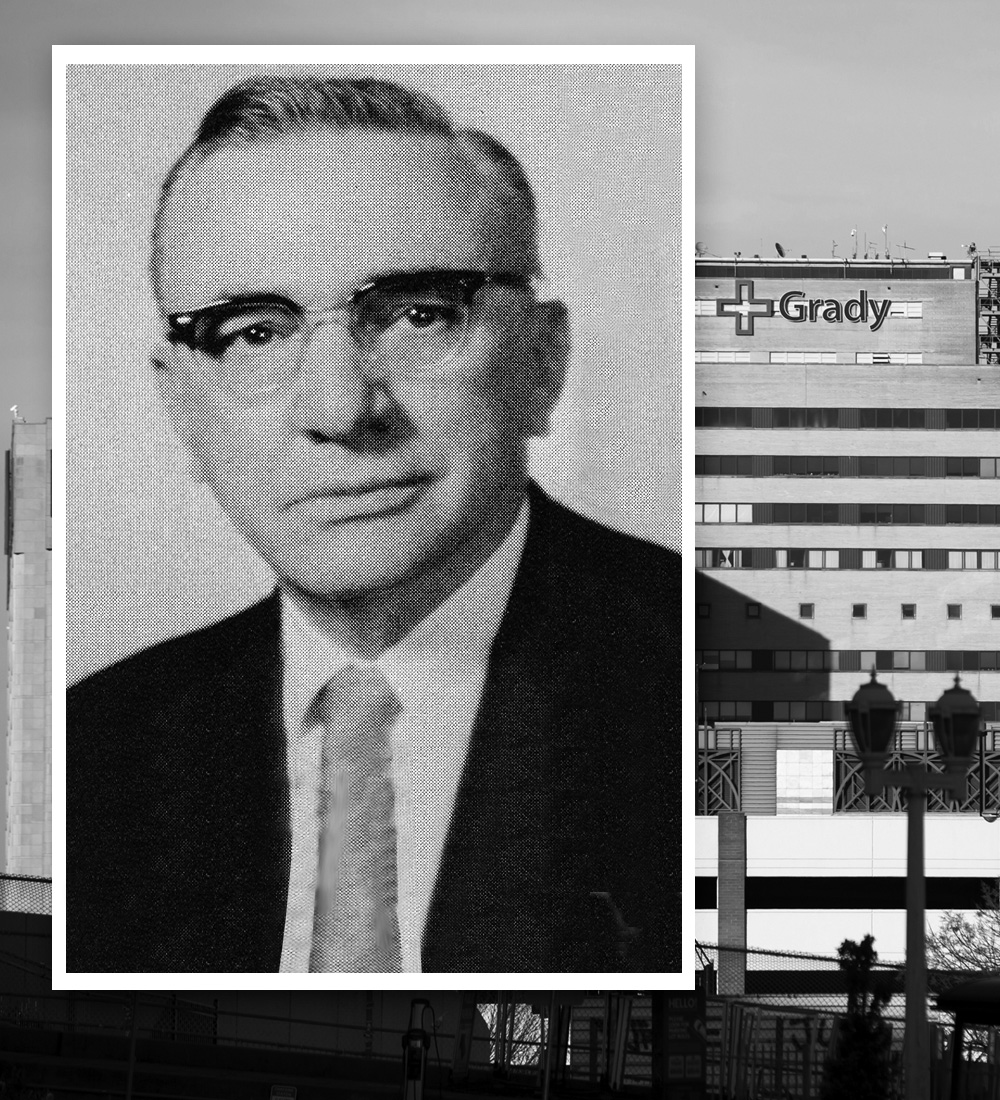 Dr. Ira Ferguson, Sr., was born in Anniston, Alabama, on February 5, 1896. His parents were farmers and owned a dry goods store. After graduating from Alabama Presbyterian College in 1917 he joined the Marine Corps and served in the 23rd Ambulance Company during WWI in the French and German campaigns. When the war ended he enrolled in the Medical College of Alabama, later transferring to Emory in 1920.
Graduating at the top of his class, he then did his internship and residency in surgery and gynecology at Grady Memorial Hospital and was the first chief resident in surgery at Wesley Memorial Hospital, renamed Emory University Hospital in 1932. Upon completing his residency, Dr. Ferguson began private practice in Atlanta while supervising residents at Grady. By 1939, he was an associate professor of surgery of the Emory School of Medicine.
In 1942, Dr. Ferguson was appointed Colonel and chief of the surgical service of Emory's 43rd Base Hospital Unit, which had served in WWI and had been reactivated for WW II. In 1943, the Emory faculty, staff, residents, and alumni serving on the 43rd sailed to North Africa and were stationed there for eight months, then sailed to Italy on D-Day. Shortly thereafter, Dr. Ferguson was assigned to the 11th Evacuation Hospital for the invasion of southern France. He later received the Bronze Star.
Upon returning home, Dr. Ferguson resumed teaching at Grady and became a consultant to the Veterans Administration, regularly inspecting hospitals throughout the southeast and conducting disaster training courses for national defense. He came into contact with Tuskegee Veterans Administration Hospital and was instrumental in initiating Alabama's first residency program for African-American surgeons at the institution in 1948.
He was appointed chief of surgery at Grady in 1956 and took a leading role in integrating it with Emory and the Atlanta VA hospitals to create the Emory University Affiliated Program, a consortium that strengthened the curriculum. In 1961, he retired from Grady to work solely at The Emory Clinic until his complete retirement in the late 1960s. After a lifetime of considerable academic, clinical, and national service, Dr. Ferguson died in February 1970.
The establishment of the Annual Ira A. Ferguson Lecture was made possible by a generous gift from Dr. Ira Ferguson, Jr., to honor his father. Ira Jr. retired from Emory in 1990 after thirty years of exemplary service as a general surgeon.
Speakers, Annual Ira A. Ferguson Lecture, 2008 – To Date

Speaker
Affiliation
Topic
Date
Herbert J. Zeh, III, MD, FACS, FSSO
– Professor and Chair of Surgery 
– Hall and Mary Lucile Shannon Distinguished Chair, UT Southwestern Medical Center
How Video Review and UT Southwestern are Posed to Revolutionize Safety and Quality in Surgery
4/27/2023
Thomas K. Varghese Jr., MD, MS, MBA
– Associate Chief Medical Quality Officer & Chief Value Officer, Huntsman Cancer Institute
– Chief, Section of General Thoracic Surgery, University of Utah
– Professor, Department of Surgery, University of Utah School of Medicine
Scaling Innovations for Health Systems – The Surgeon as the Pluripotent Change Agent
6/16/2022
Caprice C. Greenberg, MD, MPH
– Morgridge Distinguished Chair in Health Services Research, Division of Surgical Oncology, University of Wisconsin School of Medicine and Public Health
Surgical Coaching for Performance Improvement
4/22/2021
Rebecca M. Minter, MD
– A.R. Curreri Distinguished Chair, Department of Surgery, University of Wisconsin School of Medicine and Public Health
Would I Trust You to be My Surgeon?
4/18/2019
Amy J. Goldberg, MD
– Professor and Chair, Department of Surgery, Lewis Katz School of Medicine at Temple University
– Surgeon-in-Chief, Temple University Health System
From Bench to Bedside: Changing Practice and Saving Lives
4/5/2018
Robert Samuel Decosta Higgins, MD, MHSA
– William Stewart Halsted Professor and Director, Department of Surgery, Johns Hopkins University School of Medicine
– Program Director, Cardiovascular Residency Program, Johns Hopkins University School of Medicine
– Surgeon-in-Chief, Johns Hopkins Hospital
Surgery in the New Millennium: Can We Honor the Past and Create a Substantial Future?
4/13/2017
John G. Hunter, MD
– Mackenzie Professor and Chair, Department of Surgery, Oregon Health & Science University
Surgical Residency Redesign: Is it Time?
4/21/2016
Gerard M. Doherty, MD
– James Utley Professor and Chair of Surgery, Department of Surgery, Boston University School of Medicine
– Surgeon-in-Chief, Boston Medical Center
Differentiated Thyroid Cancer
4/9/2015
Ajit K. Sachdeva, MD
– Founding Director, Division of Education, American College of Surgeons
– Adjunct Professor of Surgery, Feinberg School of Medicine, Northwestern University, Chicago
Preparation of Residents for Independent Practice: Challenges, Opportunities, and New Directions
4/3/2014
Timothy J. Eberlein, MD
– Bixby Professor and Chairman, Department of Surgery, Washington University School of Medicine
– Spencer T. and Ann W. Olin Distinguished Professor and Director, The Alvin J. Siteman Cancer Center
– Surgeon-in-Chief, Barnes-Jewish Hospital
Surgical Training: A New Paradigm
4/18/2013
Barbara Lee Bass, MD
– John F. & Carolyn Bookout Distinguished Endowed Chair, Methodist Hospital Department of Surgery
– Executive Director, Methodist Institute for Technology, Innovation and Education (MITIE)
– Professor of Surgery, Weill Cornell Medical College of Cornell University
Building the Infrastructure for Surgeon Retooling: Who's Responsible?
4/19/2012
L.D. Britt, MD
– Brickhouse Professor of Surgery and Chairman, Department of Surgery, Eastern Virginia Medical School
– President, American College of Surgeons
– President, American Association for the Surgery of Trauma
The Future of Acute Care Surgery: Ongoing Challenges
4/21/2011
John Tarpley, MD
– Professor of Surgery, Department of Surgery, Vanderbilt School of Medicine
– Assistant Chief of Surgical Service, Nashville Department of Veterans Affairs Medical Center
– Program Director, General Surgery Residency, Vanderbilt Medical Center
Teaching in the OR… $1000 per hour… or Priceless?
4/1/2010
Alexander S. Rosemurgy, II, MD
– Professor of Surgery and Medicine, University of South Florida
– Director, Division of General Surgery, Department of Surgery, USF
– Surgical Director, Tampa General Hospital Digestive Disorders Center
Portal Hypertension
1/5/2009
Charles M. Ferguson, MD
– Associate Professor of Surgery, Massachusetts General Hospital
Ira A. Ferguson, Sr., MD, and the Other Tuskegee Experiment
1/3/2008