Atlanta's First Pediatric Surgeon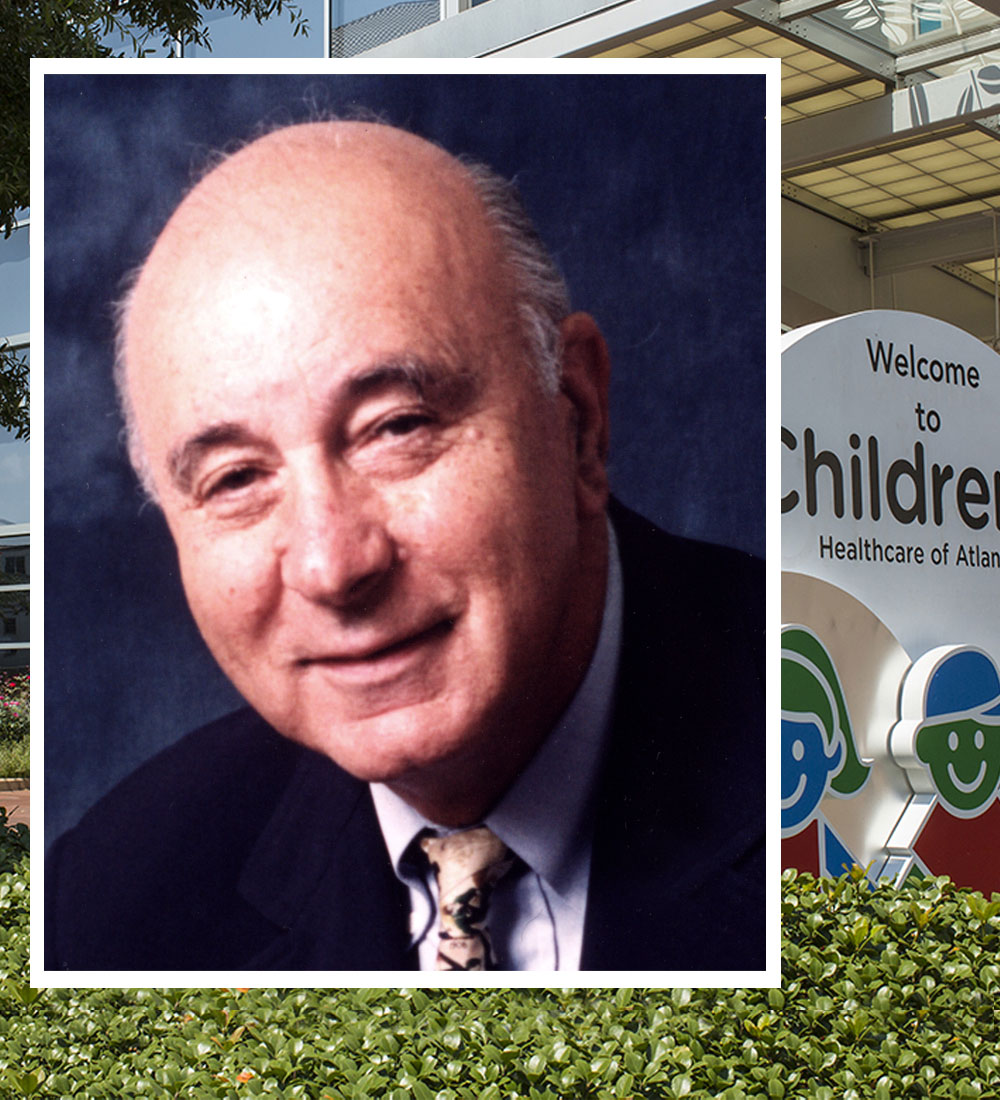 Gerald Zwiren, MD, received his medical degree at the Medical College of Virginia in 1954. His surgical residency was done at Eastern Virginia Medical School, and he trained with pediatric surgical pioneer Robert Gross, MD, at Boston Children's Hospital — Dr. Gross and William Ladd, MD, coauthored the first textbook in the U.S. that defined pediatric surgery, Abdominal Surgery of Infancy and Childhood, published in 1941.
Dr. Zwiren settled in Atlanta in 1961 as the first pediatric surgeon in the city and quickly became known as a dedicated and compassionate physician. While developing a highly active clinical practice, Dr. Zwiren trained medical students and surgical residents at Egleston Children's Health Care System and Grady Memorial Hospital. He also contributed to the development of Emory's pediatric surgery fellowship.
Dr. Zwiren retired from clinical practice in 1995, and passed away on March 22, 2002.
Speakers, 2006 – To Date

Speaker
Affiliation
Topic
Date
Eunice Y. Huang, MD, MS, FACS, FAAP
– Professor of Pediatric Surgery 
– Vice Chair for Clinical Services
– Associate Program Director, Pediatric Surgery Fellowship, Department of Pediatric Surgery
– Vice Chair for Surgical Quality & Patient Safety, Monroe Carell Jr. Children's Hospital at Vanderbilt, Nashville, TN
Thriving in Surgical Training: Can Coaching Relationships Help?
5/18/2023
Daniel J. Ostlie, MD
– Surgeon-in-Chief and Chair of Surgery, Phoenix Children's Hospital
– Professor of Surgery, Mayo Clinic College of Medicine
Surgeons as Leaders – Difficulties, Opportunities, and Paradigms
4/21/2022
Rebecka L. Meyers, MD
– Professor of Surgery, Division of Pediatric Surgery, Department of Surgery, University of Utah School of Medicine
Liver Tumors in Children
5/13/2021
Oluyinka Olutoye, MD, PhD
– Professor of Surgery, Pediatrics, and Obstetrics, Baylor College of Medicine
– Co-Director, Texas Children's Fetal Center, Texas Children's Hospital
Fetal Surgery: Past, Present and Future
5/9/2019
Diana Lee Farmer, MD
– Chair and Pearl Stamps Stewart Professor, Department of Surgery, UC Davis Health System
– Surgeon-in-Chief, UC Davis Children's Hospital
The Joy of Discovery
5/17/2018
Michael L. Nance, MD
– Director, Pediatric Trauma Program, Children's Hospital of Philadelphia
– Investigator, Center for Injury Research and Prevention, CHOP
– Professor of Surgery and Josephine J. and John M. Templeton Jr. Chair in Pediatric Trauma, Perelman School of Medicine at the University of Pennsylvania
Ignorant was Bliss: How the Medical Community Abetted the Assassination of President Garfield
5/18/2017
Mary L. Brandt, MD
– Professor of Surgery, Division of Pediatric Surgery, Baylor College of Medicine, Houston, TX
– Senior Associate Dean for Student Affairs, School of Medicine, Baylor COM
– Director, Adolescent Bariatric Surgery Program, Texas Children's Hospital
– Director, Anorectal Malformation Clinic, Texas Children's Hospital
Sustaining a Career
5/19/2016
Timothy D. Kane, MD
– Professor of Surgery and Pediatrics, Department of Surgery, George Washington School of Medicine & Health Sciences, Washington, DC
– Principal Investigator, Minimally Invasive Therapy Program, Bioengineering Initiative of the Sheikh Zayed Institute for Pediatric Surgical Innovation, Children's National Health System, Washington, DC
– Chief, Division of General and Thoracic Surgery, Joseph E. Robert, Jr., Center for Surgical Care, Children's National Health System
– Program Director, Pediatric Surgery Fellowship Program, Joseph E. Robert, Jr., Center for Surgical Care, Children's National Health System
Advanced Minimally Invasive Surgery (MIS) in Children: Back to the Future
5/21/2015
Alan W. Flake, MD
– Director, Center for Fetal Research, Stokes Research Institute, Abramson Pediatric Research Center
– Training Director, Pediatric Surgery Fellowship, Children's Hospital of Philadelphia
– Professor of Surgery, Obstetrics, and Gynecology, University of Pennsylvania
Fetal Therapy: Surgical, Cellular, and Molecular Perspectives
5/22/2014
Richard R. Ricketts, MD
– Professor of Surgery, Division of Pediatric Surgery, Department of Surgery, Emory University
School of Medicine, Emory-Children's Center
– Former Chief, Division of Pediatric Surgery, Department of Surgery, Emory University School of Medicine, Emory-Children's Center, 1980-2010
Surviving Childhood Cancer... The Rest of the Story
5/9/2013
George Whitfield Holcomb, III, MD, MBA
– Surgeon-in-Chief
– Director, Center for Minimally Invasive Surgery
– The Katharine B. Richardson Endowed Chair in Pediatric Surgery
– Professor of Surgery, University of Missouri-Kansas City School of Medicine
Evidence Based Medicine and Level 1 Outcome Studies in Pediatric Surgery
5/17/2012
Carroll Mac Harmon, MD, PhD
– Professor of Surgery, Division of Pediatric Surgery, Department of Surgery, University of Alabama at Birmingham School of Medicine
Pediatric Intestinal Failure: From Halifax to Fish Oil
5/12/2011
Hanmin Lee, MD
University of California, San Francisco:
– Associate Professor of Surgery
– Chief, Fetal Treatment Center
Fetal Surgery: Trials, Tribulations and Serendipity
4/15/2010
Max R. Langham, Jr., MD
University of Tennessee Health Science Center:
– Professor of Surgery and Pediatrics, College of Medicine
– Program Director and Chief, Division of Pediatric Surgery,
Department of Surgery
Hepatoblastoma
4/9/2009
Keith E. Georgeson, MD
– Director, Division of Pediatric Surgery
– Vice-Chair, Department of Surgery
– Director, Pediatric Surgical Sciences
– Program Director, Pediatric Surgery Fellowship Program
– University of Alabama School of Medicine and The Children's Hospital of Alabama, Birmingham, AL
Impact of Laparoscopy on Colorectal Surgery in Infants and Children
4/17/2008
Patricia K. Donahoe, MD
– Director of Pediatric Surgical Research Laboratories and Chief Emerita of Pediatric Surgical Services, Massachusetts General Hospital
– Marshall K. Bartlett Professor of Surgery, Harvard Medical School
The Genetics of Congenital Diaphragmatic Hernia
3/1/2007
Robert Shamberger, MD
– Robert E. Gross Professor of Surgery, Harvard Medical School
– Chief of Surgery, Boston Children's Hospital
Ewing's Sarcoma of the Chest Wall: Evidence-Based Practice
6/1/2006