Founder of the Emory Residency in Vascular Surgery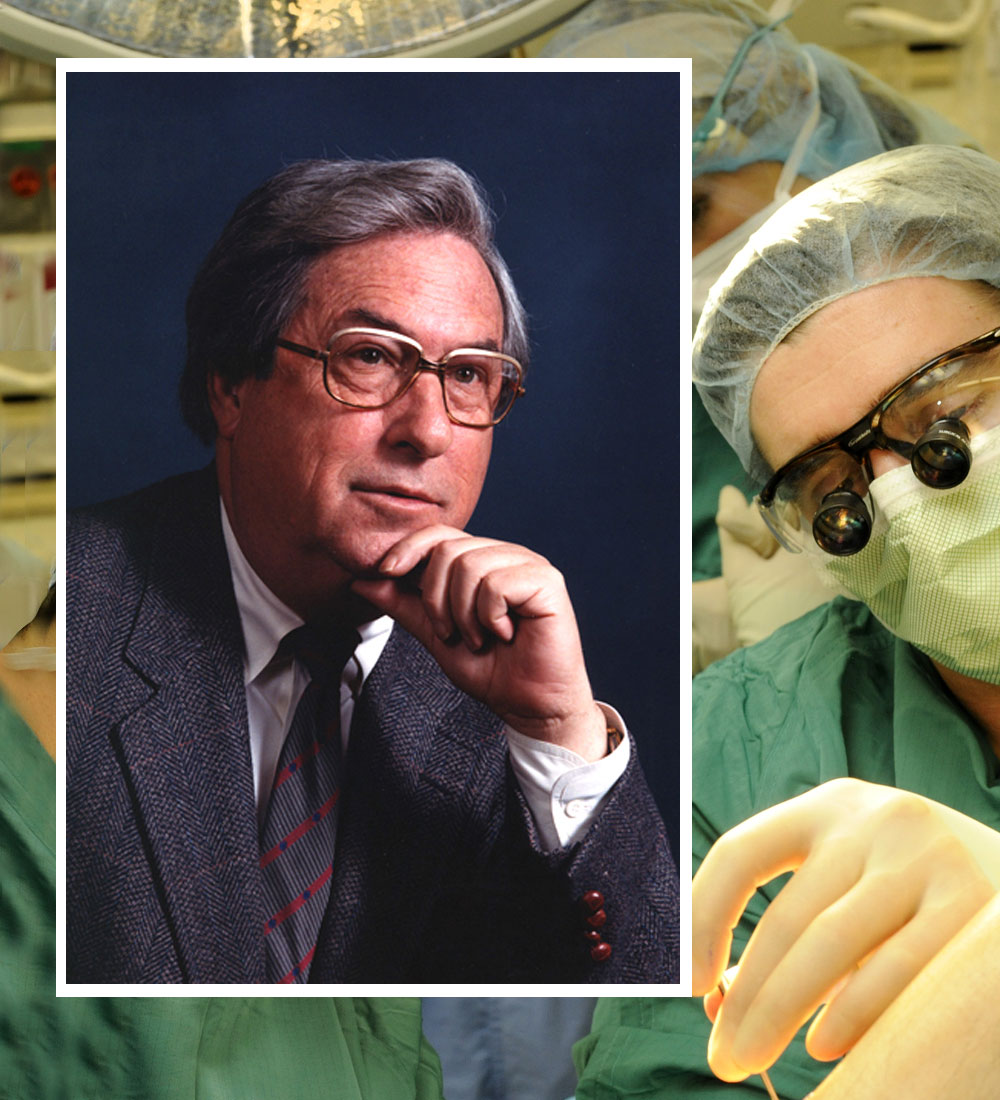 A Georgia native, Dr. Perdue's enrollment at Emory College was interrupted by his military enlistment at age 17 during the height of WWII. He served in the 311th Infantry Regiment, fought across France and Germany, received the Bronze Star, and rose to the rank of First Sergeant. When discharged, he returned to Emory and completed medical school as well as his surgical training.
Dr. Perdue joined the faculty of the Department of Surgery in 1958 and was appointed chief of the Division of Vascular Surgery in 1960, a position he held for 24 years. In 1966, he served as primary surgeon on the first kidney transplant performed in Georgia. He also established Emory's Vascular Surgical Residency in 1969, the first such program in the United States to receive peer review accreditation. He was appointed medical director of both Emory University Hospital and The Emory Clinic in 1984 and executive director of Emory University Healthcare in 1993. Three years later he retired from administrative duties, completing more than 38 years of service to Emory.
A regional and national leader in his specialty, Dr. Perdue helped to establish the Atlanta Vascular Society, was a founding member and early president of the Southern Association for Vascular Surgery, and served as president of the North American Chapter of the International Society for Cardiovascular Surgery. His alma mater honored him with the Medal Alumni Association Award of Honor in 2004 and he received the prestigious Rudolph Matas Lifetime Achievement Award from the Southern Association for Vascular Surgery in 2006.
Dr. Perdue died on September 11, 2007, at age 81 after an extended series of illnesses. To honor his legacy as one of the premier vascular surgeons, educators, and innovators in the South during the second half of the twentieth century, Dr. Perdue's family and many of his grateful residents, colleagues, and friends made generous donations to endow the Annual Garland Perdue Lectureship in 2008.
Garland Perdue Lectureship Speakers, 2008 – To Date

Speaker
Affiliation
Topic
Date
Dawn Marie Coleman, MD
– Professor of Surgery and Chief, Division of Vascular and Endovascular Surgery, Department of Surgery, Duke University School of Medicine
The Importance of the Team: A Pediatric Renovascular Hypertension Collaborative
11/10/2022
Caron B. Rockman, MD
– Florence and Joseph Ritorto Professor of Surgical Research, Department of Surgery, NYU Grossman School of Medicine
– Program Director, Vascular Surgery, NYU Langone Medical Center
The Management of Carotid Disease in Women: How Underrepresentation of Women and Other Groups in Clinical Trials Influences Medical Practices
11/11/2021
Gilbert Rivers Upchurch Jr, MD
– Edward R. Woodward Professor and Chair, Department of Surgery, University of Florida College of Medicine
The Joy of Discovery
11/7/2019
Matthew J. Eagleton, MD
– Chief, Division of Vascular and Endovascular Surgery, Massachusetts General Hospital, Harvard Medical School
Endovascular Aneurysm Repair – A Legacy of Innovation
11/1/2018
Marc A. Passman, MD
– Professor of Surgery, University of Alabama at Birmingham School of Medicine
– Vice-Chair, Clinical Research, Division of Vascular Surgery and Endovascular Therapy, UAB
– Director, UAB Vein Center
Venous Interventions – Where Evidence and Ethics Diverge
11/2/2017
K. Craig Kent, MD
– Dean, College of Medicine; Vice President of Health Sciences, Wexner Medical Center: Ohio State University College of Medicine
Innovations in Surgical Education
11/3/2016
Peter Gloviczki, MD
– Joe M. and Ruth Roberts Professor of Surgery, Mayo Clinic College of Medicine, Rochester
– Chair Emeritus and Consultant, Division of Vascular and Endovascular Surgery, Mayo Clinic
Open Large Vein Reconstruction in the Endovascular Era
11/5/2015
Luis A. Sanchez, MD
– Gregorio A. Sicard Distinguished Professor of Vascular Surgery and Chief, Section of Vascular Surgery, Department of Surgery, Washington University School of Medicine in St. Louis
– Program Director, Vascular Fellowship Program, Washington University School of Medicine
– Co-Chairman, Heart & Vascular Center, Barnes-Jewish Hospital
The Evolving Management of Juxtarenal and Suprarenal Aneurysms
11/6/2014
Julie A. Freischlag, MD
– William Stewart Halsted Professor
– Chair, Department of Surgery, John Hopkins Medicine
– Surgeon-in-Chief, Johns Hopkins Hospital
Clinical and Personal Comparative Effectiveness
11/7/2013
Richard Paul Cambria, MD
– Chief, Division of Vascular and Endovascular Surgery; Co-Director, Thoracic Aortic Center; Massachusetts General Hospital
Carotid Stenosis: The Limits of the Endovascular Revolution
11/8/2012
Thomas S. Riles, MD
– Frank C. Spencer Professor of Surgery
– Associate Dean for Medical Education & Technology, Departments of Surgery and Administration, NYU Langone Medical Center
Who Benefits from Carotid Surgery?
11/3/2011
W. Charles Sternbergh, III, MD
– Staff Vascular Surgeon, Ochsner Clinic, New Orleans, LA
– Clinical Assistant Professor of Surgery, Tulane University School of Medicine
– Program Director, Vascular and Endovascular Surgery, Ochsner Clinic Foundation
– Section Head, Vascular and Endovascular Surgery, Ochsner Clinic Foundation
The Economics of Endovascular Treatment: A Tale of Two Therapies
11/4/2010
Louis M. Messina, MD
– Professor and Chief, Division of Vascular Surgery
– Vice Chair, Department of Surgery
– University of Massachusetts Medical School
Mesenchymal Stem Cell Dysfunction in Response to Hindlimb Ischemia in Type 2 Diabetic Mice
12/03/2009
Bruce Perler, MD, MBA
– Julius H. Jacobson, II, Professor of Surgery and Chief, Division of Vascular Surgery, Department of Surgery, Johns Hopkins Medicine
Evidence-Based Medicine and the Contemporary Management of Carotid Artery Disease
11/13/2008