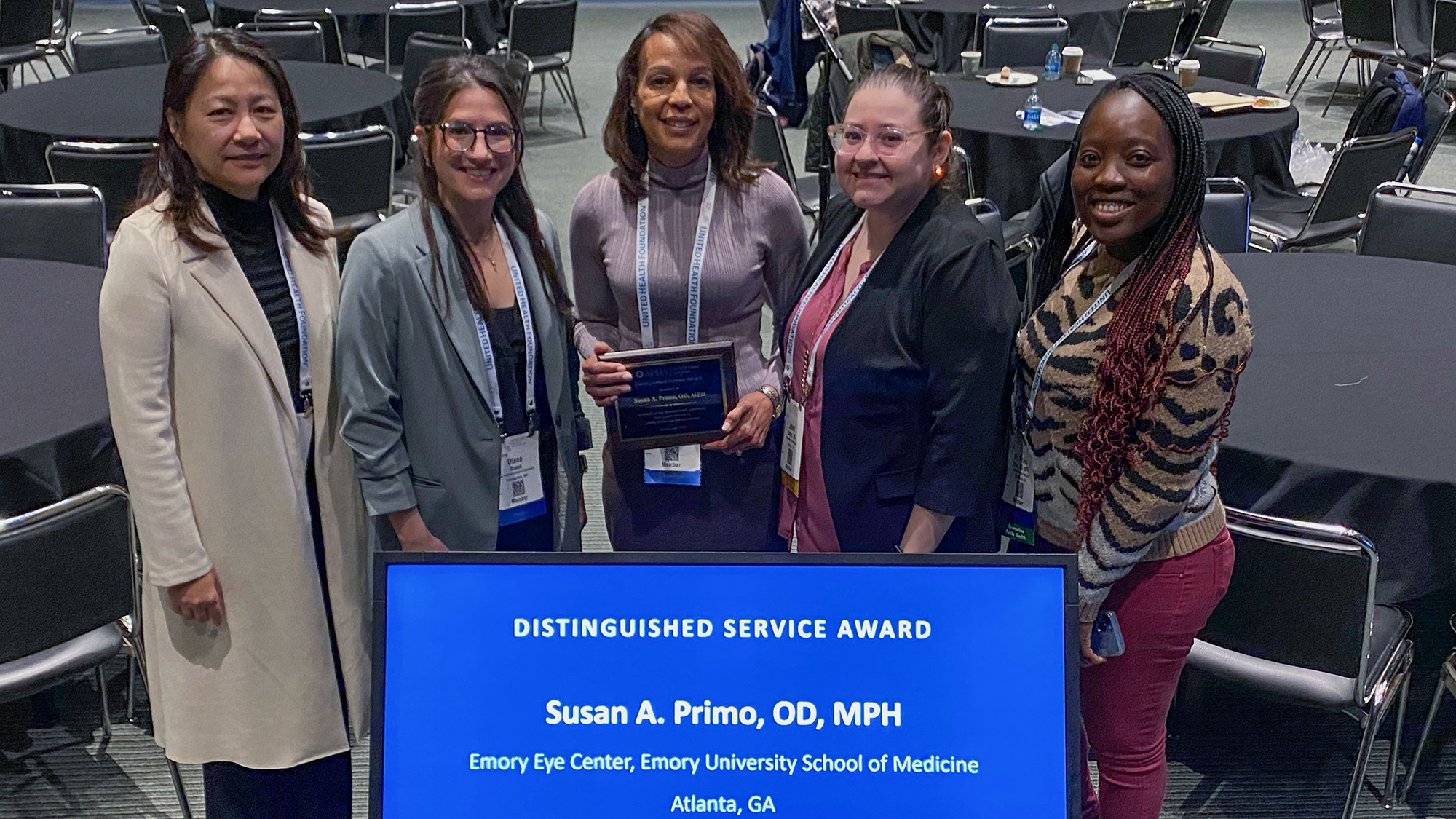 The American Public Health Association this week recognized Emory Eye Center's Susan Primo, OD, MPH, FAAO with a Distinguished Service Award "for her work advancing access to vision care for the underserved and for her continued high-quality service in public health."
Nominated by her colleagues at Prevent Blindness, Primo accepted the award on November 13 during the APHA's annual meeting, which was held in Atlanta.
The award recognizes Primo's recent efforts to develop "Eyes on Access," a webinar series designed to educate community-based health centers on the importance of developing on-site eye and vision care clinics.  Primo collaborated with National Association of Community Health Centers (NACHC), the Association of Clinicians for the Clinically Underserved (ACU) and Prevent Blindness to create the series, which provides practical tips on how to incorporate vision services into an existing or new center. 
"Community health centers and clinics are our most promising tool for eradicating barriers to vision and eye services for the poor and chronically underserved in this country," said Primo. 
"Each year, they serve more than 30 million people and are trusted by their patients to provide culturally sensitive, affordable services in a community setting, reducing some of the barriers like transportation, insurance and language."
Primo applauded Emory Eye Center's commitment to sending Optometrists to three of Grady Hospital's neighborhood clinics: Kirkwood, Brookhaven, and now Camp Creek.  But, she said, more needs to be done to expand access nationwide.
"Our goal is to incorporate vision and eye care services into the routine medical care provided at 50 percent of the country's community health centers. And we are getting there.  Over the last decade we've gone from 19 percent to 25 percent."
Dr. Primo's commitment to treating the underserved runs deep. Find out more about her outreach work in Tanzania.