Responding to global vision challenges
The Emory Eye Center's Global Ophthalmology program is committed to responding to challenges that present themselves in different geographies and cultures. Some of our work involves fighting a specific vision disorder or related disease that threatens eyesight - such as trichoma or ebola. Other initiatives focus on building the capacity to prevent vision loss, slow its progression, or lessen its impact in areas of the world that are under-resourced. This is a catalogue of previous initiatives that GO-E has launched.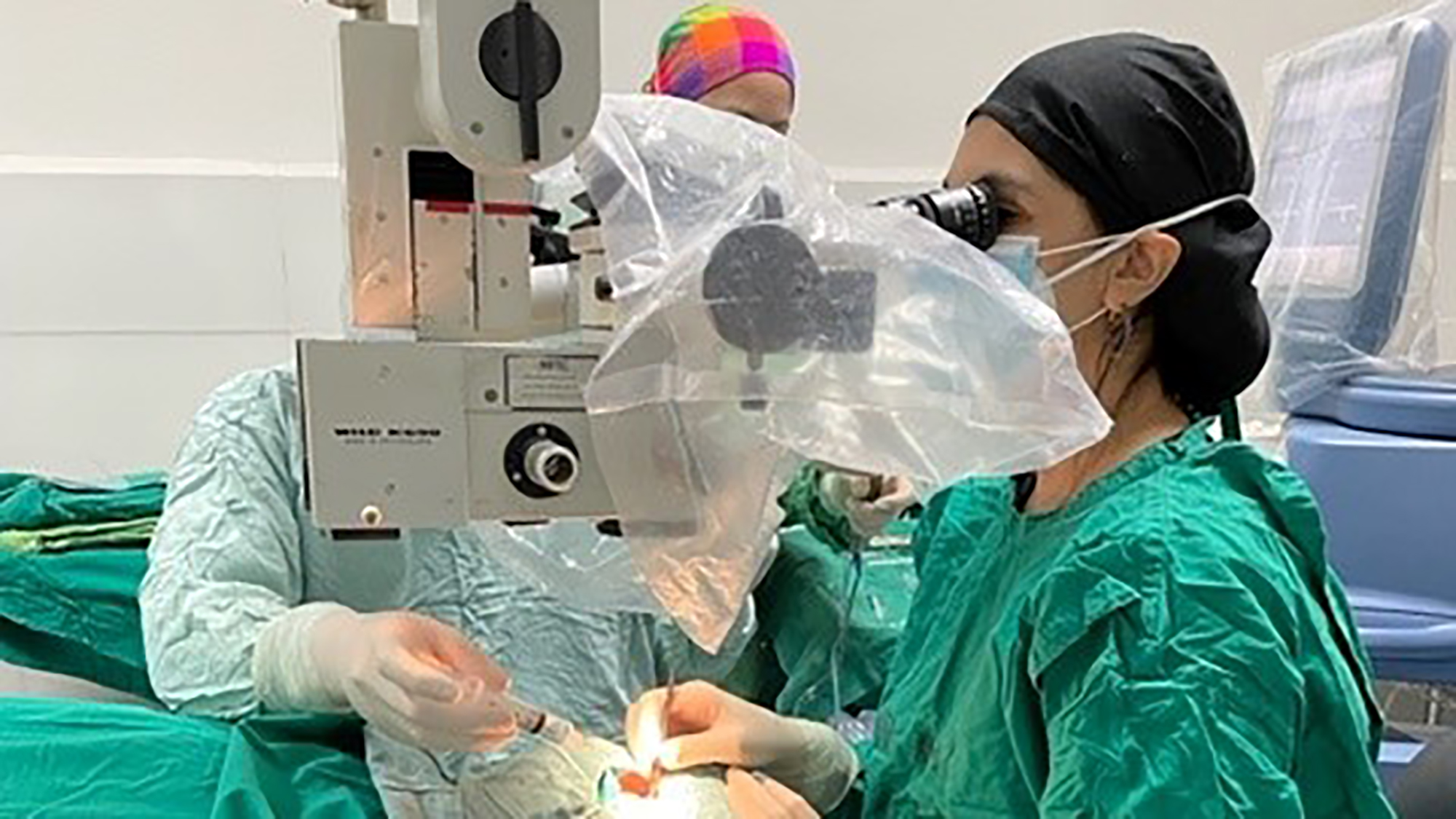 Trachoma is an eye disease caused by the bacterium chlamydia trachomatis. Repeated infections can lead to the inside of a person's eyelid becoming scarred and turning inward. This causes the eyelashes to scrape against the person's eye with each blink, which will lead to blindness if left untreated.
Trachoma is most common in poverty-stricken communities with little access to environmental sanitation or basic health education about the benefits of hand and face washing. It often begins as a childhood illness that spreads easily to other children and to caregivers. Women are twice as likely as men to go blind from repeated trachoma infections because of their role as caregivers.
Fortunately, trachoma is preventable with proper hygiene. Simple interventions endorsed by the World Health Organization – known as the SAFE strategy – can help prevent and treat trachoma. SAFE stands for:
• Surgery to treat the blinding stage of trachoma;
• Antibiotics to prevent and treat infection;
• Facial and hand cleanliness;
• Environmental improvement.
The Emory Global Ophthalmology Trachoma Initiative
Emory Eye Center's trachoma initiative, in partnership with the international trachoma community, aims to permanently end the disability and blindness caused by trachoma. Using funding from the UK's Department for International Development (DFID) and the Queen Elizabeth Diamond Jubilee Trust, the Global Ophthalmology Trachoma Initiative has been able to support SAFE elimination strategies in 370 trachoma endemic health districts in 10 African countries. We have managed more than 160,000 cases of trichiasis and protected 25.4 million people from trachoma by administering more than 49 million doses of antibiotics.
Ebola virus disease (EVD or ebola) first emerged as world health issue in 1976 when outbreaks were recorded in two remote villages of Central Africa. It has since made its way to major urban centers, where more than 28,000 cases caused more than 11,000 deaths during an outbreak in 2013-2016. The countries most impacted by ebola continue to be Sierra Leone, Liberia, and Guinea.
Ebola virus disease (EVD) and vision health 
Long-term collaborations on this disease have given EEC ophthalmologists perspective that demands a public health response: 
There is a high prevalence of uveitis in EVD for survivors, ranging from 25-33%
In patients who develop uveitis, more than 40% develop severe vision loss or blindness, underscoring the impact of eye disease on the quality-of-life of survivors
Survivors are also prone to develop complicated cataracts, which often require more difficult procedures to correct
The Global Ophthalmology response
Physicians at the Emory Eye Center have worked closely with Dr. Ian Crozier, a World Health Organization (WHO) physician who treated ebola in West Africa and investigated the long-term sequelae of ebola virus and the eye. Crozier's own bout with EVD impacted his eyesight and also led to the discovery of the ebola virus in the ocular fluid of survivors. Crozier's vision was restored by medical interventions he received at Emory.
The Emory GO-E team has also been active in building  capacity for advanced eye care in Sierra Leone. Ongoing projects supported by NIH, industry, and foundation grants, as well as individual donors include 
Evaluation of Ebola virus persistence in eye fluid and the impact on safety during eye surgery for Ebola survivors and eye surgeons
Assessment of eye inflammation in Ebola survivors, particularly in women and children, and the impact on their quality-of-life and mental health
Development of capacity for clinical care, research, and education for advanced eye care in Sierra Leone through country-wide symposia, case presentations, infrastructural and equipment support