Library, labs, lecture spaces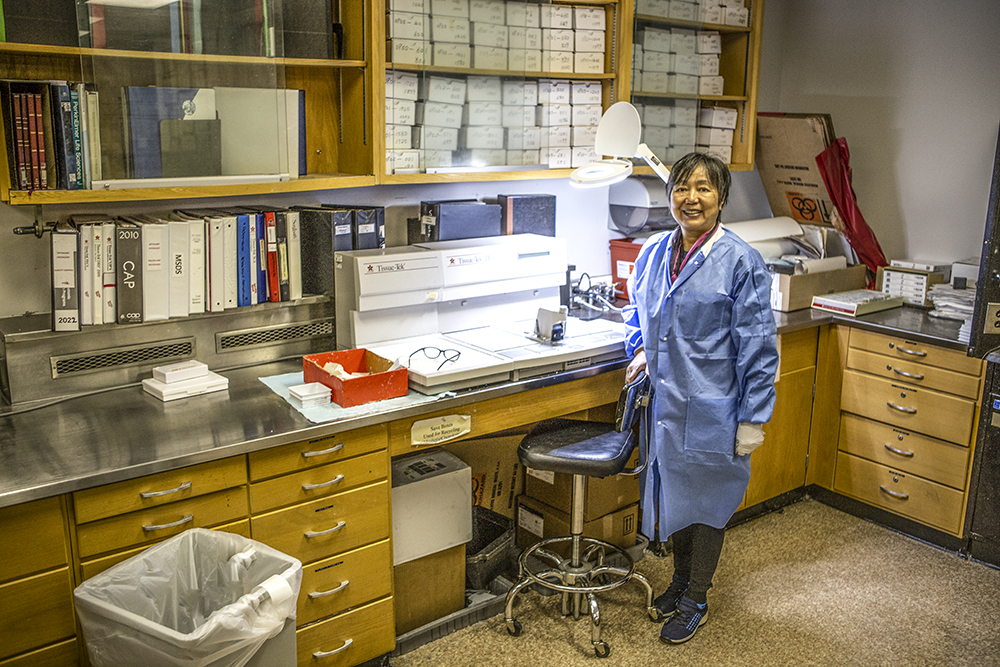 The L. F. Montgomery Laboratory
is a free-standing, independently-licensed lab that  was established in 1940 by a grant from Lafayette Montgomery, an executive at Coca-Cola.  Located on the "Tunnel" level of Building B,  it is nationally recognized for its drug delivery research, as well as its work in ocular oncology and age-related macular degeneration research.
First and foremost, the lab is a bustling training ground for ophthalmology and pathology residents, fellows, medical students and histotechnicians. Research generated from the Montgomery Lab is routinely applied to patient care in our Ocular Oncology and Pathology service.
Montgomery Lab accepts surgical specimens from ophthalmologists, otolaryngologists, and plastic surgeons, including eyes, corneas, orbital tissue, eyelids, ocular cytology specimens and vitreous. The lab has accessioned and signed more than 60,000 ophthalmic pathology cases in its 80+ year history.
The H. Talmage Dobbs Electron Microscopy Suite
This section of the Montgomery Lab houses transmission and scanning electron microscopes and a Nikon confocal scanning laser microscope, which have served the structural biology module for a departmental core grant for more than 20 years.
The laboratory has also served as a review center for the National Institutes for Health (NIH)-funded Collaborative Ocular Melanoma Study (COMS) and as the pathology center for the NIH-funded Submacular Surgery Trials (SST).
The Cyrus Stoner Learning Center
Located on the Tunnel Level of the B Building, the Cyrus H. Stoner Learning Resources Center (LRC) has become the hub of the Department of Ophthalmology's educational program. The center provides access to archived information and current knowledge in ophthalmology and vision science for research and clinical ophthalmology faculty, staff, residents, fellows, international scholars, students, and practicing ophthalmologists.
Adjacent to the LRC is another critical resource for teaching and leadership development. The F. Phinizy Calhoun, Jr. Auditorium is a newly renovated lecture space that is available for conferences, meetings, and practice sessions. Equipment available for use in the auditorium includes an overhead projector, an LCD projector, a VCR, and dual slide projectors
Residents, fellows, and clinicians at the Emory Eye Center are afforded free access to the Neuro-Ophthalmology Virtual Education Library (NOVEL) --  an online, open-access learning resource. Created through a collaboration between the North American Neuro-Ophthalmology Society (NANOS) and the University of Utah Eccles Library, NOVEL has a collection of digital learning objects that are curated and maintained by the faculty of the Emory Eye Center.  
Ongoing Emory Eye Center Seminar Series
Each week the Emory Eye Center hosts a variety of research talks, clinical case analyses, and technical presentations that explore new perspectives in ophthalmology. Read summaries of our regular talks -- Grand Rounds, Tuesday Morning Data Sessions, and the Vision Research Senubar - as well as insights from distinguished lectures that have been delivered by visiting experts. Learn More
This collection of educational videos includes all publicly available videos of educational lectures that have been given by Emory Eye Center faculty, residents, fellows, and visiting lecturers.