The Emory Eye Center's commitment to diversity, equity, and inclusion (DEI)
We aim to prioritize diversity (defined broadly as gender, racial/cultural, age, physical abilities, sexual orientation, religious beliefs) in our recruitment and retention of team members (including faculty, staff, and trainees) and to create a culture that values and celebrates diversity at all levels.

We aim to cultivate an inclusive community and a safe space for our team members and patients, as well as an ongoing commitment to advancing and embracing equity amongst our team members through transparency and open dialogue.

We welcome ALL patients from all backgrounds, and aim to provide equal access to treatment, improve outcomes and eliminate disparities in care.
Come join us at the Emory Eye Center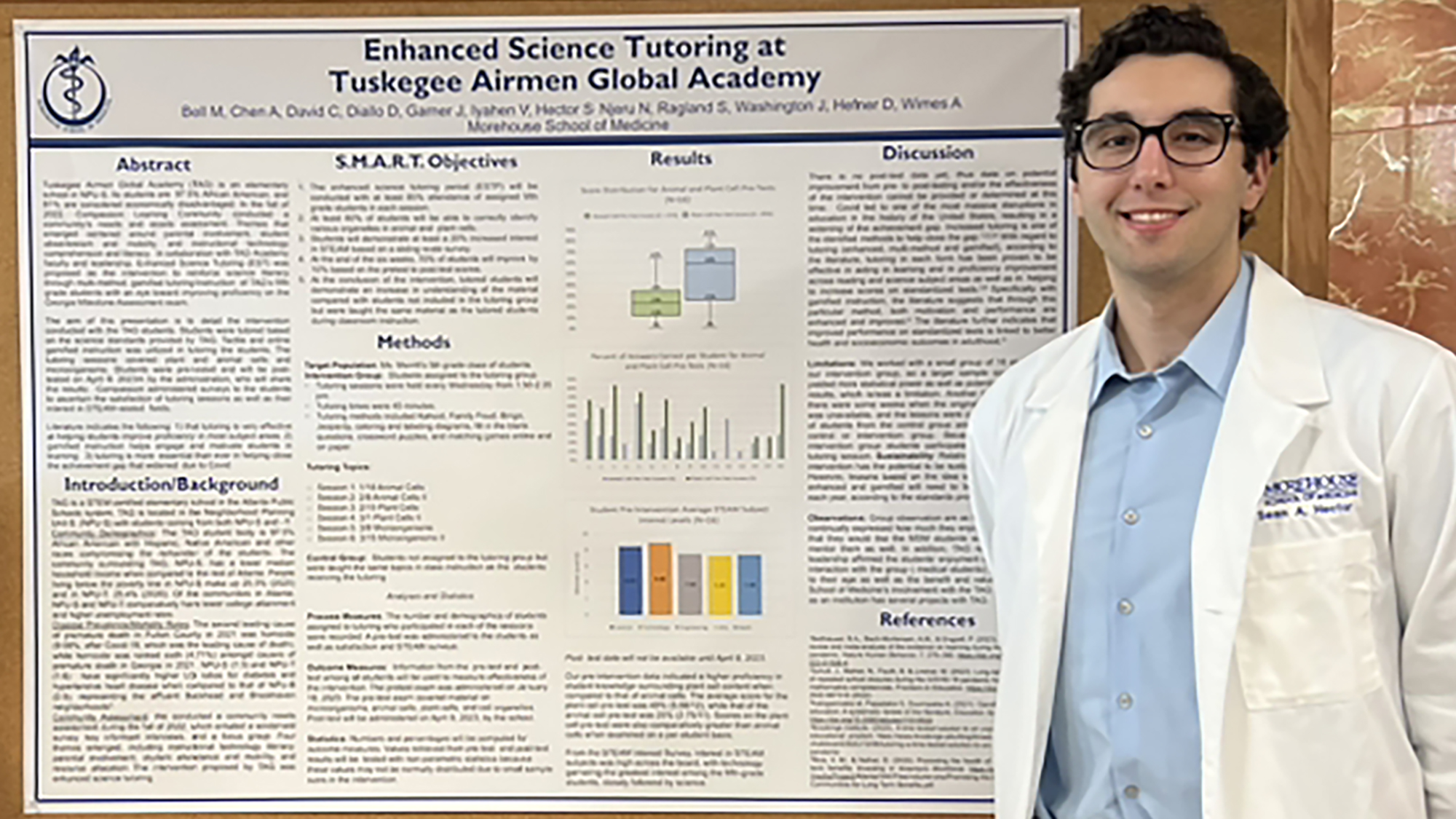 Welcome to Sean Hector, the 2023 DEI intern
From June 6 until August 17, Morehouse School of Medicine student Sean Hector will join our medical team through the DEI internship program.
Long before Sean Hector even thought of applying for the Emory Eye Center's DEI summer internship, he pieced together his own medical internship "to see if I could really see myself as a doctor."
"Medical school is a lot of money and commitment – too much, if it didn't work," said the first-year Morehouse School of Medicine student. "So after I graduated from Kennesaw State, I took an intentional gap year before applying to med school so I could work and volunteer in the field. "
That job - working as an imaging tech in the emergency room of a level II trauma center – answered his original questions. And then it gave him more to ponder.  
Each day, Hector was the second staffer to see incoming patients who had been in accidents, experienced strokes or had some sort of concussive injury. The environment was so fast-moving that Hector rarely had time to second-guess himself.  But he was always processing what he heard, saw, and did on the job.
"Before, I'd wondered if I'd pass out or freeze at the sight of blood," he recalled.
"But after a week on this job, I'd seen a leg that had been completely crushed, and a patient who experienced neurological injuries from a stroke. And, yeah, I'd washed blood off my scrubs. But what I took away was that I worked better under stress. Especially in the team environment, where everyone was highly trained and working hard.  It forced me to focus, too, because I could see right there that I could change someone's life if I did my little job well."
For the last year, his "job" has been medical school – a challenge that has included preceptorships, classes, some volunteering, and still more pondering about where he might specialize. Hector thinks the Emory Eye Center's summer DEI internship will help him clarify his direction.
"When I was an undergraduate, I didn't understand really what ophthalmology entails, but I did understand that a lot of neurological problems – pathologies - are detected through the eyes," he said. "Working at Emory will give me a close-up view of the procedures that ophthalmologists perform, and that exposure will be good no matter where I end up."
That sounds about right to DEI chair Jacquelyn O'Banion, MD, who fielded candidates for this summer's opening. 
"We want this internship to give candidates the freedom to explore the field of ophthalmology with a curious and open mind," she said. "Sean's interest in helping others and his willingness to challenge himself in the process are qualities we look for in a clinician. And we are excited to add his perspective and his skills to our team."
For two months, Hector will dive into a research project while shadowing O'Banion at the Clifton Road and Grady Hospital eye clinics. He looks forward to learning from his mentors, but knows, too, he will be adding something valuable to the team.
"As a Hispanic, I know that I stand out in this crowd. That has been clear to me since I applied to medical school. But in the clinic, we will be seeing patients who come from the same place I do. That will mean a lot to them. It also means a lot to me. And it could inspire some to do the same thing I am doing. But I hope we don't stop there. I hope we can encourage people in every population to go after their dreams, to take as many risks as possible to realize their dreams."