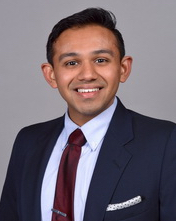 Third year Pediatric Critical Care Fellow Rahul Damania is passionate about education and helping the community. He became a physician so he can connect with sick patients and apply basic science and critical thinking principles to optimize their quality of life. When Dr. Damania was in medical school at Northeast Ohio Medical University (NEOMED), his sister was admitted to the Pediatric Intensive Care Unit (PICU) for 28 days. He says that experience shaped his narrative, and motivated him to pursue pediatric critical care medicine. "I was fascinated with the critical thinking aspect that was part of intensive care medicine; also, having the opportunity to manage multiple organ systems and collaborating with other subspecialties provides me great fulfillment.  Critical care medicine is also heavily rooted in physiology and pathophysiology which forms the basis of clinical care and my education passion. Pure science coupled with connecting with families during challenging times are aspects which drove me to medicine and now I get to couple this with my narrative of being "on the patient's side" during fellowship and beyond."
Being a fellow has been a formative experience for Dr. Damania. He says, "I've grown as a clinician, scholar, and researcher. I've developed a passion for medical education innovation, and I want to center my scholarship on an interdependent triad of technology, medical education and value-based healthcare. Along with pursuing a Masters in Medical Education, this triad is what I hope to focus future research and educational curricula on."
Dr. Damania has been involved with research focusing on bronchiolitis, an infection of the respiratory tract. His research addresses bronchiolitis from a value-based care perspective. 
"It's a common admitting diagnosis, and we do not have many therapies which can change the clinical trajectory; thus, we were interested in viewing this diagnosis from a value-based care standpoint," says Dr. Damania. "We focused our project on a simple equation – Value is equal to quality divided by cost."
Dr. Damania, with help of 3rd year Emory Pediatrics resident, Blake Vanderwood, and his team of mentors, Raj Basu & Maya Dewan, performed a retrospective chart review of 200 patients under two-years-old with bronchiolitis. They created a novel Value Based Scorecard in bronchiolitis. Their scorecard had details on quality and cost for each patient. The quality score included things that most mattered to families such as frequency of feeding their child and usage of needles and radiation. For cost, Dr. Damania and his team looked at resource utilization of inhaled therapeutics and respiratory viral panels. The pilot study found that children with higher quality and lower cost scores tended to have shorter PICU stays even when adjusted for how sick they were.
Dr. Damania also received his EPIC Physician Builder certification, and was involved in building a critical care bronchiolitis order set (mentor: Dr. Jana Stockwell) along with collaborating on creating a pediatric respiratory failure in COVID-19 algorithm for the institution. His work culminated in publishing an article entitled, "Severe acute respiratory syndrome coronavirus 2 infection and critically ill children" in Current Opinions in Pediatrics.
His most recent endeavors have been focused in Med Ed leadership and innovation. Rahul is currently collaborating with the Emory School of Medicine to help prepare students for the United States Medical Licensing Exam (USMLE) and recently served at the Graduate Medical Education level as the co-Education chair for the Emory House Staff Organization. In terms of Innovation, has recently partnered with the New England Journal of Medicine (NEJM) to help build a gamified platform which teaches clinical reasoning in a case-based approach.
This is Dr. Damania's last year in the Pediatric Critical Care fellowship program. He hopes to refine his clinical skills, solidify his mentorship team, and continue to augment the projects he has already started. One of his major passion projects is his podcast, "PICU Doc on Call" (mentor/co-host: Dr. Pradip Kamat) which has reached over 95 countries, 22K+ downloads and is the leading PICU Podcast globally. Dr. Damania says the podcast was rooted in his passion for critical care medicine and new age delivery methodologies.
"We wanted to highlight cases we see every day in the PICU and review current literature; the podcast teaches fundamentals of Pediatric Critical Care and delivers it in a way which many people can engage with. Some of our goals include having the podcast be consistent, collaborative and full of dynamic content. Each episode is in byte sized pieces, and highlights key diagnostic and management pearls – we even have a small infographic with each episode." Check out PICU Doc on Call on Apple & Spotify.
In his free time, Dr. Damania enjoys going to F45 workout classes, cooking with his fiance, reading non-fiction books, and performing Bollywood vocals at weddings.