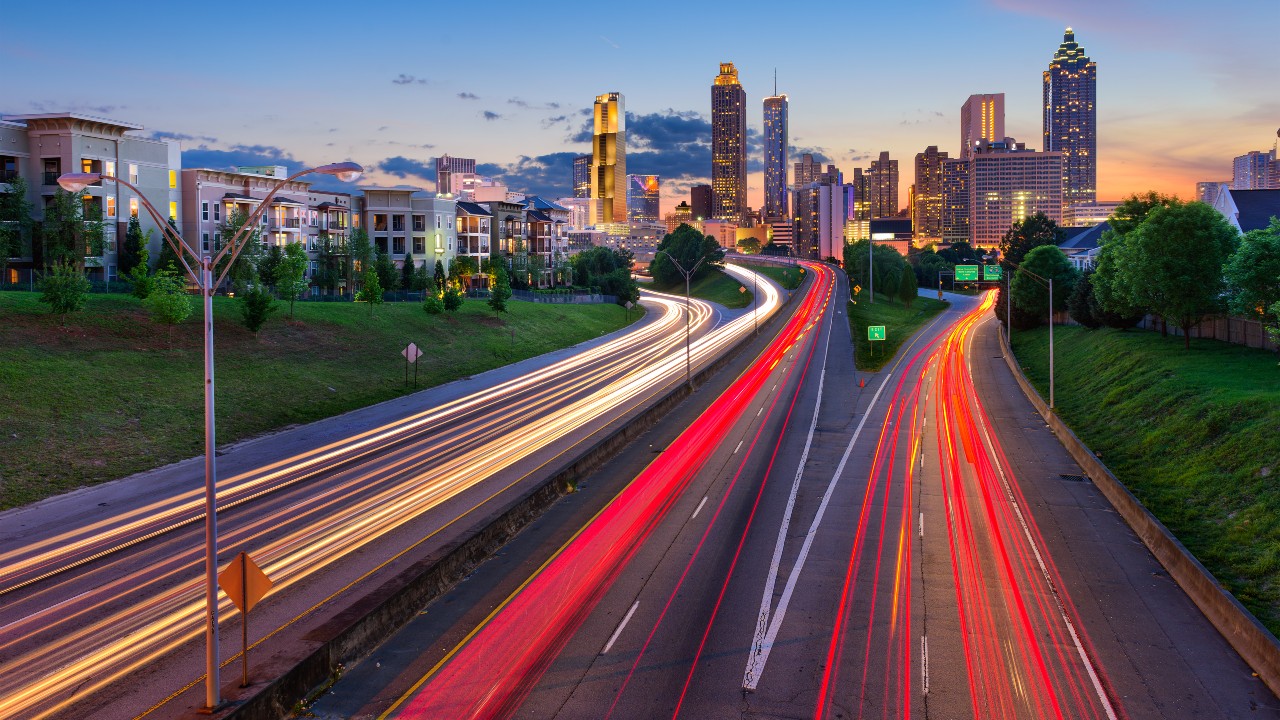 Atlanta, Georgia is a diverse, cosmopolitan, hospitable, tree-filled city of over 5 million people with seasonal climate suitable for nearly year-round outdoor activities. A major transportation hub, the city has long maintained a steady growth in both population and cultural diversity. While cost of living is lower than many other major cities, entertainment options are vast including college and professional sports, arts, museums, theaters, shopping, symphony, the world's largest aquarium, and innumerable restaurant options, including a wealth of ethnic cuisines.
The weather in Atlanta is mild, with average temperatures ranging in the 40's in winter to the 80's in summer. Winter may occasionally bring a light snow, and summer water activities can be comfortably enjoyed from May through September. The average annual rainfall in the Atlanta area is 48 inches.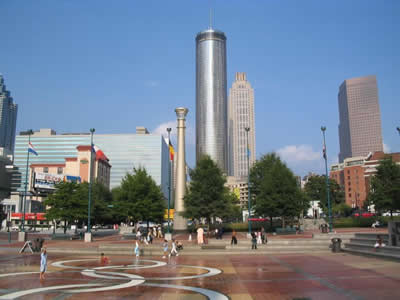 Centennial Olympic Park
Atlanta offers a wide range of outdoor recreational activities. Nearby lakes and rivers provide opportunities for fishing and swimming and just north of the city lie beautiful mountains that frequently draw those seeking trails for hiking and sites for camping. Atlanta is but a few hours away from the coastal communities and resorts of Georgia, Florida, South Carolina and Alabama.

Cultural activities in the city include a variety of theatres, art museums, symphonies, and historic sites such as the Carter Library and the Martin Luther King, Jr. Memorial. For the kid at heart, amusement parks, the Georgia Aquarium and Zoo Atlanta offer entertainment. The number of performing arts venues are almost too many to count. Atlanta is a sports lover's paradise, with competitive college athletics featured throughout the city and with the College Football Hall of Fame having recently relocated here. The city often hosts major sporting events such as the annual Southeastern Conference (SEC) football championship, the 2013 National Collegiate Athletic Association (NCAA) Men's Basketball Final Four competition and the annual NCAA Football Chick-Fil-A Bowl. Atlanta also offers enjoyable professional sports entertainment as the baseball, basketball, and football teams often field competitive rosters.

Atlanta truly is a place for everyone. It is a thriving, livable metroplex that strives to provide a comfortable, yet exciting place to call home.