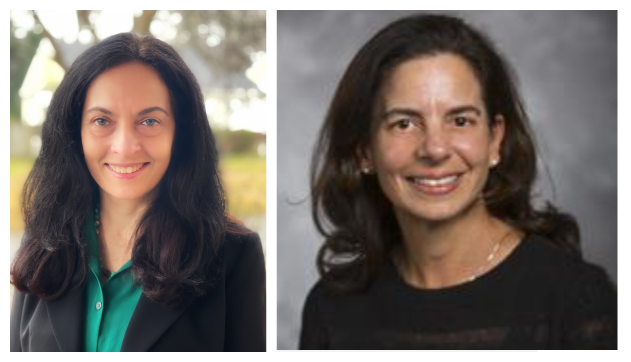 How long have you been doing research?Rao:
Since 1997, when I started graduate school at Wake Forest University.
Bassit:
I am an Assistant Professor in the department of Pediatrics at Emory University, with 27 years of experience in virology and viral diagnosis, working with HIV, hepatitis B and C, West Nile, Dengue, Chikungunya, Zika and most recently coronaviruses (OC43 and SARS-CoV-2 strains/variants).
What inspired you to get into research?

Rao: In school I had an affinity for Biology and the Life Sciences. My classes as an undergraduate in India was mostly didactic, and I wondered how what we learnt in textbooks was discovered. Then I had the opportunity to do some research and I found that working in the lab was a lot of fun. Every day was different, and we were always leaning something new in the lab. That inspired me to apply to graduate school and pursue a PhD.

Bassit: After I got my Bachelor in Biomedical Science at Santo Amaro University in Sao Paulo, Brazil, I worked as a laboratory analyst at a private lab of clinical analysis in Sao Paulo. There, I realized I had a passion for learning and studying new laboratory methodologies for the diagnosis of HIV-1 and Hepatitis B virus (HBV). During that period, I started collaborating with medical doctors to understand the course of the HIV-1 infection as well as HBV chronic infections. At that time, very little was known about both chronic diseases and their outcomes. After a while, I joined the biggest public blood bank in Latin America (similar to the American Red Cross Blood Bank) to become manager of the HIV and Viral Hepatitis Screening Laboratory. During that period, I spent a few months doing research and studies in Europe, first in Gent, Belgium (Innogenetics) and then at Delft, the Netherlands, where I learned new techniques for the diagnostic of hepatitis C and virus genotyping. I obtained my master of science degree at the University of Sao Paulo, Brazil.  My thesis was on Hepatitis C virus genotypes: epidemiological, clinical, serological and therapeutic response parameters. That research study actually introduced the HCV genotyping testing in Brazil.

My Ph.D. research was on TT Virus prevalence in blood donors and hemophiliacs patients of the blood bank of the Hemocentro de São Paulo at USP. After that, in 2001, I was invited to join CDC (Division of Viral Hepatitis) as a research scientist, to develop new diagnostic assays for early detection of liver cancer.

After 3 years at CDC, I was invited to work for Dr. Raymond F Schinazi at Emory University at the Laboratory of Biochemical Pharmacology. My research focus and responsibilities were (i) Development of high throughput (HT) systems for screening novel antiviral targets against HBV, HCV, HIV and Dengue, Chikungunya, West Nile, RSV, and Zika viruses through cell culture systems, and read outs such as ELISA, ELISPOT, Immunoblot, Southern and Western blots, FACS, PCR, cloning, etc. (ii) Discovery of novel antiviral drugs against HBV that resulted in a filed patent and licensing of a novel class of HBV capsid assembly effectors with potency and promise to cure patients chronically infected with HBV. The new HBV drug is currently being evaluated in clinical trials. (iii) Discovery of an effective compound that has broad potency against the four Dengue serotypes and later Zika virus, resulting in a filed patent, with subsequent publications and animal studies. (iv) Expertise in working with live SARS-CoV-2 viruses in the BSL-3 on viral propagation, infectivity and neutralization assays, as well as rapid development of HT cell culture systems to test antiviral drugs.

Tell me about your research 

Rao: Since June 2020, as part of a much larger group here at Emory and Georgia Tech, I am 'Testing the Tests'. Soon after the pandemic began and when SARS-CoV-2 diagnostic tests were still being developed, our goal was to determine whether early versions of tests could detect the virus. For this, we used live SARS-CoV-2 in the BSL3 facility and asked (1) whether tests could reliably detect the virus and (2) what is the sensitivity of the test. Tests had to be specific for SARS-CoV-2 and not cross-react with other viruses or give false positive readings. But the tests also needed to be sensitive and detect the low levels of virus that may be present early in infection to prevent spread.

Once tests became more widely available on the market, we shifted our focus towards determining whether the tests detect SARS-CoV-2 variants. The most important variants we tested are Delta and now Omicron. But prior to this we tested almost all the other variants, that appeared and then disappeared.

Before Covid-19, I worked in a completely different area. My research focus at that time was pediatric gastroenterology and hepatology. I was investigating gut-liver cross talk and developing new therapies for fatty liver and childhood liver diseases.

Bassit: Most recently, due to the Pandemic, the RADx project came along and I have included this project in my daily routine, and worked directly with Dr. Wilbur Lam, the leader of this project.

During the first year (2020) of the RADx program, my role was to test the limit of detection of the rapid diagnostic tests for the detection of SARS-CoV-2 antigen (protein) or SARS-CoV-2 RNA (molecular based test) in the BSL-3 laboratory using cultured live wildtype SARS-CoV-2, Wuhan strain. A serial dilution of highly concentrated SARS-CoV-2 was first performed and then used for testing the tests. On a daily basis, several hours were spent in the BSL-3 validating and testing the tests, developed by different companies. Then pictures were taken from all the test cartridges and/or strips results and the next day a report was generated for presentation in study sessions held by Emory/RADx team. Finally, these results/reports would be incorporated in a final report and sent to the NIH and then to the company. This work has been very intense, but it was very exciting to be able to help the companies to improve the sensitivity of their tests and to participate in such a relevant program, knowing that the whole country would have access to the most sensitive COVID-19 tests that could save lives by preventing the spread of the virus.  By mid-2020, Dr. Anu Rao who had kindly offered to help me with the COVID-19 research studies, joined the RADx program. 


What inspired you to do this particular research?

Rao: March 2020 was a very strange time. By mid-March we were being asked to reduce the number of personnel and hours in the lab and scale back research to just absolutely essential operations. At this same time everyone was talking about this new and fast spreading virus with the potential to cause a pandemic. I was very intrigued and was wondering how I could help since our own lab's research had to be curtailed. Coincidentally on the last full 'working' day I was in the lab late trying to finish and met Dr. Bassit for the first time as she was looking for a particular cell line. I asked her why she was starting up a new project when everyone else was shutting down, to which she replied that she was going to grow up SARS-CoV-2 in Dr. Schinazi's BSL3 facility. They were already designing experiments to understand the virus and identify ways to combat it. I was excited and wanted to help. This seemed not only like a fantastic research opportunity but also an incredible chance to make an immediate impact. I volunteered to help and was incredibly fortunate to have met Dr. Bassit and to be able to work with her on this project.

Bassit: In December of 2020, Anu and I were invited to work for the RADx/Variant Task Force program. Together with Anu, we have been evaluating novel diagnostic tests for COVID-19 (developed by several companies in the US and abroad) using variants of SARS-CoV-2 remnant clinical samples to create pools and use them to determine the limit of detection of these new tests, and have generated valuable and quick reports that have been sent to the NIH and FDA for further review. These reports, together with results generated from other Emory groups and labs working with clinical samples are being evaluated for limit of detection, sensitivity, specificity, etc. and have already been used to decide on the introduction of new, rapid, accurate and sensitive diagnostic tests for public use to detect the new variants of SARS-CoV-2, including Omicron. 
As an example, the first home test for CoV-2 approved by FDA for public use (Ellume SARS-CoV-2 Ag test) was initially tested and validated by us in August of last year. As a result of my work, I was nominated by Dr. Lam in 2020 for the Distinguished Service Award at Emory, with a Letter of Support from Dr. Bruce Tromberg of the NIH. This nomination and the supporting letters have become one of the highlights of my career. In addition, novel collaborations with other groups at Emory in the course of RADx/Variant Task Force (VTF) and Independent Test Assessment Program (ITAP) have led to new research studies and grant opportunities on the study of SARS-CoV-2, including detection of SARS-CoV-2 in wastewater.

What are your goals for this research?

Rao: A major goal of this research is to get reliable tests into the market. Under Dr. Wilbur Lam's leadership, our role was to determine sensitivity and specificity of these (at that time) new tests being developed by various companies. The next goal was to make sure that these tests can detect SARS-CoV-2 variants, with the same specificity and sensitivity as the original strain. Variant testing is ongoing, and we expect to continue this work as long as new variants of SARS-CoV-2 keep appearing. Even as the availability of testing is increasing and rapid antigen tests are being produced in the millions, our job is not done, and we are still working to ensure the tests in the US market work reliably and can detect low levels of current and future variants of SARS-CoV-2.
Bassit:  My goals for this research are to help to stop the spread of variants of SARS-CoV-2 that are rapidly arising in the population by testing the sensitivity of the RADx/ITAP tests against these new variants, and help the program to decide which tests are the most accurate and reliable to the be rapidly accessible to the population.  

What's the research process like?

Rao: For the current research, we are part of the NIH Variant Task Force and the Independent Test Assessment Program (ITAP) comprising of people from Emory University, Georgia Tech, NIH, and FDA. Together, we have obtained SARS-CoV-2 verified clinical samples and built a large biorepository of variant samples here at Emory. With this amazing resource, we can configure standardized test samples that have varying amounts of the virus. Using these controlled panels, we can rigorously compare different tests using the exact same samples. This is a powerful platform that tells us which tests are good and which need more work. We collaborate closely with various agencies in analyzing the results and deciding which tests make the cut.

 
Why is this research important to you?

Rao: This has been the most amazing research experience and opportunity I have had in my career. Emory University and the Department of Pediatrics has played a major role in bringing reliable SARS-CoV-2 testing to the public and combating the pandemic. I am so grateful to be a part of this research.