Comprehensive Approach to Cancer Care
We provide the most advanced radiotherapies available for the treatment of cancer.
Our physicians and care teams coordinate with colleagues at Winship Cancer Institute of Emory University, Georgia's NCI-designated Comprehensive Cancer Center, to provide a multidisciplinary and comprehensive approach for caring of patients with a full spectrum of malignant and benign tumors. In 2020, our department provided care for more than 4,200 patients while performing more than 69,300 individual radiation treatments.
Our patient care teams include radiation oncologists, medical assistants, nurse practitioners, nurses, and radiation therapists with assistance from physicists and dosimetrists working behind the scenes. We also have social workers, nutritionists, and others in roles to provide support and resources designed to help patients and families before, during and after cancer treatment.
Along with standard of care, our department is actively involved in clinical research providing patients access to clinical trials for a variety of cancers.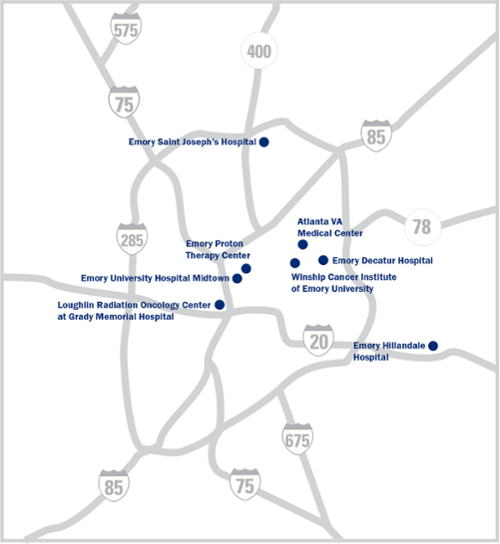 Clinical Locations
We currently operate at the following Emory Healthcare and affiliated locations across metro Atlanta:
In 2020, we began operating at two new locations:
Treatment Technology
We are committed to providing the latest equipment and treatment techniques in order to offer highly individualized treatment for our patients including:
Proton therapy
Brachytherapy
Gamma Knife radiosurgery
External bean radiation therapy
Stereotactic radiosurgery
Stereotactic body radiation therapy
Total body irradiation
Total skin electron beam therapy
CT Simulation