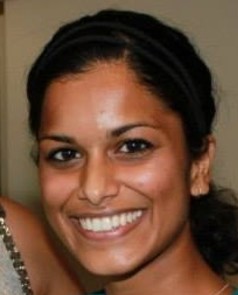 A set schedule is usually hard to come by for most trainees in the medical field. They have patients, studying, research and lack of sleep flying at them at all hours of the day. For second-year Pediatric Critical Care Medicine fellow Sneha Kolli, she deeply appreciates her manageable work-life balance. When Dr. Kolli is on service from Monday through Friday, you can expect her alarm clock to go off at 5 a.m. From there, she'll start to pre-round on her patients and arrives to the hospital by 7 a.m. Weekends are longer – she starts her shift at 7 a.m. and stays until 11 a.m. the next day. The Pediatric Intensive Care Unit (PICU) at Egleston Children's Hospital has 36 beds and the fellows are split into three teams so each team is responsible for 14-18 patients, but they work together to take care of the whole unit as a team. Dr. Kolli says there's been a steep learning curve during her experience as a fellow, but feels she's progressed a lot especially in her experience of managing patients.

Dr. Kolli says her passion for critical care began because she realized when kids are sick in the PICU, it's a very vulnerable time for families. She found a lot of gratification being the backbone for them and helping them through the toughest time in their life. Dr. Kolli says she loves seeing miraculous recoveries and being there for families who face tragedies.

Physicians enter the medical field for many different reasons. Dr. Kolli was born in India and was surrounded by extended family members who are physicians. Their influence made a lasting impact - she admired seeing them give back to the community and always helping people. Dr. Kolli also loved science and math growing up and more importantly, she loves being around kids and finds their humor hilarious!

During the fellowship program, fellows get the opportunity to do research and learn more about their specialty. Dr. Kolli's primary research project focuses on looking at children with asthma that get admitted to the PICU. She says asthma is huge problem in pediatrics and respiratory illnesses make up about 1/5th of PICU admissions. Dr. Kolli says there's a lot of research conducted on outpatient management of asthma, but she wants to focus on kids who end up in the PICU. She wants to learn about their symptoms and why some kids don't respond to normal outpatient interventions and end up hospitalized. Her patients in this study range from 6 to 17 years old and are admitted to the PICU with a diagnosis of asthma. The patients or their parents/guardian fill out two surveys: 1.) They rate how severe their asthma is 2.) The second survey looks at social and psychological symptoms so researchers can get the whole picture of the child and how asthma affects them. For example, a survey question can ask the patient to rate how asthma affects their life satisfaction. This helps phenotype them to see if there's different types of asthma experiences and whether something different can be done to prevent kids from going to the PICU. There are 50 kids enrolled in this study, but the goal is to reach 200. Drs. Jocelyn Grunwell and Anne Fitzpatrick are also involved in this research.

Another research project Dr. Kolli is working on is a chart review study that looks at kids admitted to the PICU in the last couple of years. The process involves geocoding and seeing whether kids living in certain parts of the city are more likely to end up in the PICU. Unanswered questions include, "is this related to poverty levels or distance to a healthcare facility?"

In Dr. Kolli's rare free time, she enjoys working out, hiking, and spending time with her five-month-old puppy Rosy!