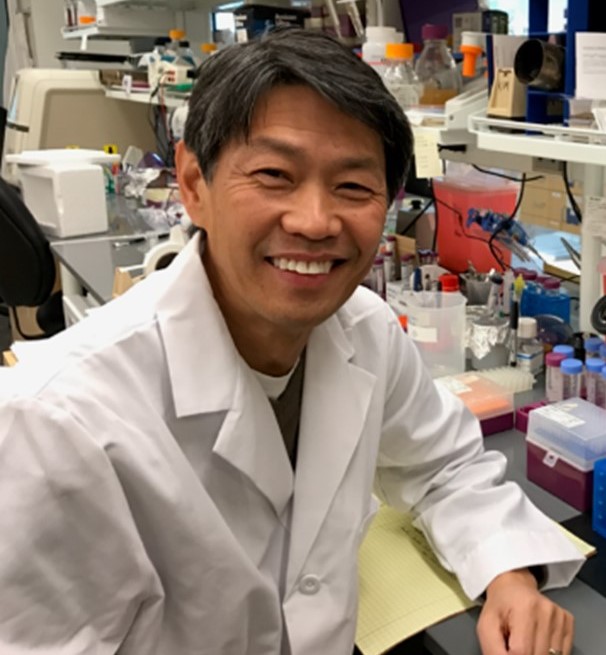 At the early stage of global AIDS pandemics in the late 80s and early 90s, there was a big demand for HIV research. Dr. Baek Kim was previously trained in Genetics and transitioned over to studying HIV for his postdoctoral training because some of the HIV enzymes had similarities to the enzymes he was studying before his postdoc fellowship.
Dr. Kim says that there are two cell types that HIV infects, activated CD4+ T cells and myeloid cells such as macrophages and microglia. Macrophages are non-dividing cells and found in tissue and organs while activated CD4+ T cell is dividing cells and found mainly in bloods. However, HIV replication speeds are very different in these two target cell types: HIV-1 replicates much slower in macrophages, compared to activated CD4+ T cells. Also, the HIV-1 infected myeloid cells contribute to viral persistent infection in patients, and the elimination of HIV-1 infected myeloid cells is a key for HIV cure.
Dr. Kim first reported ~20 years ago that HIV-1 replication is very slow in macrophage because the nondividing cell type have very low levels of building blocks of DNA, dNTPs, and HIV-1 needs those DNA building blocks for its replication process, called reverse transcription.  Meanwhile, those DNA building blocks are abundant in activated/dividing CD4+T cells so HIV-1 replicates quickly. Follow-up investigations of Dr. Kim also revealed that HIV-1 DNA polymerase, reverse transcriptase (RT) harbors very unique enzymatic property that uses DNA building blocks (dNTPs) very efficiently even at the low levels of the building blocks found in macrophages, and this property enables HIV-1 to replicate successfully in macrophages. This research also led to the discovery of a host protein, SAMHD1, as a host anti-HIV-1 protein, that removes cellular dNTPs in HIV-1 target cells. However, HIV-1 RT equipped with the efficient enzyme activity enables HIV-1 to escape from the antiviral selective pressure imposed by SAMHD1-mediated dNTP depletion in macrophages and successfully replicate in this nondividing cell type. Conversely, activated/dividing CD4+ T cells do not have active SAMHD1, which results in abundant dNTPs and rapid replication of HIV-1. Overall, Dr. Kim has been focusing on the mechanistic understanding of the evergoing evolutionary arms races between HIV-1 and its hosts.
Other research activities of Dr. Kim are involved in antiviral drug discovery programs. Recently, Dr. Kim has been collaborating with an industry partner for discovering and developing anti-HIV drugs with a new action mechanism. Specifically, Dr. Kim is involved with a new HIV drug platform, called allosteric integrase inhibitors, that block the molecular interaction between a viral enzyme, integrase, and viral RNA genomes during viral maturation, ultimately inhibiting HIV-1 infection. Indeed, phase I trial of this drug (STP0404) has been successfully completed, and its phase 2 trial will start summer of 2022 by his industry partner, and STP0404 became the first-in-human case for this new antiviral platform. Overall, Dr. Kim is focusing on the identification of various action mechanisms of this new antiviral platform.
Dr. Kim and his team will continue developing and investigating new and innovative basic science hypotheses related with HIV-1 through intense collaborations with multiple Emory researchers including Dr. Raymond Schinazi who has outstanding drug discovery track records. Also, Dr. Kim will continue training new generation researchers who will play major roles in fighting against current and future viral diseases.  Overall, the current research and training activities of Dr. Kim aim to contribute to discovery and development of new and safer drugs that can cure HIV and AIDS.