Emory's Multidisciplinary Pain Medicine Fellowship is a 12-month ACGME-accredited program providing intensive training in the evaluation and management of pain. Six fellows are admitted to our program each year.
We provide instruction in the multidisciplinary management of pain including the use of both interventional and medical approaches. Interventional techniques include:
Somatic and sympathetic blocks

Neurolytic blocks

Spinal cord and peripheral nerve stimulation

Intrathecal implantations

Vertebroplasty
Participation in clinical and translational research is encouraged. 
Our rich didactic program provides a stimulating, interactive framework for learning the art and science of pain management.
Through exposure to a wide variety of patient cases and management strategies, Emory's Multidisciplinary Pain Management Fellowship program strives to provide a balanced, exciting and rewarding experience for the fellows, ultimately generating competent and ethical pain consultants and leaders.
Requirements and Applications Process
The Emory Multidisciplinary Pain Medicine fellowship applicant must be a postgraduate physician eligible to undergo the examination and certification process of the American Board of Anesthesiology (ABA) or an equivalent Board, or have completed the process and been certified by the ABA or an equivalent Board (such as Anesthesiology, Physical Medicine and Rehabilitation, Neurology or Psychiatry).
Fellowship applicant must possess either a Georgia temporary training permit valid for one year or a Georgia state medical license to practice medicine. Applications are accepted starting January 1 of the year prior to beginning the fellowship (eg. January 1, 2018, for start date August 1, 2019).
Duration of Fellowship
One year (start date: August 1)
Accreditation
Accreditation Council for Graduate Medical Education (ACGME)
Number of Positions Available
Six. Emory's Pain Medicine Fellowship program participates in the National Residency Match Program and the Electronic Residency Application Service.
Required Documents 
Required documents to complete the application file:
We are currently accepting the Electronic Residency Application Service (ERAS) application

. Applications are reviewed starting January 1

 with interviews typically scheduled in the spring.

Curriculum vitae
A personal statement
Dean's letter 

from medical school

3-4 Letters of recommendation (inclusive of a letter from current Program Director)
Copies of all USMLE Step 1, 2, 3 board scores (inclusive of Step 2 Clinical Skills and Step 2 Clinical Knowledge scores)
Copies of all diplomas (medical school, transitional/internship year, residency)
Copy of ECFMG certificate (if applicable)
Copy of visa (if applicable)
Copy of ACLS and BLS certificates (updated certificates required at the start of fellowship)
The Emory Multidisciplinary Pain Medicine fellowship is structured into six main rotations:
Continuity Outpatient Pain clinic at Emory University Hospital Midtown
Neurology and psychiatry approaches to pain management
Cancer and palliative care; geriatric pain management
Grady Memorial Hospital Pain Clinic
Emory Spine Clinic

Atlanta VAMC Pain Clinic
Call is dedicated to the management of hospitalized acute, chronic, and cancer pain patients at Emory University Hospital and Emory University Hospital Midtown.
Current Fellows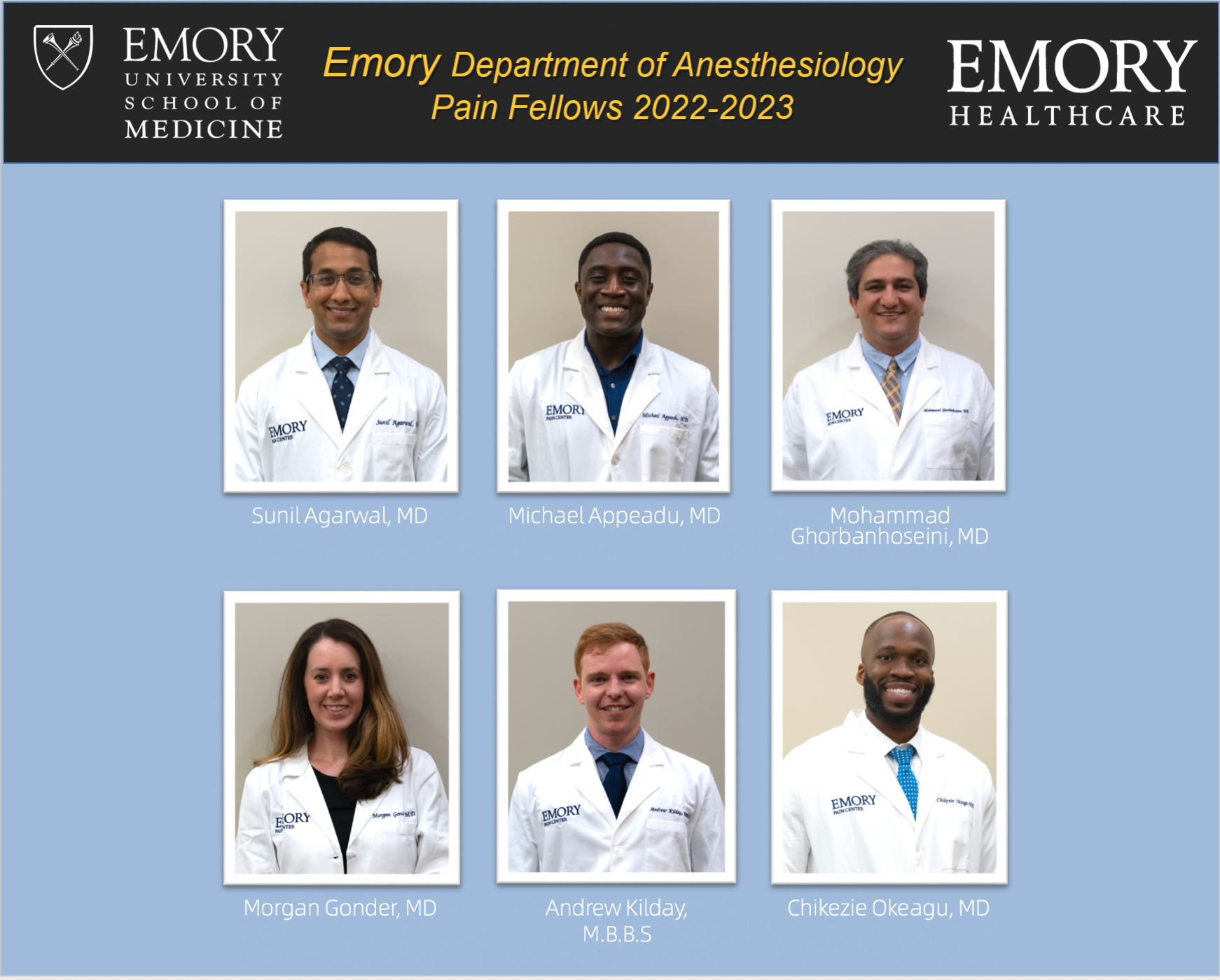 Our pain fellows are exposed to a broad array of pain management approaches at the following clinical locations: