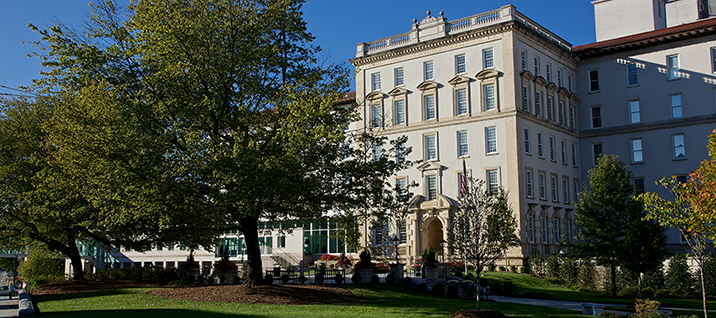 Ambulatory Surgery Center
The Emory Ambulatory Surgery Center (ASC) is located across the street from Emory University Hospital in the B Clinic building. The ASC has six operating rooms and six endoscopy suites. They perform over 6,500 surgical procedures and over 8,000 endoscopy procedures every year. The majority of the surgical procedures are ophthalmologic, but they also perform general surgery, ENT, gynecological, urological and plastic surgery procedures. The endoscopic procedures range from screening colonoscopies to advanced endoscopic procedures including ERCPs and EUSs. Residents usually spend one month in the ASC during their CA2 or CA3 year.
Children's Healthcare of Atlanta
Children's Healthcare of Atlanta at Egleston, a private, nonprofit pediatric hospital located on the Emory campus, has 250 medical and surgical beds and 40 intensive care beds. Every year more than 15,000 patients, from newborn to age eighteen, are admitted from all the southeastern states, and surgeons perform more than 9,600 procedures. Approximately 750 of these are open-heart procedures. The Egleston Anesthesiology Service is directed by faculty members who specialize in pediatric anesthesiology and pediatric critical care.
Center for Pain Medicine
The Division of Pain Medicine of the Department of Anesthesiology is dedicated to the treatment of acute and chronic pain. Outpatients are seen in the Center for Pain Medicine (CPM) which is located in the Medical Office Tower of Emory University Hospital Midtown. Classified as a "major comprehensive pain center", the Center offers a multidisciplinary approach to the evaluation and treatment of chronic pain of all types, including cancer pain. Professionals at the CPM, include physicians, clinical psychologists, and physical and occupational therapists. The CPM sees over 5,000 patients per year and performs a wide variety of procedures for the treatment of pain. Pain in hospitalized patients is treated by the Acute Pain Services at Emory University Hospital and Emory University Hospital Midtown. While the majority of inpatients have acute postoperative pain, the service also evaluates and treats patients with chronic pain problems who have been hospitalized.
Emory University Hospital
Welcome to

 

Emory University Hospital! This is a tertiary-referral center with an average daily census of approximately 380 patients, 78 ICU beds, 22 
o
perating 
r
ooms, multiple off-site anesthesia locations, and a surgical caseload of 40 – 50 patients per day. Four of the operating rooms are reserved for cardiothoracic surgery and are staffed by the cardiothoracic anesthesiology team; the Surgical Specialties anesthesiology service provides perioperative care for all other patients. Approximately 25 faculty anesthesiologists work on the Surgical Specialties service (some part
-
time), 
in addition to
 35 anesthetists 
(
a mix of anesthesia assistants and certified nurse anesthetists
)
.
Emory University Hospital Midtown
Emory University Hospital Midtown is a 583-bed general community hospital in which more than 13,000 surgical operations occur annually. Numerous surgical sub-specialties, from neurosurgery to urology, are accommodated in the hospital's 25 general and three obstetric operating rooms in addition to the many satellite procedure suite locations. Anesthesia for these surgical procedures is provided by a large and diverse group of 29 anesthesiologists and 40 anesthetists, whose clinical interests range from pain management and regional anesthesia to pediatrics, obstetrics, and critical care. 
- 25 General ORs 
- Multiple out-of-OR anesthetizing locations: GI endoscopy / bronchoscopy suites, 3 OB operating rooms, IVF procedure room, MRI, interventional radiology, etc 
- 24 General Surgical Subspecialty Attendings + 5 Pain Attendings  
- 40 CRNAs / AAs 
Total EUHM Surgical Cases in FY14: 13,813

Largest increase in cases from FY13 to FY14:
Neurosurgery
Oncology Surgery
Pulmonary Surgery
Emory University Orthopaedic and Spine Hospital
The Emory University Orthopaedic and Spine Hospital has six operating rooms offering specialty orthopedic surgical procedures including 
major joint replacements (hip, knee, shoulder), minimally invasive orthopedic surgery, hip resurfacing, spine surgery, spinal fusions, scoliosis and deformity surgery, artificial spine disc replacements, and the latest procedures to decrease pain and improve function of the musculoskeletal system.
Executive Park
The Emory Orthopaedics and Spine Center is located only two miles from Emory University Hospital at Executive Park. Built in 2004, this 95,000 square foot facility brings all aspects of musculoskeletal diagnosis, treatment, and rehabilitation together in one location. The ambulatory surgery center features four operating rooms performing outpatient orthopedic surgeries, which range from minor arthroscopic procedures to full joint replacement surgery. The anesthesia team performs an average of 1000 peripheral nerve blocks per year.
Grady Memorial Hospital
Grady Memorial Hospital, a 918-bed trauma hospital in the heart of Atlanta, is a major teaching hospital for Emory University. Its anesthesia service is among the many nationally recognized programs at Emory. Grady provides more than 270,000 patient-days, 750,000 outpatient visits, and 12,000 surgical procedures per year. It is the primary trauma and burn center for greater Atlanta and has a significant obstetric load which approaches 4,500 deliveries a year. Sixteen operating rooms currently meet demands of the surgical and obstetric services.
Veterans Administration Medical Center
The Atlanta VA Medical Center is a 405-bed multi-specialty facility, caring for adult patients. The surgical population is diverse, with more than 49% over the age of 60. This allows the Anesthesiology resident to concentrate on the opportunity to participate in the perioperative management of the multiple co-morbidities associated with elderly patients, who represent an increasing percentage of the general population. Skills required for operative anesthetic management of these challenging patients frequently include invasive hemodynamic monitoring, pharmacological support of physiologic parameters, fiberoptic airway management and combined general-regional anesthetic techniques. Selected cases require, for post-operative analgesia, epidural and peripheral nerve blocks. The case mixture includes cardiac, thoracic, vascular, orthopedic cases and major general surgery cases. The resident is also able to participate in the care of patients receiving electroconvulsive therapy, other non-surgical anesthetic care, and those patients needing emergent airway support in other areas of the Medical Center.
Wesley Woods Geriatric Hospital
Emory Wesley Woods Center is a leading hospital for adult and geriatric psychiatric care in Atlanta and the Southeast. The hospital has 40 inpatient beds, both inpatient and outpatient electroconvulsive therapy (ECT) services and a geriatric psychiatry partial hospitalization program.