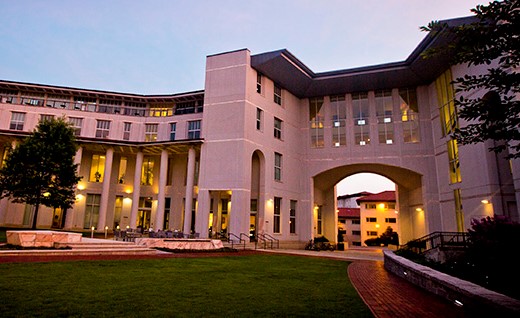 The Emory University Department of Anesthesiology is excited to partner with the Goizueta Business School to offer a fellowship in Anesthesia Administration. This 2-year fellowship will offer participants the opportunity to practice clinical anesthesiology, gain invaluable experience in department and hospital administration, and receive an MBA from a top-ranked program.
Goizueta Business School's top-ranked Evening MBA program includes a minimum of 20 credits of healthcare-related management coursework.
Most healthcare concentrations in other MBA programs only offer 9 credits (3 courses) of healthcare-related coursework.
In our program, students complete our full 54-credit Evening MBA curriculum on an accelerated schedule. Goizueta's Evening MBA is ranked #8 in the USA in Bloomberg Businessweek. It is the #1 part-time program in Georgia.
Schedule 
Core business classes are held on Mondays and Wednesdays from 6:30-9: 15 pm

Electives courses are offered Monday through Thursday, meeting once per week

Some electives are offered in an accelerated format between semesters
Faculty
The Evening MBA program draws from the same pool of world-class tenured and clinical faculty as our other graduate programs.
Student Life
Intensive immersion in classes, learning teams, and informal networking with other students during program sessions fosters a strong community and network.
Depending on their clinical interests, fellowship participants will work part-time at:
Ambulatory Surgery Centers 
Clinical obligations are coordinated with class schedules to ensure all clinical and scholastic obligations are met.
The curriculum is divided into four elements, which complement one another to amplify fellow learning.
Core Business Acumen
Acquire a broad business perspective. Develop the skills needed to think more comprehensively across functions, to see connections and consequences, to identify insights from data, and to be action-oriented. Learn fundamental business concepts and the 'language of business'.
Business of Healthcare Modules
Intense, deep dives into select areas of healthcare management.

Healthcare Learning in Action Courses
Apply the perspective and tools gained from core business courses to emerging business issues in healthcare through experiential learning coursework.
Electives
Take additional business courses to help further develop general management perspective or earn a concentration in a business sub-field. Or, take (up to two) graduate-level courses across Emory University in areas that include health policy, health economics, and biostatistics.
Co-Curricular
A broad menu co-curricular activities augment the coursework to create an enriched experience. Co-curricular activities include:
Faculty-student dinners

Evening Speaker Series

Fort Benning Leader reaction course

Leadership Coaching Fellows program.
The Evening Speaker Series supplements the robust set of class speakers with speakers on broad-based topics that transcend individual courses.
Interested candidates should contact:
Grant Lynde, MD, MBA
Associate Professor, Department of Anesthesiology
Chief, Division of Practice and Process Improvement
1364 Clifton Rd NE, 3B South
Atlanta, GA 30322
Academic Overview
Core Business Courses 
Health Care Modules
Healthcare Learning in Action Courses

Accounting
Business Economics
Data and Analytics
Finance
Information Systems & Operations
Leadership
Marketing
Strategy
Professional Development

Industry Analysis
Public Policy & Business
Information Systems & Operations
Strategy

Individual Practicum
Team-based Practicum
Global Health Care