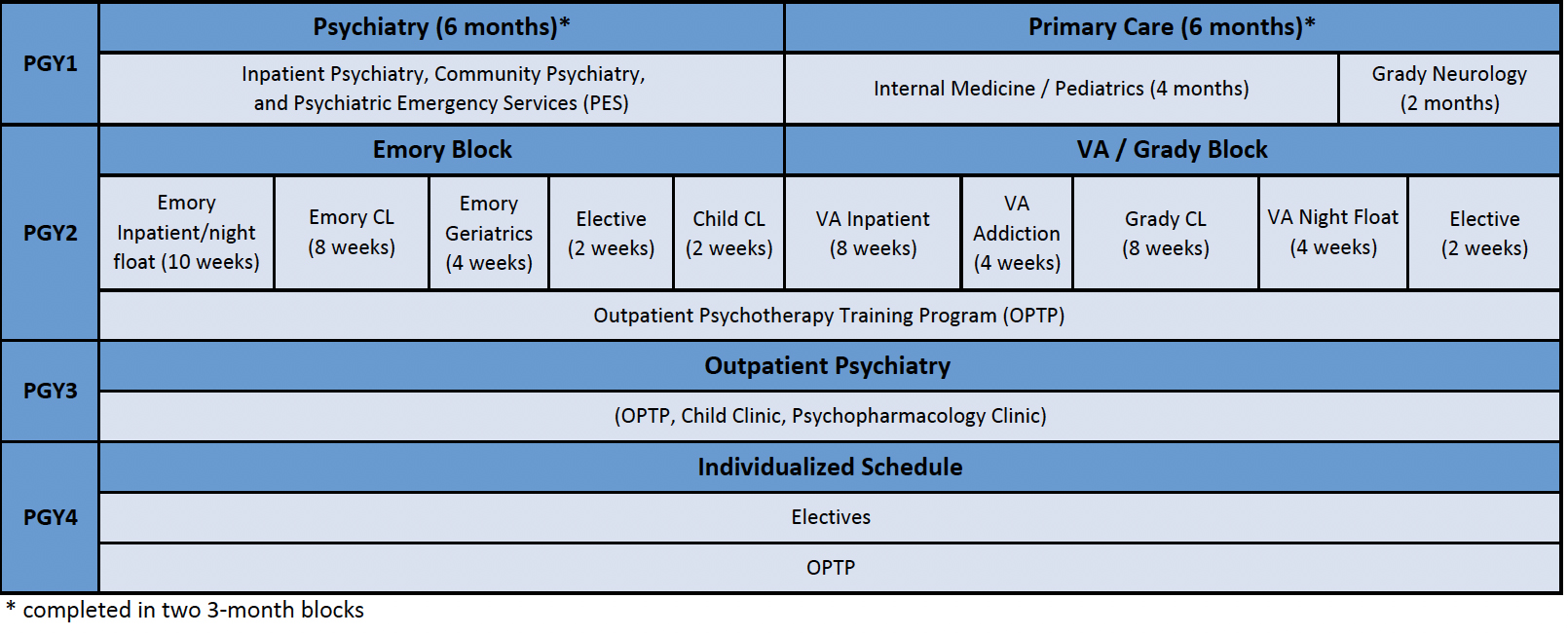 Rotation Summary Model
PGY1
PGY2
PGY3
PGY4

 

*Completed in two 3-month blocks
Psychiatry (6 months)

*

Primary Care (6 months)

*

Emory Block
VA / Grady Block
Outpatient Psychiatry
Individualized Schedule
Inpatient Psychiatry, Community Psychiatry, and Psychiatric Emergency Services (PES)

Internal Medicine / Pediatrics (4 months)
Grady Neurology (2 months)

Emory Inpatient (6 weeks)
Emory Night Float (4 weeks)
Emory Geriatrics (4 weeks)
Emory CL (8 weeks)
Elective (2 weeks)
Child CL (2 weeks)

VA Inpatient (8 weeks)
VA Addiction (4 weeks)
Grady CL (8 weeks)
VA Night Float (4 weeks)
Elective (2 weeks)

(OPTP, Child Clinic, Psychopharmacology Clinic)
The primary goal of the general psychiatry program is to foster an educational environment that allows residents to meet their full potential as emerging leaders in the field of psychiatry. The program provides a strong base in psychiatric principles in the first two clinical years that is common for all the residents. During these years, all of the residents complete their neurology and medicine/pediatric requirements and are immersed in hospital-based psychiatry. Psychotherapy training is a primary goal of the program and the residents are introduced to psychotherapy in the second year and continue with psychotherapy training throughout the residency program. During the third year, residents continue to develop skills in managing outpatients in psychotherapy and psychopharmacology in a number of diverse settings including the outpatient psychotherapy and psychopharmacology programs at Executive Park, outpatient psychiatry clinics at the Grady Park Place, the VA Mental Hygiene Clinic, or Emory Student Health. Finally, the fourth year is designed to allow residents to prepare for their post residency careers and specialize in specific areas of psychiatry. The residents are given a variety of options including choosing a chief residency position including the Emory Hospital, VA Medical Center, Grady Memorial, Emory Ambulatory Services at EP12, and Residency Research. Overall the educational focus of the program changes from developing basic inpatient skills to gaining experience in an outpatient setting. As individual residents progress through the program they also develop individual areas of expertise which can range from clinical psychiatry to psychoanalysis and research.
Call and Weekend Shifts