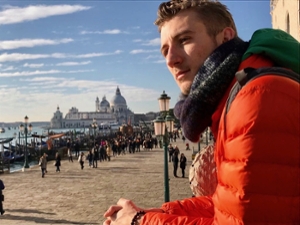 I grew up in Pittsburgh, Pennsylvania in a family of five, and then six once we got our beloved puppy! From my middle school years onward, I loved doing science projects, and that blossomed into an interest in genetics, such that I entered college at Northwestern with the idea that I would become a genetics researcher. As a student there, I volunteered teaching nutrition and physical activity workshops for high school students in low-income neighborhoods of Chicago. I also had the opportunity to intern in medical case management at a refugee resettlement agency, which was a pivotal experience for me. Witnessing the vulnerability of our refugees and asylum seekers, working to address the social determinants affecting their health, and seeing the positive impact I could have through a positive relationship with them felt fulfilling. It inspired me to pivot towards a career in medicine, as I thought that it would be an ideal way to combine my love of science with my desire to help and directly serve those in need.
After graduating from college, I decided to pursue a Fulbright English teaching opportunity at a teacher training college in Vietnam's Mekong Delta, thinking it was a way to meet a local need for education from native English speakers, and that in fact my role as a teacher, in some sense, would not be that different from my future role as a physician. They both involve interpersonal communication, assessment of understanding, adaptation and flexibility, and patience and humility. It was a wonderful experience, and I was humbled by the kindness of the local community. I am game for anyone who wants to cook or go for Vietnamese food, or would like some suggestions for travel! Following my time in Vietnam, I returned home to Pittsburgh while applying to medical school, taking some online courses (including a very interesting one on behavioral economics), and volunteering with an online education initiative for skilled birth attendants in resource-limited settings.
I have often been asked what career I would have chosen if not medicine. My answer? Medical anthropologist. I have always been intrigued by the social sciences, the study of how we are, who we are, and why we think and act the way we do, especially as it relates to health. While in college, I completed some coursework in ethnographic methods and psychological anthropology, and I also had a chance to go to Beijing for a summer and learn about traditional Chinese medical theory. Beyond thinking about human nature and cross-cultural perspectives on health, I love travel, farmer's markets, and going on hikes. I skateboard and enjoy rollerblading, love parks and the beach, and have an interest in nutrition and fitness. I find joy in chats over coffee with family and friends and gatherings to share meals together. If you are around me while I am at home, you might find me dancing to salsa or bachata music, or perhaps vibing to some Motown or soul beats.
Medical School Experience
I completed my training at the Keck School of Medicine of the University of Southern California in Los Angeles. I chose Keck, because I would have the opportunity there to work with an undeserved patient population at LAC+USC Medical Center, our main county hospital. Additionally, Keck felt like a place where students were collaborative, driven, and engaged not only in their studies, but beyond the classroom via organizations, volunteer work, and advocacy. During my first year, I joined Keck's Primary Care Program through which I rotated monthly at a federally qualified health center in Skid Row, an area of Los Angeles with a large population of individuals experiencing homeless. Out of my experiences there arose the Homelessness Awareness Week initiative, which I founded along with several of my classmates to help increase sensitivity among medical students and other clinicians at Keck regarding comprehensive care for homeless patients, with a social determinants of health focus. I also was involved in the School's LGBTQ+ health student interest group, through which I worked with a multi-institution team of health professional students to plan and host the Southern California LGBT Health Conference. 
Between my first and second year of medical school, I traveled to Mongolia to carry out research examining women's experiences of perinatal depression, applying a sociocultural lens. And after my second year, I pursued a year-long research fellowship through which I completed a community-based, participatory project applying photo-narrative methods to explore health needs and social determinants among immigrants living in Santiago, Chile (click here if you are curious to see the participants' photos and narratives). Afterwards, seeking to solidify my public health skill set, I earned a Master's in Public Health for Development at the London School of Hygiene and Tropical Medicine in the UK.
I returned to Los Angeles subsequently and completed my final two years of medical school. I ultimately decided to pursue psychiatry as a specialty for several reasons. I think I was always struck by how profoundly mental illness impacts not only patients themselves, but also their families, their friends, and society. Furthermore, I have seen again and again how without addressing mental health, we are not truly addressing health; e.g., when an individual is struggling with substance use or is not receiving necessary treatment for a psychotic disorder, their co-morbid diabetes, heart failure, COPD, or even basic nutrition may suffer. Another aspect of psychiatry that I value is its focus on exploring the various contexts of patients' lives, which facilitates identifying social determinants of their mental health and working to address them holistically. Lastly, psychiatry is a field that is ripe for discovery, as we learn more and more, e.g., about the genetics of mental illness, new pharmacologic and non-pharmacologic modalities for treating it, and the linkage between mental health, the gut and the immune system.
In my search for a residency program, I was seeking work with a diverse and underserved patient population, a supportive, thoughtful, and social justice-oriented residency family, opportunities for engagement in global mental health, and a combination of academic and community environments in an urban setting. Emory checked these boxes! I like that at Emory, we rotate through three different health systems: Emory (private), Grady (public), and the VA (governmental). The work at Grady, a large public hospital, which has a dedicated psychiatric emergency room and inpatient psychiatric wards, was particularly appealing to me, given my desire to work with underserved and vulnerable populations. When I came to interview at Emory, I found the residents and program leadership to be very warm and welcoming. It seemed like a place where I would find a "home", where my colleagues would be ones whom I could count on, and where I would have opportunities to continue with community engagement and advocacy, which is important to me.
In the future, I hope to work in a dual capacity as a clinical psychiatrist and global mental health professional, dividing my time between clinical work, with a focus on the outpatient setting, and academic or organizational work in public health. My interest areas include integrated and collaborative behavioral health, psychotherapy, innovative models for community-based detection and treatment of mental illness, and psychiatric response in emergency and humanitarian settings, among others. I also have a strong interest in working with LGBTQ+ identified individuals, those experiencing homelessness, and migrants, refugees, and asylum seekers. I was thrilled that Emory had recently started a global mental health track, and that many additional tracks were available through GME across specialties, including several focused on health advocacy, innovation, and more. 
Second year is a mix of rotations in various areas of Psychiatry, including more inpatient, consult-liaison (C/L), geriatrics, child & adolescent, addiction, and other elective areas of interest, split between Emory, Grady, and VA clinical sites. I'm currently on consult-liaison psychiatry at Emory University Hospital. A typical day involves arriving around 8am, at which time we review the charts of patients whom we're following, and then begin accepting new consults for the day. There's another PGY-2 on the team, and we typically have 1-3 students (medical and PA). I'm currently the chief on C/L, a position that alternates between the PGY-2's, which involves taking all the new consults, assigning them, and keeping track of our census overall. We consult on everything from evaluation of suicidal ideation, depression, and psychosis to assessment of decision-making and delirium management.
After checking in on follow ups and seeing new consults, we staff with one of our attendings and then go to see all the patients as a team. They day ends with note-writing and updating the teams on our recommendations. At least once per week, if not more, I'm also on call overnight at Wesley Woods after work. It is Emory's private inpatient psychiatric hospital. During the call shift, I am responsible for admitting patients that arrive overnight, and also managing any medical or other issues that arise on the unit.
I live in Midtown, which I really like. I chose this neighborhood for its walkability, access to shops/restaurants, and proximity to central Atlanta, including Piedmont Park and other interesting neighborhoods. It's also less than a 10-minute drive to Grady, and only about 15-20 minutes to Emory or the VA, which is a great amount of time to squeeze in a podcast.
My Favorite Things to Do In/Around Atlanta
Even though I moved here over a year ago, I feel that I am still quite new to the city, especially given the COVID pandemic. There is still much to explore. Thus far, I have really enjoyed Piedmont Park. For those who are not familiar with Atlanta, it is perhaps something like Atlanta's "Central Park". It has a lake, lots of walking, skating, and biking paths, and is a prime spot for picnics. At the northern end of the park is the Atlanta Botanical Garden, which is quite lovely and has small restaurants and bar areas amongst all its greenery. I love taking a blanket and book, heading to the park in the evening, and then watching the sunset over Midtown. Another treasure of Atlanta is the Beltline, the former site of railroad tracks encircling the city that have now been converted to a paved pedestrian path dotted with restaurants, shops, and residences, crossing through parks and many neighborhoods of the city. Along the path, there are also two excellent markets with delectable dining options, cocktails, and more: Ponce City Market and Krog Street Market. Lastly, though I have not ventured much outside of the city yet, there is a park called Stone Mountain (accurately described by its name) just a short drive away where you can take a little hike and discover stunning views of the "City in a Forest" that is Atlanta. I also really love the selection of various foods from different cultures available at restaurants on Buford Highway, an area that is rich in ethnic diversity.
Thoughts for Future Applicants and Incoming Residents
Congratulations for all your accomplishments to this point! The path towards a career in medicine is a long and arduous one, though rewarding and profoundly meaningful as well. Take some time to reflect on the journey and remind yourself what brought you to a career in medicine. Please feel free to reach out to me, my co-residents, and the program leadership with any inquiries. We would love to hear from you.