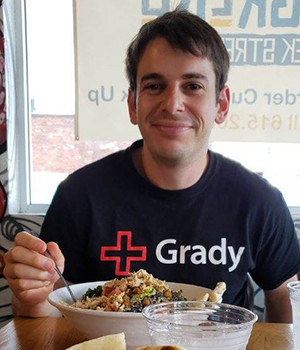 After graduating high school, I attended the Culinary Institute of America in Hyde Park, NY before returning to my hometown of Tampa, FL. At the University of South Florida, I completed a B.S. in cell and molecular biology with a minor in philosophy before matriculating to the SELECT Program within the USF Health Morsani College of Medicine. As part of this program focused on physician leadership, my classmates and I completed our 3rd and 4th years of medical school in Eastern Pennsylvania. I met my fiancée Kaela in PA and we moved together to Atlanta after I matched at Emory. I have a particular interest in therapy, and I am excited to be taking on therapy patients this year, as well as starting my coursework with the Emory University Psychoanalytic Institute. I am also interested in addiction, and will likely complete an addiction fellowship after graduation. 
I wanted to train at a program that would challenge me and prepare me for anything I might encounter as a practicing psychiatrist, would provide opportunities to pursue interests I have or might develop, and would be supportive of residents and receptive to their feedback. With the exposure to diverse patient populations, psychopathology, clinical environments and therapeutic approaches, I feel free to develop my own identity as a psychiatrist and to learn which patients and settings speak to me. I am particularly interested in making therapy a part of my future practice, and I was drawn to Emory specifically because of the relationship with the Psychoanalytic Institute and the opportunity to enter the Psychotherapy Track as a PGY-3. As a PGY-1 I was introduced to the practice of Open Dialogue, a unique network-oriented approach for the treatment of psychiatric crisis developed in Western Lapland in the 1980's. This recovery-oriented approach acts as the cornerstone of the Project Arrow program at Grady for individuals experiencing first-episode psychosis, and residents are actively involved in this clinic. Residents who have taken an interest in this have been supported in their desire to deepen their practice by becoming certified through the Institute for Dialogic Practice. These are a few of the opportunities that were described to me during my interview dinner with current residents, and they served as powerful examples of the ways in which Emory supports each resident to develop their own style and voice.
As a co-chief resident at Grady, I often start my days meeting with the PGY-1 residents on the inpatient unit to review our teaching point for the day. I then review potential admissions to the inpatient unit for the day, coordinating with the unit manager and attendings to assign patients to resident teams. We have various educational activities each day at lunch, including case conferences, Talk Rounds with Dr. Kaslow, and lectures led by attendings and senior residents. I have the chance to help the PGY-1 residents think through challenging clinical situations, as well as deal with administrative challenges that come up. 
Given my interests in C/L psychiatry, I elected to spend one day per week on the Grady C/L service. This is often where we see the most complex patients, from serious suicide attempts requiring medical/surgical interventions, to unclear presentations that require ongoing collaboration with neurology and other specialists for diagnosis and treatment. I also have several individual psychotherapy patients that I see weekly, and I co-lead a DBT group one afternoon per week.
My Favorite Things to Do In/Around Atlanta
I love that Atlanta is a major metropolitan area with a very reasonable cost of living. Between my partner's salary as a teacher and my salary as a resident, we are able to afford a lovely two-bedroom apartment in Decatur that is 15 minutes from Grady, 10 minutes from Emory, and 5 minutes from the VA. We love to explore new restaurants, and Atlanta has a seemingly endless number of options. I live 5 minutes from the Dekalb Farmer's Market, a local establishment that is difficult to describe without having been there, but is my go-to stop for groceries because of it's incredible (and affordable) selection of produce, spices, cheeses, fish, and baked goods.