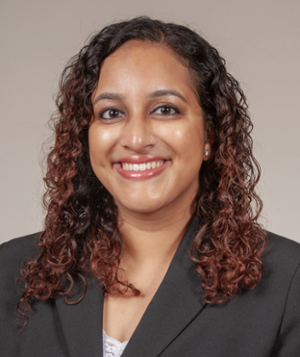 Hello there! My name is Haley Mayenkar, and I am currently a third-year resident in the Emory Psychiatry residency program. I was born and raised in St. Louis, Missouri. Given my St. Louis roots, I spent much of my childhood rooting for the St. Louis Cardinals and St. Louis Blues. An important aspect of my upbringing was staying connected to my Indian roots through which my love for Indian classical dancing developed.  As the daughter of a medical social worker, I spent much of my teenage years volunteering for the Alzheimer's Association, the American Red Cross, and one of the local hospitals. Through my interactions with healthcare at a relatively young age, my passion and interest in medicine was cultivated. I subsequently chose to attend a combined BA/MD program located in Kansas City as I was certain that the medical field was for me.
Medical School Experience
BA University of Missouri – Kansas City
MD University of Missouri – Kansas City
As I progressed through medical school, it became increasingly apparent to me how valuable and special the physician-patient relationship is. This was further highlighted during my psychiatry clerkship in my third year of medical school after which I knew definitively that I had found the field that was right for me.
I had been told multiple times from various people throughout the interview process that I would "just know" when I interviewed at the right place. It was nearing the end of January when I interviewed at Emory. I still remember, with clarity, the two days I spent in Atlanta. Everything felt right to me – the warmth of the faculty and residents at Emory, the endless opportunities offered academically & clinically, the vibrant culture of the city, and the varied clinical sites to train at (Emory University Hospital, Grady Memorial Hospital, the VA). Ultimately, for me, it was a combination of instinct and rationalization that made me choose Emory. I finally understood the feeling people had been referring to in months prior! However, I was also impressed with the diversity of training and clinical experiences offered at Emory: Diversity in clinical sites (as above), EMRs (EPIC, PowerChart, CPRS), and training (strong in both biological and psychotherapy). As I continue my journey through residency, my decision in choosing Emory continues to be reinforced.
PGY 3 marks the start of our outpatient year at Emory, as is the case with many programs. My primary clinic site is at Grady Behavioral Health Outpatient Center. Through this clinic, I have two half days of adult outpatient medication management, one half day of treatment team/didactics, and one-half day of an elective. The elective I've chosen is called PSTAR, our treatment resistant schizophrenia/Clozapine clinic. In my schedule, I also have included one full day of psychotherapy (split into two half days), one half day of psychopharmacology (medication management) at Emory Clinic, one half day of Child/Adolescent at Emory Clinic, and a full day of didactics.  
My schedule varies from day to day, but outlined below is an example of one of my clinic days:
6:20 AM: My alarm goes off and I spend about ten minutes hitting the snooze button before getting out of bed. I get ready for the day including packing my lunch and eating a semi-nutritious breakfast. I usually leave as soon as possible and pick up coffee from Starbucks en route to Emory Clinic at 12 Executive Park (where I have psychopharmacology clinic).
7:45 AM: Upon arriving, I set up in my office for the day. Visits are primarily virtual   at this time. I share my psychopharmacology clinic day and attending supervisor with two of my co-residents, although we all have our own respective clinic schedules. I generally have between 4-6 patients to seen in the morning from 8:00AM to 11:00AM. I staff all of the patients I see with my attending supervisor.
11:30AM-12:30PM: Along with my two co-residents, we meet with our supervisor during this hour to discuss clinical cases from the day and go over important concepts as it pertains to psychopharmacology. Generally, a paper or two is referenced/reviewed as it clinically applies to our cases for the day.  I usually eat lunch during this time, as well.
12:30PM-1:15PM: I travel from Emory Clinic at 12 Executive Park to Grady's Behavioral Health Outpatient Center. This is generally a twenty minute drive, but may be slightly longer given the lunch hour (I opt for the inside roads over the highway as a personal preference!)
1:30PM- 4:30PM: I have PSTAR (treatment resistant schizophrenia/Clozapine clinic) during this time.  I meet with several patients (4-5 patients), many who are on Clozapine, but many who are not. I have great interest in psychotic spectrum illnesses, and the patients we see in this clinic are seen as frequently as needed. If a patient is undergoing a Clozapine titration or initiation, it is not uncommon to see that patient weekly. Some patients who are more stable are seen monthly. Regardless, I am grateful for the continuity of care and being able to often work with the same patients and see their clinical improvement over time.
4:30PM-10:30PM: I spend some part of this time working on finishing notes/other clinical work from the day, returning calls left on my work voicemail, and responding to other messages pertaining to work. I then will either run on the stretch of the Atlanta BeltLine near my home or attend an exercise class within my area (there are many!). I subsequently will divulge in reading or watching my latest Netflix/Amazon Prime/Hulu find. I will sometimes order food from one of the numerous restaurants Atlanta has to offer (Krog Street Market and Ponce City Market, both near where I live, have so many options to choose from!) Around 10:30PM, I generally start getting ready to go to sleep.
After matching at Emory, I decided that I wanted to live in "the heart" of Atlanta. I live equidistant from the various clinical sites, although am slightly closer to Grady Memorial Hospital. Atlanta traffic can primarily be avoided with many of the inside roads I have discovered in my time here. I live in Old Fourth Ward along the BeltLine of Atlanta (a former railway that has now been converted to a miles long trail with various restaurants alongside it). The area is vibrant with plenty of restaurants/gyms/grocery stores in walking distance/close proximity.
My Favorite Things to Do In/Around Atlanta
I spend a significant amount of time outside of work with my lovely co-residents. I consider myself lucky to have met such wonderful people to spend my time off and to explore Atlanta with! My friends and I will often get together for brunches or game nights at one of our places. Before the start of the pandemic, we would spend weekends exploring new brunch places or finding new restaurants. Atlanta is very green and there are plenty of hiking opportunities as well – Sweetwater Creek State Park and Lullwater Preserve amongst my favorites. Atlanta has several hotspots for tourists as well – the aquarium, the Coca-Cola factory, and so much more.
Thoughts for Future Applicants and Incoming Residents
Congratulations! You have worked so hard to get to this point and applying for residency is an exciting, albeit sometimes stressful, time! My best advice during this time is to think about what you're looking for in a residency program and what's most important to you. Whether it's the academic/clinical rigor offered or the proximity to family or the promise of a new city to explore, think about what you most value going forward in your life. As I was putting together my rank list, I knew that Emory offered what I wanted in various ways – clinical/academic rigor, a big city, and my first adventure outside of the Midwest. Take time to think about what's important to you and as the saying goes, "follow your heart." Good luck!