Undergrad: University of California - Davis


MD: University of California School of Medicine at San Francisco

Why Emory: Wonderful faculty who are leaders in the field. Multiple training sites, including rotations at two community hospitals and at Atlanta's VAMC. Exciting city that's affordable with a ton to see.

Interests within urology: Endourology, oncology, equitable and efficient delivery of healthcare resources.

Hobbies: Playing basketball/football; cooking for the wifey and loved ones; learning about science and history.

What would you be doing if not urology: Chef.

Random fact: I can make decent Vietnamese dishes for someone who is not from Vietnam (according to my wife and in-laws, who are, in fact, Vietnamese).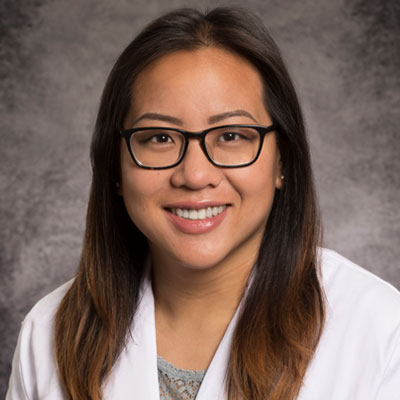 Undergrad: University of Washington


MD: University of Washington SOM

Why Emory? I chose Emory because I was not only looking for comprehensive and diverse training in urology in every aspect and subspecialty, but in patient population as well. Emory serves the huge area of Atlanta and surrounding suburbs and patients come from all walks of life. I was also impressed by the expertise of the faculty and the enthusiasm shown by both faculty and residents, and I could see it would be a community I would be excited to be a part of! Also, I wanted to live in a cool city during my training, and Atlanta certainly delivers on that!
Interests within urology: Pretty much everything. The breadth of urology is part of what drew me in. We treat an incredible array of diseases and have the opportunity to significantly affect a person's quality of life with our work! I suppose I can add "determine career direction" to my 5-year plan.

Hobbies:
– Lifting heavy things. I used to powerlift, but now am more into crossfit and working on Olympic lifts!
– Baking and cooking. My sourdough starter survived a cross-country drive and is really thriving now. You name it, I've made it or I'll definitely give it a try.
– Eating out. Happy hour and brunch will be my downfall.
– Outdoor things. The PNW-er in me will forever be in love with the Cascade and Olympic mountain ranges and snowboarding at Whistler, but I'm also looking forward to exploring what the south has to offer!

What would you be doing if not urology? I would open a bakery-cafe and bake and make coffee all day long, and finally learn how to make latte art. And I'd also fly airplanes recreationally on the side.

Random fact: Until I was 14 (way too old), I thought that clouds were only a daytime phenomenon and all night skies were clear.
Donald C. Fedrigon, III, MD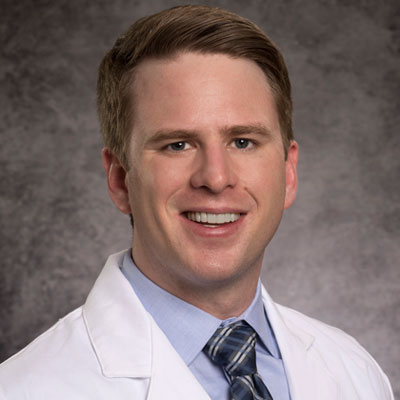 Undergrad: University of Michigan


MD: Case Western Reserve University SOM

Why Emory? Combination of great surgical training in a variety of training environments (Grady, Emory, the Atlanta VA, pediatrics) and numerous research opportunities. I thoroughly enjoyed meeting the current residents during my interview and felt like the group was one that I would fit in well with.

Interests within urology: Endourology and minimally invasive surgery, pediatrics, and reconstruction.

Hobbies: Hiking with my dog, reading science-fiction, watching Michigan football, playing tennis, scuba-diving, sailing, mountain biking, backpacking, and playing video games.

What would you be doing if not urology? In medicine: Emergency medicine, Outside medicine: Computer science.

Random fact: My wife and I adopted a second dog during quarantine!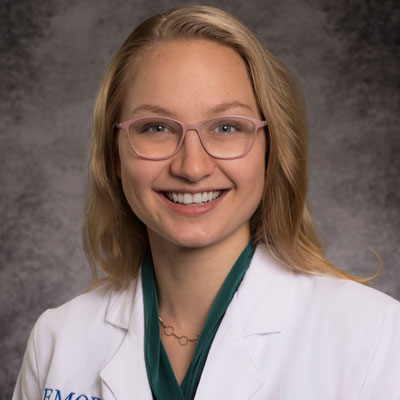 Undergrad: University of Notre Dame

MD: University of South Dakota – Sanford SOM

Why Emory? I was so impressed by the sense of community and camaraderie when I interviewed at Emory. I am undecided on whether or not to pursue a fellowship, but I know that this program will prepare me for whatever I choose to do. I'm incredibly grateful that I will be able to pursue my interests alongside such an amazing group of people.

Interests within urology: I really enjoy open surgery and oncologic cases. Outside of the OR, I have a passion for spreading awareness and providing education on sexual and reproductive health.

Hobbies: I love to garden. Coming from the frozen tundra of South Dakota, I am so excited for the huge variety of plants I am able to grow here in Georgia.

What would you be doing if not urology? If I had to pick a different specialty it would probably be general surgery. If I had to pick a different career it would be staying at home with my three boys.

Random fact: The meaning of "Nevada" is "covered in snow."