A Typical Day...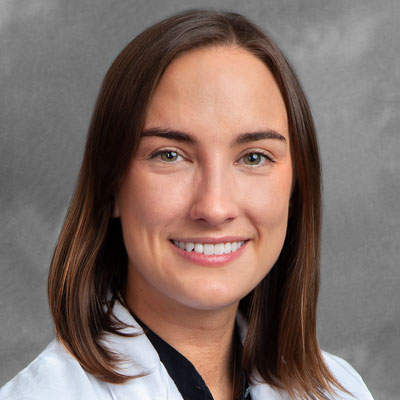 Have you ever wondered what the day-to-day life of a urology resident is like? Emory Urology resident Callan Brownfield, MD, described one of her average days as a PGY-3 so we could catch a glimpse.
As you will see, Dr. Brownfield's daily routine started around 5:00 a.m. and ended around 10:00 p.m. That's a long day, but she is passionate about her career and wouldn't have it any other way.
Dr. Brownfield is now a chief resident. Learn more about her on the "Our PGY-5s" page.
Patient demographics have been changed to protect patient privacy.
5:00 a.m.
My alarm goes off, but I snooze for nine more minutes because that's just the kind of gal I am. Begrudgingly, I drag myself out of bed and feed the pup before hopping in the shower. I take the dog for a quick lap around the block in my neighborhood, Inman Park. I'm an Atlanta native and am always amazed at how much my city has changed in the last few years! There used to be nothing here, and now it's one of the most fun little communities. I live right along the Beltline with lots of options for eating out, grabbing a drink with friends, or taking a walk.
6:00 a.m.
Time to hop in the car and drive to Grady Memorial Hospital, a seven-minute drive.
6:30 a.m.
We were not blessed with an intern this month, so it's my duty to grab numbers in the AM. We usually have a pretty light service here at Grady, 10 patients or less, so it doesn't take long. Grady is the Level 1 Trauma Center in town, so days are always exciting here. You never know quite what will come through the doors. The dynamic is in stark contrast to some of the other hospitals we work in. For example, Emory University Hospital is one of our main training sites, and it's not uncommon for us to have a much larger service full of extremely complex postoperative patients. Before I know it, my seniors trickle in and we get to rounding.
7:00 a.m.
Mercifully, everyone is doing really well this AM. There is only one discharge to prep. It's a busy Friday morning, and on Fridays I typically run the endoscopic OR with the reconstructive fellow (only fellow here outside of pediatric urology). I check in our first patient, a gentleman with a newly diagnosed five cm bladder tumor that was found on CT urogram for a gross hematuria workup and confirmed on cystoscopy in clinic two weeks ago. He's not the typical smoker and is relatively young, so I wonder why he has such a large bladder tumor. As my seniors have just finished checking their first case in (a right open simple nephrectomy), we all decide to run and get a chicken biscuit from Chick-Fil-A to treat ourselves for crushing another week at the Gradeaux (just one of our many affectionate Grady nicknames).
9:30 a.m.
The first TURBT gave us a run for our money. It ended up being just over the right ureteral orifice, so we had to resect over it and stent after taking care of the large tumor. Luckily, the fellow comes from a very different program than ours, so he is able to teach me some tricks of the trade that I haven't seen from our attendings before.

Just as I'm finishing up the paperwork for this patient to be discharged, I get a consult. This young guy is really well known to our service for urethral, bladder, and scrotal foreign bodies. Unfortunately, just as he was about to be discharged back to his mental health facility, he states that he was able to get his hands on a needle cap and lets the nurse know that he's stuck it in his urethra. He's voiding fine, but this is definitely something that I need to go check out.

As the 2 on the Grady service, it's my responsibility to take all consults and learn how to run the service. In general, Grady's urology service is resident-run and my seniors are always there to help me out. I let them know that our boy is back with another foreign body, and the 4 on service (who also happens to have become my best friend since we've spent the last nine months on service together) kindly offers to check in my next case for me.
10:00 a.m.
I run to see the patient and can indeed feel a hard, mobile foreign body at the penoscrotal junction, definitely in the urethra, and certainly too far in to be able to grab out blindly. Cysto cart to the rescue! I call down to clinic to let them know that I will be borrowing the tower for the next few minutes, and they grab me a scope to go with it.

The 4 has a few free minutes so she comes with me to be an extra set of hands. This patient is in restraints at baseline, and after calling his facility to get permission to do this procedure, we're on our way. Immediately, I am able to see and easily pull out a needle cap from his urethra. Doesn't appear to be any real urethral trauma associated with the foreign body, which is nice because I cannot imagine how difficult it would be to keep a Foley catheter in him. I replace the scope to take a look in the bladder because where there is one, there may be many… and lo and behold, there's one more piece of rolled-up plastic sitting peacefully in the bladder, which we also remove. He assures us that he won't do this again, and we say our goodbyes for now. Perfect timing: the OR is calling and informs me that my next patient is ready for a time-out.
12:00 p.m.
Ok, that was NOT the typical stone patient we see at Grady. She was a 24-year-old woman, first stone, nonobstructing at the left ureterovesicular junction. We were able to put up a rigid ureteroscope and use a basket to easily pluck it out. I love when that happens, it's so satisfying. Usually at Grady we see much more stone burden that can take serial ureteroscopy to completely clear. Also, this rotation alone we've seen two retained ureteral stents that had encrusted after being in place for over three years.

The pathology here is definitely wild, and we're really lucky to be able to learn in this environment and serve this population of patients. It's one of my favorite training sites for these reasons. I run through my paperwork and go to check in the next case, which is a massive hydrocele. Sure, there's no technical definition of a "massive" hydrocele, but you would describe this the same way if you saw it. Just as I'm finishing checking him in, I get a consult from the trauma bay… GSW to penis and scrotum.
1:00 p.m.
That physical exam was interesting. It's clear right away that he will need to go to the OR for a scrotal exploration and penile degloving. There's an obvious entry wound in the scrotum itself and the phallus is extremely swollen, though I can't identify a clear exit wound. I chat with trauma and he's otherwise cleared from their standpoint, so I post him as an emergent case in the OR and run up to help with the hydrocele. If I'm lucky, I'll make it before they isolate and drain the hydrocele sac. Luckily, this should be perfect timing to be able to do our trauma case as soon as they come up to the ORs.
4:00 p.m.
Wow, it feels like we've been going non-stop! The hydrocele ended up having about a liter of fluid in it; I got there just in time to drain it, invert the sac, and close him up. We just finished our trauma case as well. Unfortunately, during the penile degloving we identified that the GSW actually went through his scrotum, under skin, into urethra and somehow perfectly out of his meatus? I've never seen a bullet trajectory like this. Bilaterally, his testicles were healthy and unharmed. When we degloved the penis, we were able to identify the extremely distal defect and primarily repair it over a foley. What's even more awesome is that our attending was in the room supervising the case, but he didn't scrub! My senior and I got to do this one all on our own.
5:00 p.m.
I've gotten a couple calls for urinary retention and foley/medication recommendations that I've been able to help manage over the phone throughout the day. There was also a call about a noninfected small distal ureteral stone from the ER, which we all agreed to let go home on medical expulsive therapy, then return in a couple of weeks to see us in clinic with an ultrasound. I'm here finishing up paperwork for the next hour or so, and my 4 stays to help me. We have a habit of splitting the work until it's done (which I am especially thankful for this month without an intern), and walking out of the hospital together, triumphant for helping care for all of the pathology that Grady threw our way this week. We leave around 6:00pm.
7:30 p.m.
Since it's the start of the weekend AND my fiancé and I just got the cutest new Australian Shepherd puppy named Quinn, I invite a bunch of friends from the program over to meet him and grab dinner and a drink somewhere on the beltline with an outdoor patio so my little guy can join. We are probably insufferable to be around for our significant others and friends outside of residency, but there's nothing more cathartic than decompressing after a long week with your co-residents and swapping stories. Here's to the weekend of relaxation, and I can't wait to see what Monday has in store!