Emory Residents & Faculty Co-Author Comprehensive Review Book on Surgical Diseases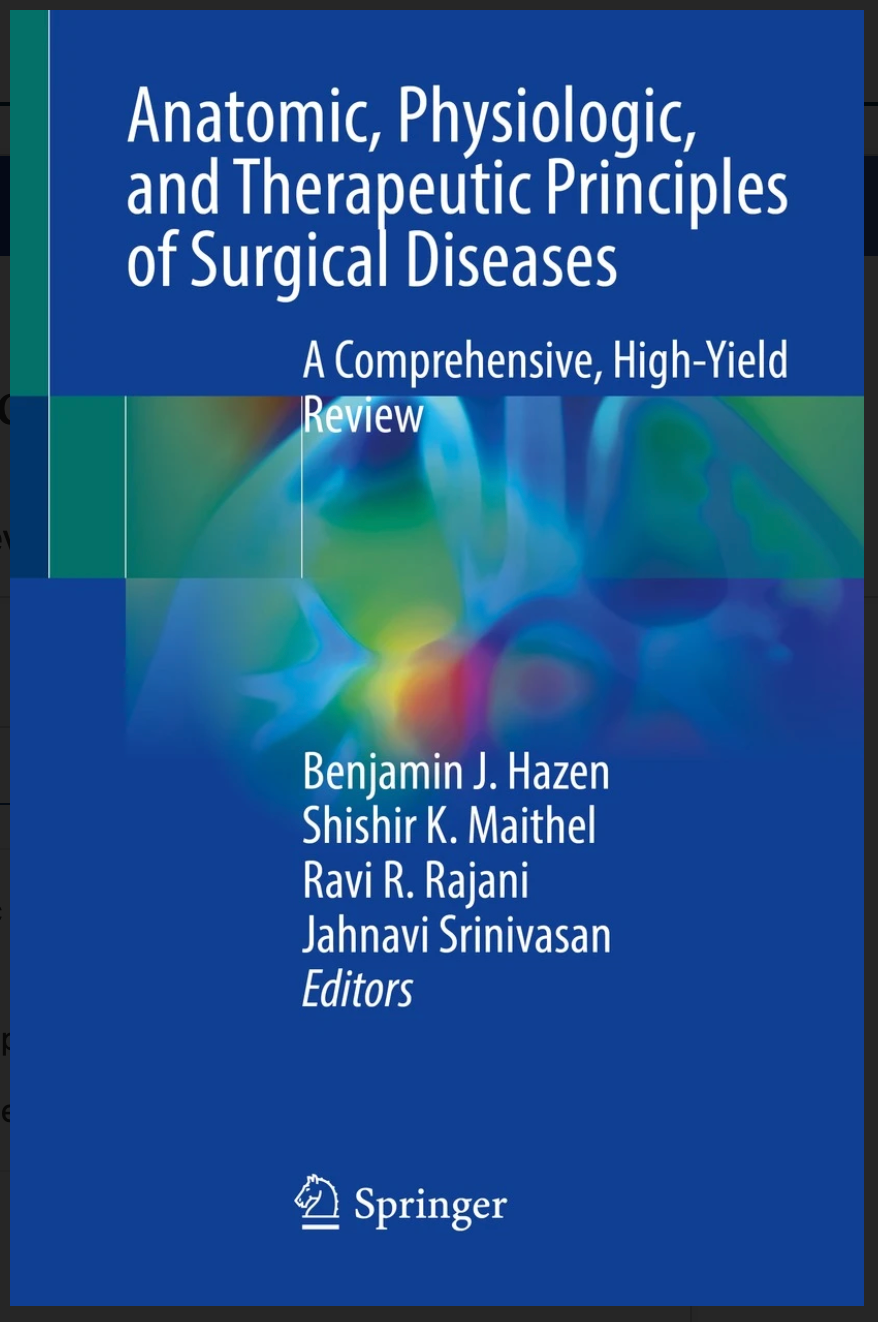 SEPTEMBER 2023
Springer has recently published Anatomic, Physiologic, and Therapeutic Principles of Surgical Diseases, a comprehensive review book co-authored by residents and faculty across six Emory departments. The book, now available in print and digital renditions, was originally conceived of by Benjamin Hazen, MD, a recent graduate of the General Surgery Residency Program. What began as an idea for a simple study guide for himself eventually grew into a publication with chapters written by Emory trainees and faculty in the Departments of Surgery, Anesthesiology, Internal Medicine, Obstetrics and Gynecology, Urology, and ENT.  
As a PGY-1, Dr. Hazen observed faculty members, such as Jahnavi Srinivasan, MD, and Shishir Maithel, MD, keeping meticulous records of injuries and steps for treatment. "They had already accumulated his knowledge and almost this algorithmic approach to surgical treatment," he said. "I looked at them and said, 'That's what I want. That's what I need in the next five years." 
The inspiration for expanding on the project and potentially publishing it came when Dr. Hazen presented the idea to Keith Delman, MD, who was the General Surgery Residency program director at the time. Dr. Delman recommended bringing in other residents and reaching out to faculty members for their support.   
Their work on this project officially began during Thanksgiving week in 2019 and took nearly three and a half years to complete. Published in July 2023, the book now contains 35 chapters, co-authored by 55 residents and 50 faculty members. As a detailed and comprehensive guide to surgical diseases, the book will serve as a helpful resource for residents and fellows.  
"I hope that this becomes a book that the Emory Department of Surgery is able to foster and grow and correct and better," said Dr. Hazen. "I hope that they carry on the tradition of doing this and doing a second edition and a third edition and make this book better than what I did."   
To learn more about the book or purchase online, visit Springer Link.