Emory welcomes Dr. Andrea Hayes Dixon for historic Claude Organ Visiting Lectureship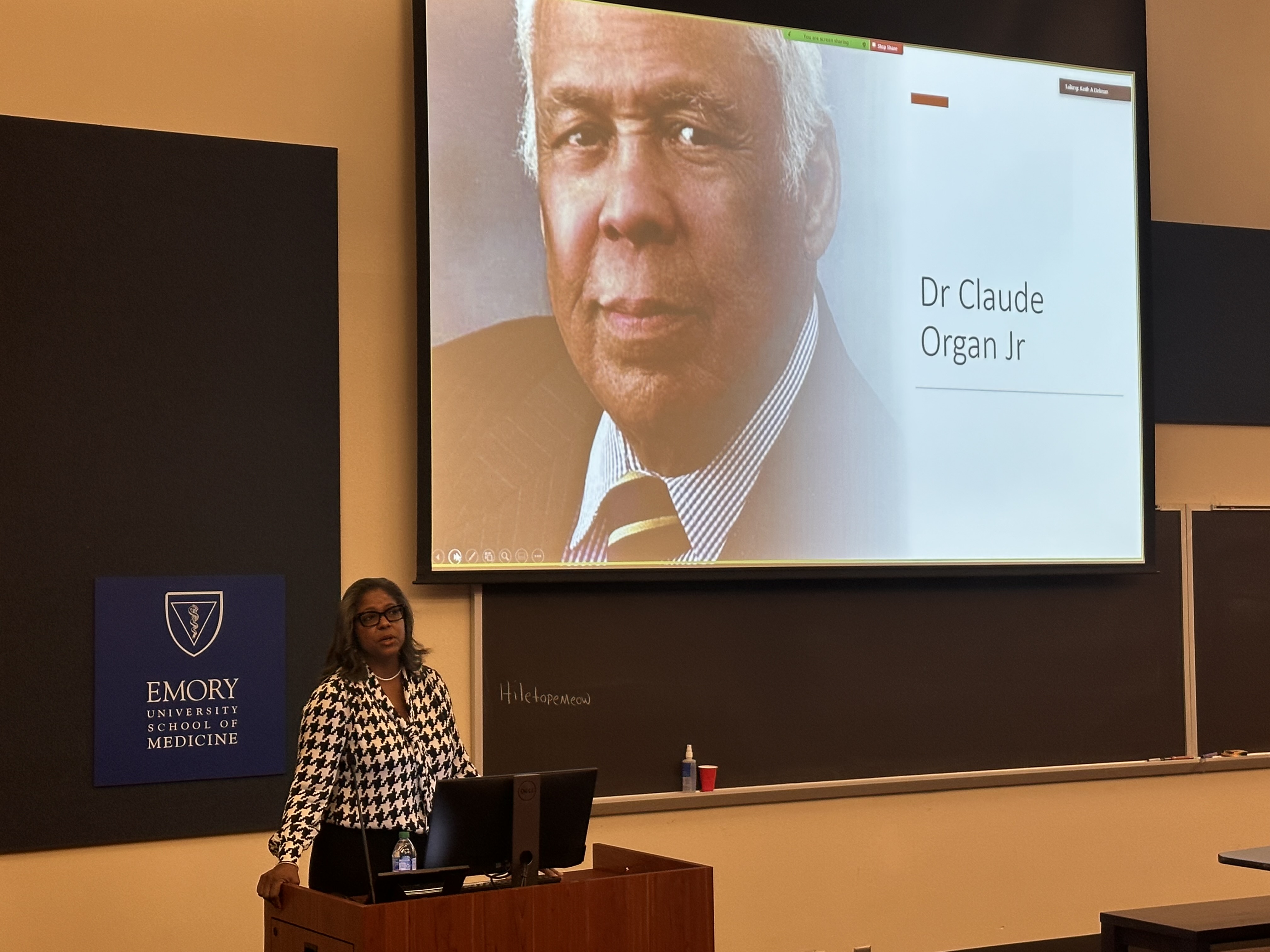 MAY 2023
Emory University School of Medicine had the distinct honor of co-hosting the Claude Organ, MD Visiting Lectureship on Friday, May 5, 2023 along with Morehouse University School of Medicine and Grady Health System. The event was held in Emory's Steiner Auditorium, with the keynote address, "Does Hyperthermic and Intraperitoneal Chemotherapy (HIPEC) in Children Really Work? The Development of a Novel Approach," delivered by Howard University College of Medicine Dean Andrea Hayes-Dixon, MD, FACS.
The Claude Organ Visiting Lectureship was inaugurated in 2013 and is sponsored by the Society of Black Academic Surgeons (SBAS) and the Southern Surgical Association (SSA) to celebrate contributions to medicine made by African Americans. It is named after Dr. Claude Organ, a founding member of the SBAS, the second African American president of the American College of Surgeons, and the first African American editor of the Archives of Surgery. Dr. Organ attended Xavier University and completed his medical degree and residency at Creighton University. He developed two surgical residency programs, one at Creighton and the other at the University of California, Davis.
The historic visit with Dr. Hayes Dixon was highly anticipated, the culmination of a professional and personal history between two highly regarded surgeons. Dr. Hayes Dixon trained under the tutelage of Dr. Organ himself during her residency at the University of California. Following her completion of the program, Dr. Hayes Dixon not only lived up to Dr. Organ's demand of excellence, but they also maintained a personal relationship, with Dr. Organ even inviting her to his daughter's wedding.
Throughout her career, Dr. Hayes Dixon has demonstrated sheer grit and determination that has resulted in historic achievements and a legacy of noteworthy research. In 2021, she was appointed chair of the Department of Surgery at Howard University. The following year, she became the first African American woman to serve as dean of Howard's College of Medicine. Currently, she is also vice president of clinical affairs and chair of surgery at Howard University Hospital.
In addition to her clinical practice, Dr. Hayes Dixon has published over 160 scientific manuscripts and dozens of book chapters. She is also the first African American female pediatric surgeon in the United States and is nationally and internationally known for her work pioneering the HIPEC operation of children.
For consideration to host the Claude Organ Lectureship, Morehouse's Patricia Ayoung-Chee, MD, MPH, FACS, submitted the application in partnership with Emory's Keith Delman, MD, FACS, two years ago and received notification of selection as host institutions in December 2022. The event coincided with Dr. Hayes Dixon's visit as keynote speaker at the Department of Surgery's 21st Annual William C. Wood Symposium, which occurred the day prior, on May 4th.