New federal agency selects Emory as first recipient of funding to drive groundbreaking health research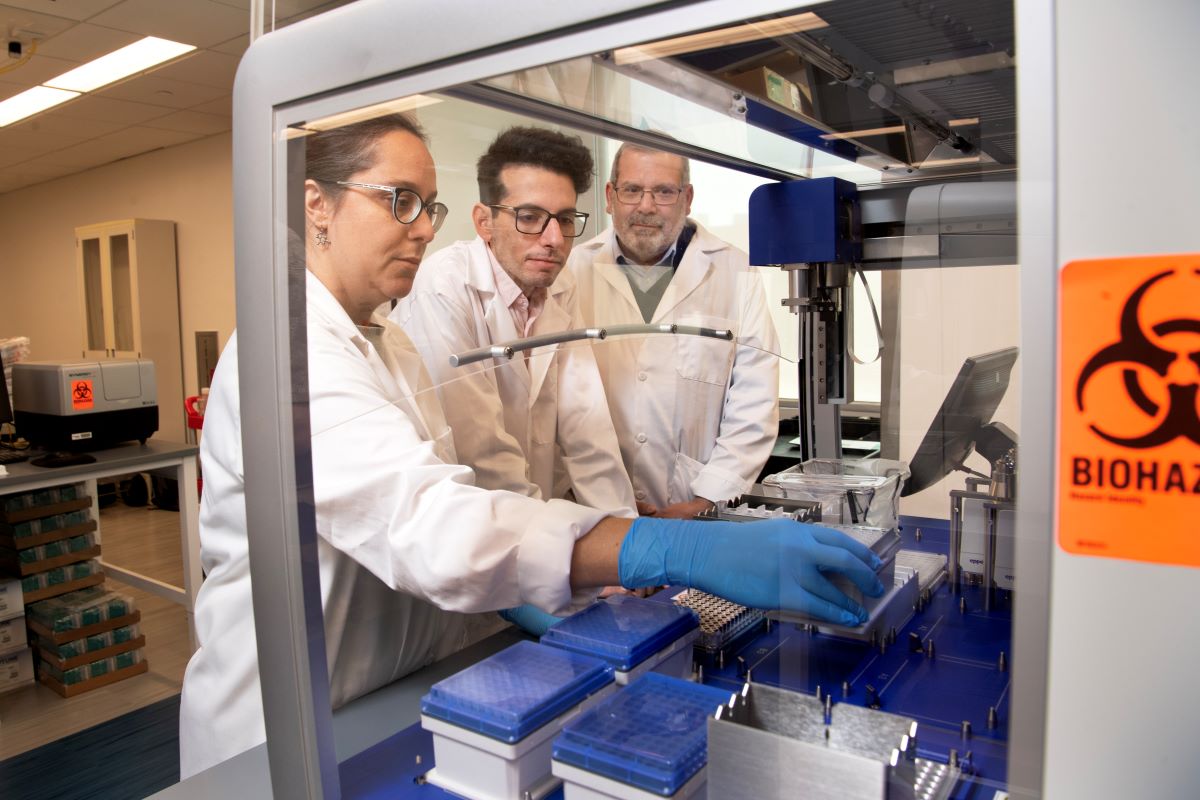 SEPTEMBER 2023
President Joe Biden announced that a new federal agency within the U.S. Department of Health and Human Services has selected Emory University as the inaugural recipient of funding to support transformative breakthroughs in health research.
The three-year, $24.8 million cooperative agreement from the Advanced Research Projects Agency for Health (ARPA-H) will drive the development of a cutting-edge programmable approach to prevent, treat, and potentially cure diseases such as cancer, autoimmune disorders, and infectious diseases. The ARPA-H funding supports the work of Philip Santangelo, PhD, a professor in the Wallace H. Coulter Department of Biomedical Engineering at Emory and Georgia Institute of Technology. 
The Santangelo Lab, which brings an outstanding track record of mRNA discovery and gene modulation research, will collaborate with other researchers from Emory University, including Department of Surgery faculty members John Lyons, MD, and Christian Larsen, MD, PhD. The lab will also collaborate with researchers from Yale University, the University of Georgia, and Transimmune AG to carry out ARPA-H's funding initiative.
"It's a tremendous honor for Emory to be the inaugural recipient of this very first ARPA-H Open BAA award, which will elevate and invigorate the visionary, life-changing health care research of our faculty," says Emory President Gregory L. Fenves.
Many incurable, debilitating diseases, including certain types of cancer, lupus and some viral and bacterial infections, are caused or exacerbated by dysregulation of the immune system, which impairs the body's ability to control the immune response and leaves a patient vulnerable to the disease. Immune modulation is a way to enhance the body's immune response. The conventional methods of immune modulation — vaccines, antibodies, small molecules and cell-based therapies — face manufacturing complexities and limitations in their ability to engage immunity. 
The Santangelo Lab will approach this challenge head-on by developing a novel class of mRNA-based drugs to precisely "turn on or turn off" genes in individual immune cells.
"By combining mRNA-encoded antigens with gene modulation technology, we will be able to radically enhance specific immune responses," says Dr. Santangelo. "This technology, which operates transiently without modifying DNA, can offer a potential breakthrough in treating cancers, autoimmune disorders and infectious diseases." 
The research plan unfolds through two parallel pathways. In the first, mRNA-based drugs will directly target immune cells within the body, triggering the expression of critical target proteins and meticulously modulating gene activity for improved immune function. The second approach employs a streamlined, fully functional cell-based therapy, combining messenger RNA-expressed antigens and gene modulators outside the body to prevent and treat diseases. These pathways, adaptable to diverse disease types, will be employed independently or in tandem to elevate vaccines and standard treatments.
"This substantial award reinforces and reflects the breadth, depth and advanced capabilities of Emory's outstanding immunology community," says Ravi Thadhani, MD, executive vice president for health affairs at Emory University.
Emory's globally ranked immunology research programs are focused on cancer, autoimmunity, infectious diseases, transplantation, allergy, asthma, neuroimmunology and cardiovascular diseases, and include renowned leaders in immunology such as Rafi Ahmed, Max Cooper, Inaki Sanz, Madhav Dhodapkar, Eun Lee, Jerry Boss, Mandy Ford, and Christian Larsen.
Established in 2022, ARPA-H is a new federal agency that supports the development of high-impact research to drive biomedical and health breakthroughs. Emory has been selected to receive its first funding award to advance high-potential biomedical and health research that cannot be readily accomplished through traditional research or commercial activity.