Resumption: EGPA's June 2022 trip to Guatemala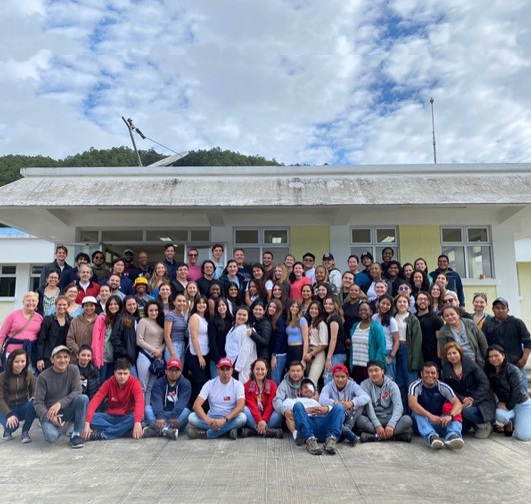 JUNE 2022
After the Emory Haiti Alliance's June 2018 trip to Hôpital Bienfaisance in Pignon, its 11th annual surgical trip to Haiti's Central Plateau, adverse events began compounding that would prevent the volunteer organization from returning to the country, beginning with political and social unrest, natural disasters, and peaking with the onslaught of COVID-19.
Landlocked but not hand-tied, the members of the Emory medical student-led, faculty-supervised organization busied themselves with establishing contacts and planning projects with various academics and professionals, NGOs, and communities in such countries as Bolivia, Guatemala, Peru, Ethiopia, Rwanda, and Puerto Rico. In 2020, the group changed its name to the Emory Global Perioperative Alliance (EGPA) to reflect its widening interests and scope, and later that summer e-published a comprehensive, interactive, and downloadable COVID-19 Community & Healthcare Facility Checklists manual for clinical programs and individuals in these regions.
As travel restrictions began relaxing in 2021, the EGPA was approached about scheduling a 2022 summer trip by Dani Farchi, an M1 in the MD/PhD program who had a strong relationship with Helps International, a Guatemala-based NGO with whom she had already planned and executed a successful medical trip to the country in 2020. That trip had included Emory providers from the Department of Pediatrics, Department of Dermatology, and the Pharmacy Program, as well as medical, nursing, and undergraduate students.
The EPGA's medical student leaders, Charles Crepy D'Orleans, Charlie Marvil, and Sophia Stylianos, all M4s, were firmly onboard. After securing the necessary approval, they worked closely with Ms. Farchi and Helps International's Marcy de Paz Chaw, MD, on finalizing the myriad details of the EGPA's first international trip in four years. With funding provided by donations, the team journeyed to Santa Lucia Utatlan, Guatemala, a region with severely limited medical care, to set up and work out of a small hospital on the campus of the Universidad Rural from June 1-13.
For the trip, the EGPA's student leaders were joined by M4s Danielle Mustin and Jack Novack and M3s Surabhi Beriwal, Henry Biermann, Ambika Menon, Korede Omole, Lizzie Rieger, and Savanah Rumbika. The Emory physician team members were David Elwood, MD, Stephanie Busby, MD, Barbara Pettitt, MD, Steven Roser, DMD, MD, and general surgery chief resident Benjamin Hazen, MD, of the Department of Surgery; Stacia Crochet, MD, Susan Davis, MD, and graduating chief Joey Bahng, MD, of the Department of Gynecology and Obstetrics; and Soroosh Behshad, MD, MPH, Carolina Adams, MD, Farah Gulaid, OD, and PGY-2 Jared Raabe, MD, of the Department of Ophthalmology.
On site, the EGPA worked alongside Dr. de Paz Chaw; Guatemalan providers Dr. Alejandro Pais (psychiatry) and Drs. Dany Mogollon and Ana Gabriela Menéndez (pediatrics); and twenty M1, M2, and M3 students from Universidad Rafael Landívar, who served as translators and assisted in all aspects of patient care.
The team was rounded out by an indispensable support group of OR staff, nurses, and PAs from Emory University and Grady Memorial hospitals, who kept everything running smoothly in the hospital's three operating rooms, minor procedure room, sterilization room, preoperative area, recovery room, 20-bed postoperative ward, two pharmacies, and 12 clinic rooms.
During the course of the trip, clinical and operative care was provided to 740 patients. After EGPA's departure, Dr. Paz Chaw began facilitating continuity of care for the patients, connecting them to appropriate follow-up or subspecialty providers in Guatemala.