Brendan Lovasik to lead ACGME-funded Back to Bedside project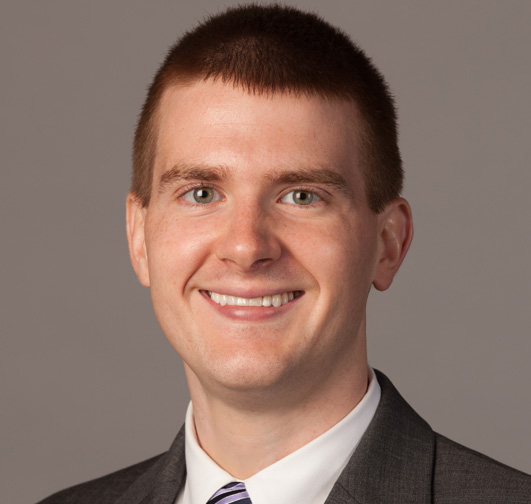 JULY 2022
The Accreditation Council for Graduate Medical Education (ACGME) has awarded general surgery chief administrative resident Brendan Lovasik, MD, Back to Bedside funding for its 2022-2024 cycle to lead a project entitled "Meet Your Surgical Team (MYST): Building the Trainee-Patient Relationship through Improved Recognition of the Resident."
Approximately 30 resident and fellow members of the ACGME Review Committees and Board developed the Back to Bedside initiative in 2017 to support projects dedicated to combating physician and trainee burnout by fostering deeper engagement with what is at the heart of medicine: patients and their care. To be selected for funding, these projects must aim to increase significant connections with patients, promote behaviors that advance physicians' and patients' mental outlooks, and include direct patient interaction and outcome measures.
Dr. Lovasik's mentors for this project will be Jahnavi Srinivasan, MD, program director of the general surgery residency, and Sharon Muret-Wagstaff, PhD, founding director of high fidelity simulation for the Carlos and Davis Center for Surgical Anatomy and Technique. He will also collaborate closely with Colleen Kraft, MD, associate chief medical officer for Emory University Hospital, as well as representatives from ACGME national headquarters in Chicago.
The project aims to create multifaceted patient-oriented informational materials that will describe resident responsibilities and their unique contributions to the care of surgical patients, as well as help patients to identify the residents that are important members of their care teams. Dr. Lovasik foresees the project having positive effects on patients, trainees, and the Emory Healthcare system.
"I believe that patients will benefit from gaining a deeper connection with the residents caring for them and a greater sense of individualized care," he says. "Further, trainees will recognize the value of the care they provide and experience satisfying patient relationships and greater meaning in their work."