"The collaboration between residents and clinicians fosters a higher level of interest, learning and clinical intervention." - Devra Brown, Manager, OP Rehab Services at Emory Healthcare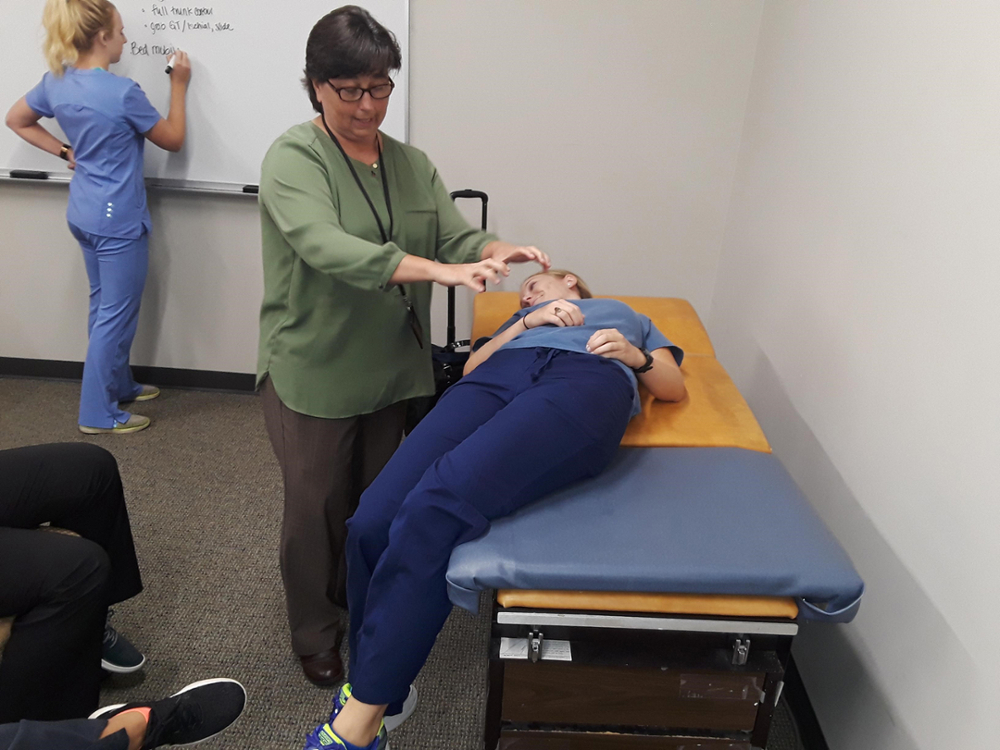 The Neurologic Physical Therapy Residency Program at Emory University has been developed to provide clinicians interested in pursuing specialty practice in neurologic physical therapy a concentrated, structured experience including clinical, didactic, service, research and teaching components. The program is designed to prepare residents to sit for the national board examination (American Board of Physical Therapy Specialties) required to become certified Neurologic Clinical Specialists.
The Neurologic Physical Therapy Residency Program at Emory University is rich in depth and breadth of experiences for each participant. Every component of the program is enhanced by collaborating with outstanding clinicians, professors, and researchers within and outside of Emory University. Program highlights include:
International medical service
Our residents participate in an international medical service trip providing an intensive stroke camp in collaboration with FORU and Arcadia University. FOR U was created for the purposes of encouraging the healing process through involvement in spiritual, social, educational, and health-related services in rural Jamaica, creating awareness of the needs of the under-served in rural Jamaica, and providing opportunity for involvement in improving the quality of life for the under-served in rural Jamaica.
Teaching experience and mentorship
Our residents have the opportunity to teach in one of the top ranked Doctor of Physical Therapy Programs in the country. Residents receive mentoring from primary course instructors as well as providing mentorship to entry level students in lecture and lab environments.
Research
Each resident is partnered with a primary investigator working on a project that aligns with his or her clinical research interests. Emory Department of Rehabilitation Medicine supports an impressive variety of nationally and internationally known researchers, and partners with other universities and programs such as Georgia Institute of Technology and Rollins School of Public Health to conduct ground breaking research in medical, health and rehabilitation sciences.
Vestibular credentialing
In addition to completing a clinical rotation in vestibular rehabilitation, our residents are provided the opportunity to complete Vestibular Rehabilitation: A Competency-Based Course, one of the highest quality and most sought after vestibular courses for physical therapists.
Specialized clinical care across the spectrum
Emory Healthcare, our primary clinical partner, is an integrated academic health system committed to upholding our core principles of excellence, caring, and integrity providing outstanding quality care in some of the highest ranked healthcare facilities in the world. Residents will complete a series of rotations within Emory Healthcare clinics and hospitals providing patient care across the continuum including: acute care/neuro ICU, inpatient rehabilitation, outpatient rehabilitation, vestibular rehabilitation and movement disorders.
Practice in a variety of clinical settings spanning the continuum of care in neurologic rehabilitation.
Participate in teaching entry-level students in Emory University's DPT program, specifically the Adult Neurorehabilitation Course.
Complete didactic coursework in collaboration with the

 

Neurologic Physical Therapy Professional Education Consortium
Collaborate with interdisciplinary clinical partners to participate in specialty observations such as movement disorders clinic, neurosurgery, seating clinic, ALS clinic, etc.
Participate in international medical service program, Jamaica
Participate in a neurologically focused research project selected based on individual resident's research interests.
100% graduation rate
100% passing rate for Neurologic Clinical Specialist Examination
All applications must be submitted through RF-PTCAS
Application requirements:
3 letters of recommendation
1 personal essay
Academic transcripts
Employment history
Additional requirements:
Graduate of a CAPTE accredited doctor of physical therapy program
Georgia Physical Therapy license
Career statement
Current curriculum vitae or resume
Current CPR certification
APTA membership strongly encouraged
Please visit the American Board of Physical Therapy Education Residency and Fellowship website for additional information regarding application deadline and content submission.
Laura Zajac-Cox, PT, DPT, NCS
Residency Program Director
Tami Phillips, PT, EdD, DPT, MBA, NCSPT
Residency Program Coordinator
Marie A. Johanson, PT, PhD

Contact Us
Division of Physical Therapy
1462 Clifton Rd N.E. Suite 312
Atlanta GA 30322
Phone: 404.712.5660
Residents will experience specialty clinical care in a variety of sites across the continuum of care. The clinical sites are selected specifically for their clinical excellence, collaborative and experienced staff and the ability to provide residents exposure to diagnoses included in the APTA Description of Specialty Practice, Neurology. Resident will participate in four 3-month rotations over the course of the residency program
We are continuing to explore and expand partnerships for clinical sites in the Atlanta area. Our current partners include:
The Emory Clinic

Dizziness and Balance Center
Academic and Research Partners
Residents are encouraged to pursue research experiences based on his or her individual interests. We are fortunate to have research opportunities in collaboration with:
The didactic portion of our program is provided in collaboration with: