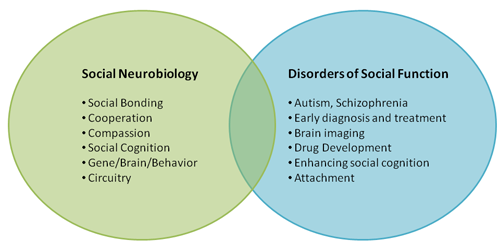 The Center for Translational Social Neuroscience (CTSN) facilitates research in basic and translational social neuroscience and genetics with the goal of making discoveries that will impact strategies for treating psychiatric disorders characterized by deficits in the social domain, including but not limited to Autism Spectrum Disorders and Schizophrenia. 
Research within the center is conducted in animal models, including mice, voles, rhesus macaques and chimpanzees, as well as human subjects.  Areas of focus include the neuropeptidergic regulation of social cognition in animals and humans, sociogenomics and transcriptomics, synaptic transmission, neuroimaging, and social psychology.
The Center partners with the Pediatrics Autism Center, Marcus Autism Center and the Emory Autism Center to ensure intellectual transfer and to facilitate the translation of scientific discoveries to clinical applications.  Center activities strengthen the community of basic scientists and clinicians with an interest in social behavior and disorders of social deficits.  The Center also has a goal of training the next generation of translational researchers.  Pilot funding grants seed new projects that will lead to external funding.  The ultimate goal is to gain a better understanding of the social brain, and to develop new treatments for disorders of social impairments.