Residents and fellows of the Emory Department of Urology benefit from exposure to the vast and diverse patient populations distributed among the following clinical sites. Our clinical programs are presided over by eminent faculty, propelled by progressive treatment technologies, and are often high volume referral services ranked in the upper tiers of their particular specialties.
Emory University Hospital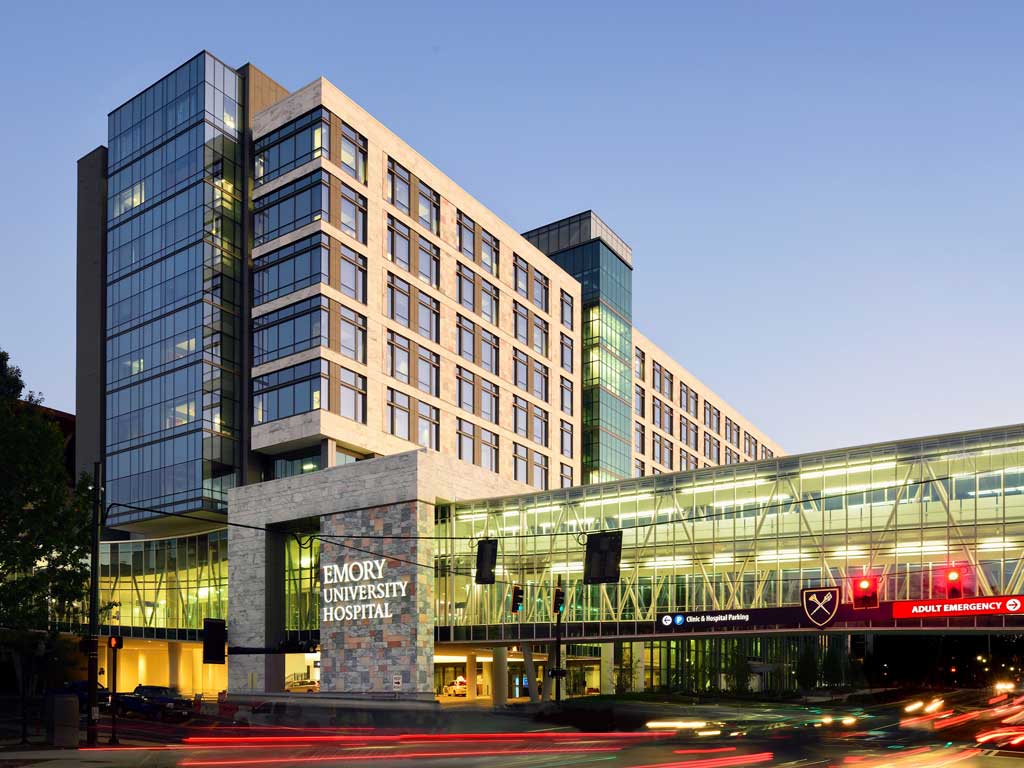 Located on the campus of Emory University, Emory University Hospital (EUH) is an adult, tertiary/quaternary care facility that is staffed exclusively by Emory School of Medicine faculty physicians. Long known for services in transplantation, cardiology, cardiac surgery, oncology, neurology/neurosurgery, and orthopaedics, EUH includes a Serious Communicable Diseases Unit where ongoing research, training, and preparedness for challenging infectious diseases continues since the first Ebola patients in the U.S. were treated there in 2014.
EUH is a "Magnet" hospital, a designation earned by only 6% of U.S. hospitals for nursing excellence from the American Nurses Credentialing Center. EUH has one of the highest case-mix indexes (a measure of complexity of illness treated) of any hospital in the country.
Emory Saint Joseph's Hospital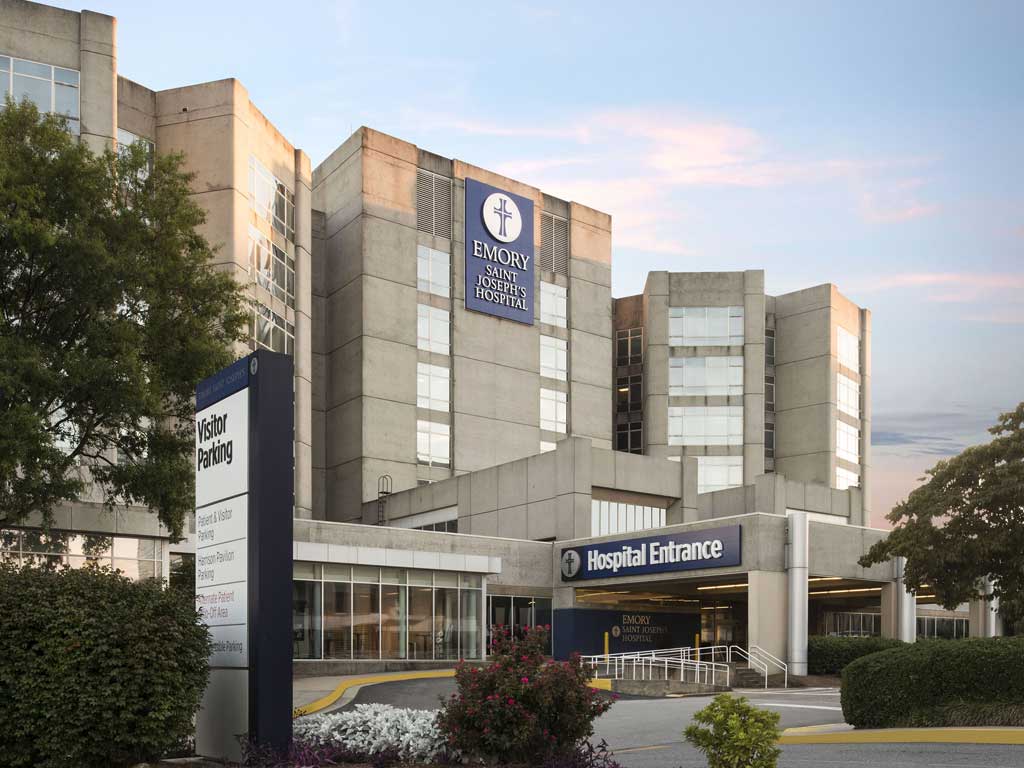 An acute care facility in the north metro area, Emory Saint Josephs Hospital (ESJH) is staffed by Emory medical faculty physicians, private practice physicians, Kaiser Permanente physicians, and Emory Specialty Associate physicians. The hospital is noted for cardiac, cancer, neurologic, vascular, gastrointestinal, respiratory, and orthopaedic care. ESJH is also a "Magnet" hospital.
ESJH was the first hospital in Georgia to acquire daVinci robots. Robotic urology procedures routinely performed at the hospital include prostatectomy, partial nephrectomy, pyeloplasty, ureteral reimplantation, nephrouretectomy, robot-assisted laparoscopic retroperitoneal lymph node dissection, and retroperitoneal mass excisions.
The prostate cancer program of Winship Cancer Institute is also located at ESJH, and offers such treatments as robotic surgery, low does rate (LDR) and high dose rate (HDR) brachytherapy, external beam therapy, and chemotherapy infusion.
Emory University Hospital Midtown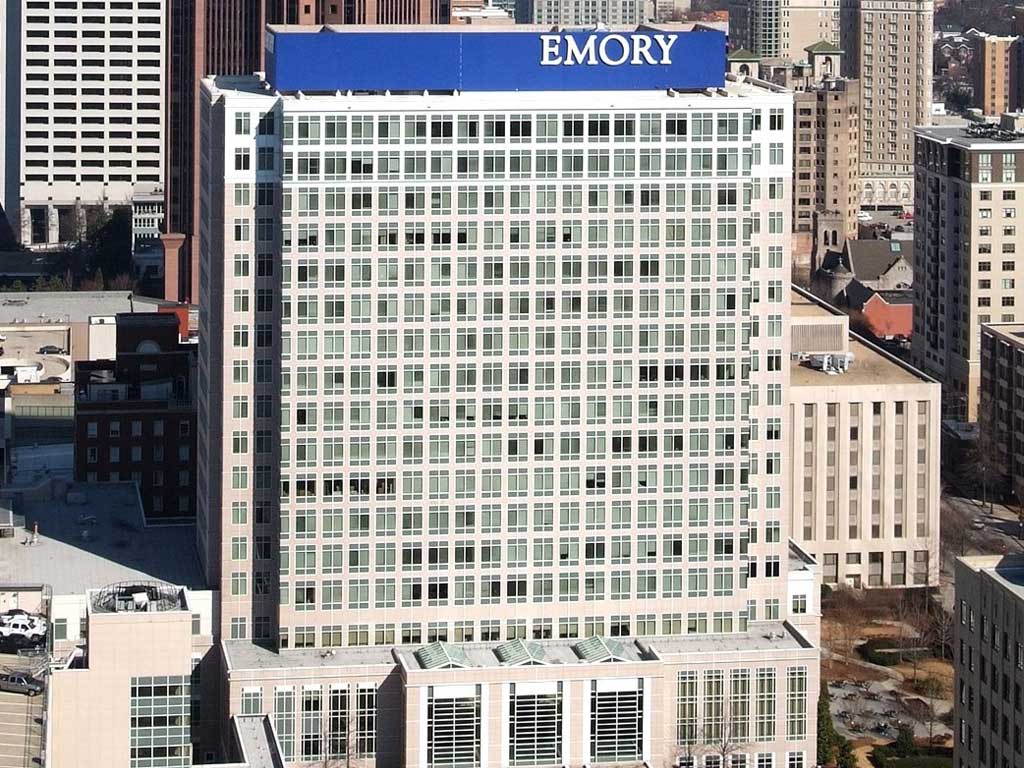 A community-based, tertiary, acute care teaching facility located in the heart of midtown Atlanta, Emory University Hospital Midtown (EUHM) is staffed by Emory medical faculty, private practice physicians, and Kaiser Permanente physicians.
EUH Midtown has a high case-mix index and is well known for services in cardiology, cardiac surgery, gastroenterology, neurosurgery, cancer, orthopaedics, and emergency medicine. Women's services include prenatal and postnatal education, bone density testing, mammography, and obstetrics, with specialization in high-risk pregnancy.
In July 2021, a new three month rotation for the PGY-4 class was added to EUH Midtown. The rotation focuses on surgical training in general urology, advanced endoscopic procedures, robotics, and includes time spent at the Emory Reproductive Center learning the newest treatments for infertility.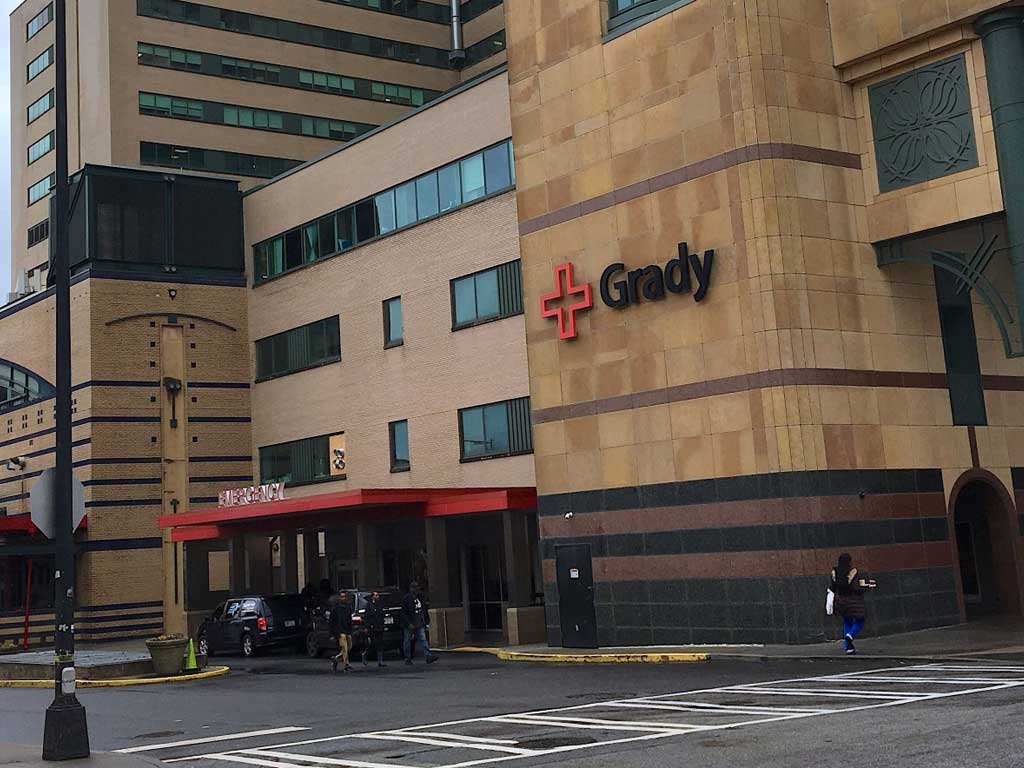 Part of Grady Health System and among the largest public hospitals in the Southeast, Grady Memorial Hospital is staffed by over 700 Emory medical faculty, who supervise over 350 Emory residents and fellows. Together, these Emory physicians provide about 80% of care at Grady, with the other 20% provided by Morehouse School of Medicine and Grady-employed physicians.
The hospital has a regional perinatal center for high-risk mothers and babies, a neonatal intensive care unit, a diabetes center, a teen center, the Georgia Poison Center, a rape crisis center, a regional American Burn Association-accredited burn center, a sickle cell center, a comprehensive treatment program for HIV/AIDS, a premier Level I trauma center and surgical intensive care unit, a stroke and neuroiscience center, and the Georgia Cancer Center for Excellence.
Emory Urology residents often serve as primary physicians for inpatients and outpatients at Grady, using diagnostic and therapeutic protocols established by the department, and work in consultation and with supervision by members of the faculty. Open and laparoscopic surgery, endoscopic and percutaneous surgery, radical pelvic surgery, trauma surgery, and urethral reconstruction are often performed. Residents have much autonomy at Grady, learn to manage resources creatively, and deal with broad social issues that affect the surgery patient.
Atlanta VA Heathcare System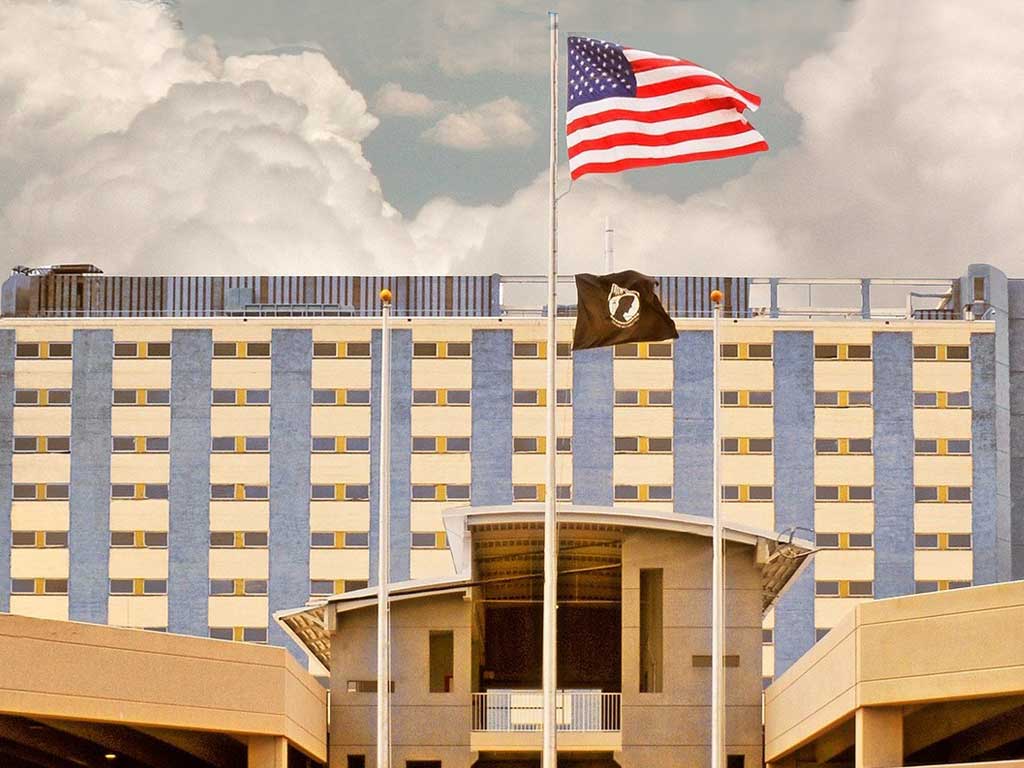 The Atlanta VA Heathcare System is located only minutes from Emory University Hospital. The hospital is a category 1A, Joint Commission-designated tertiary care facility that provides an array of comprehensive medical, surgical, and geriatric specialty services, as well as state-of-the-art diagnostic testing. Emory physicians provide the majority of patient care at the Atlanta VA.
The urology resident experience at the Atlanta VA encompasses endoscopic and open OR cases, inpatient and ER consults, outpatient consults, return patient evaluations, urodynamics evaluations, working in the SICU, and instruction in the various aspects of conducting research. The urology section at the hospital has state-of-the-art digital Integrated Endourology Suites (IES), which allow for remote monitoring and supervision of residents. Having access to this advanced technology enhances resident training in complex endourological procedures without compromising patient safety and outcomes.
Children's Healthcare of Atlanta at Egleston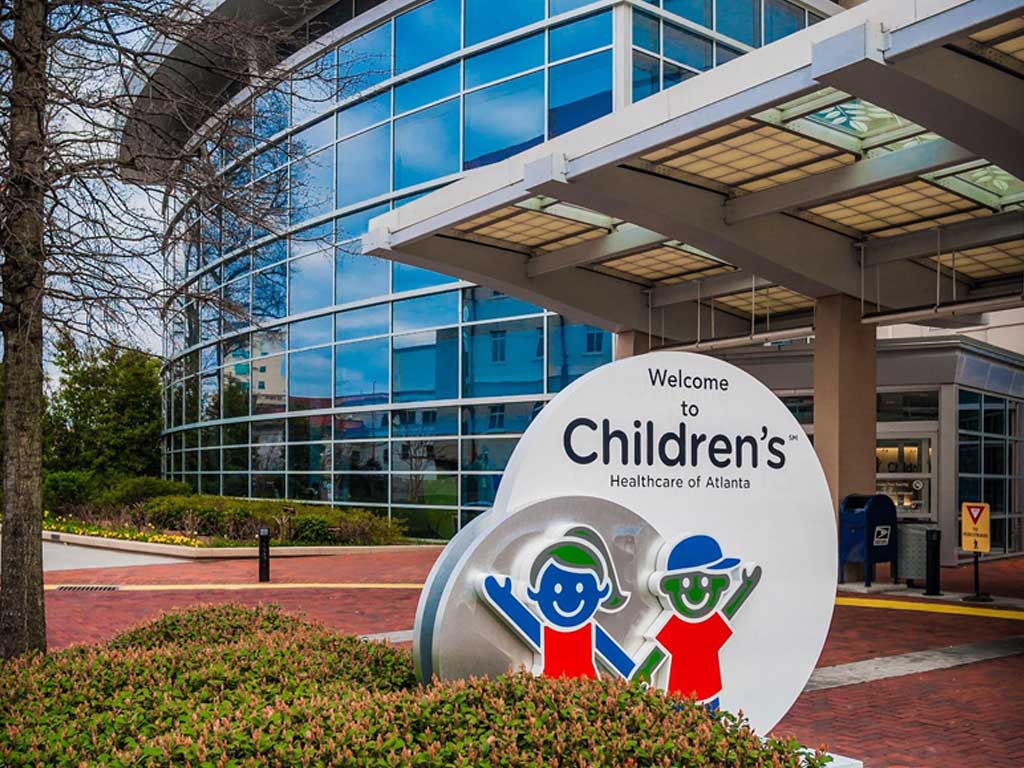 Children's Healthcare of Atlanta services more than half a million patients annually and operates three hospitals in metro-Atlanta. Emory urology residents do pediatric urology rotations at two of Children's campuses: Children's at Egleston and Children's at Scottish Rite.
Children's at Egleston is located on the Emory campus, and is the largest and most comprehensive pediatric hospital in Georgia. The hospital is staffed by Emory faculty physicians, with Emory clinicians providing 95% of care.
Children's at Scottish rite is located in North Atlanta. All Emory pediatric physician faculty have admitting privileges there.