September 2022
Viraj Master, MD, PhD, professor in the Department of Urology, and Deborah Watkins Bruner, RN, PhD, professor in the Department of Radiation Oncology, are co-authors on a joint practice guideline from the Society for Integrative Oncology and the American Society of Clinical Oncology. The guidelines, released September 19, include recommendations for providers on how to use integrative medicine approaches to safely and effectively treat common cancer symptoms and side effects.
July 2022
This year, 463 Emory doctors appeared in the list, which is more than any other health system in metro Atlanta. The annual listing included five faculty of the Emory Department of Urology. Professional Research Services (PRS) compiled the list after conducting an online peer-reviewed survey of all licensed physicians in Atlanta.
May 2022
Dr. Martin Sanda and the Department of Urology hosted faculty, alumni, residents, and friends at the Annual Alumni Dinner held during the American Urological Association's 2022 Annual Meeting in New Orleans, LA. The dinner was on Saturday, May 14th, from 5:30 p.m. – 7:30 p.m. at Lula Restaurant Distillery. Nostalgia, current news, and looking ahead wove throughout the evening's conversations, and a wonderful time was had by all. AUA2022 featured a wide range of content that is now available to be viewed on-demand, including Instructional Courses, Live From AUA2022 Highlights, and Satellite Symposia.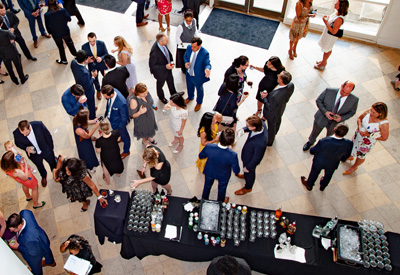 March 2022
In recognition of Doctor's Day 2022, the Emory School of Medicine Recognitions Committee sent out a call for nominations for doctors across the School of Medicine who are exceptionally dedicated to serving others. Among the featured faculty selected by the committee from over 184 peer and colleague nominations were Emory Urology faculty members Cara Cimmino, MD, Jessica Hammett, MD, Shreyas Joshi, MD, MPH, Charles Lorentz, MD, Vikram Narayan, MD, Kenneth Ogan, MD, Martin Sanda, MD, and Elizabeth Traoré, MD.
March 2022
Akanksha Mehta, MD, MS, is the senior author of "Access to Care for Infertile Men: Referral Patterns of Fertility Clinics in the United States," published in Urology. In a video posted on Urology Times she discusses the background and notable findings from the study, stating such observations as: "The proportion of clinics that employ an onsite urologist, where the urologist is integrated into the flow of that clinic, is relatively small."
January 2021
The John H. Kauffman Prostate Cancer Fundraiser, hosted annually by the Dunwoody Country Club's Champions Golf Association, raised $400,000 at their 2021 event. The community tournament, started in 2010, has raised more than $2 million in support of prostate cancer research at Winship Cancer Institute. Martin Sanda, MD, chair of Emory Urology, says, "Proceeds from their annual tournament, and gifts from other supporters, have enabled us, in part, to recruit new prostate cancer scientists to Emory Urology and Winship Cancer Institute, research new tests for prostate cancer screening and detection, and open a multidisciplinary prostate cancer clinic at Emory Saint Joseph's Hospital."
December 2021
Emory University's Woodruff Health Sciences Center (WHSC) has established the WHSC Office of Well-Being, which will be a central resource and the first of its kind for the entire Woodruff Health Sciences Center, which includes Emory Healthcare. The focus will be to lead the design, direction and implementation of well-being programs that address the current environmental stressors among clinicians, health professionals, faculty and staff in clinical, research and academic health sciences areas. Chad Ritenour, MD, will be co-chief of the office, serving with Tim Cunningham, RN, DrPH.
October 2021
The week of October 18, 2021, was Faculty Recognitions Week in the Emory School of Medicine. Among the honorees were Martin Sanda, MD, and Lindey Hartsell, MD. Dr. Sanda was inducted into the Millipub Club, and Dr. Hartsell was acknowledged as a Hidden Gem.