The Emory ALS Clinic provides care to ALS patients and their families, focusing on independence and quality of life through state-of-the-art intervention.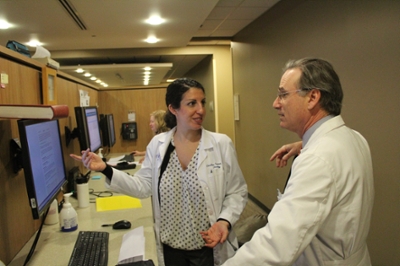 Our multidisciplinary clinic brings together a team of health care professionals specially trained to address the needs of people living with ALS. In a single visit, patients will see experts in physical therapy, respiratory therapy, speech/language therapy, nursing and social services. They work closely with our physicians to address and manage the issues that stem from ALS.
Emory ALS Clinic
1365 Clifton Rd., Suite 2200 (Neurosciences)
Atlanta, GA 30322
For scheduling, please call 404-778-3444.  For new patients, medical records must be faxed to 404-778-3495 before an appointment can be scheduled.
The best way to communicate with us is by using the MyChart messaging system.
You can enroll in MyChart HERE.
Please ensure that you are checking your MyChart messages regularly, meaning daily or at least weekly, to see if you have any messages from our team. You can also download the MyChart-Epic Systems Corporation app on your tablet or smartphone to check messages.
Parking for multidisciplinary clinic can be found in the Lower West Parking Deck - there is also Valet Parking located there. 
View general directions and maps. 
Executive Park - Emory Brain Health Center Appointments
Only the multidisciplinary clinic (Friday) is located on the Emory University Hospital campus. Other appointments will be at:
Emory Brain Health Center
12 Executive Park Dr. NE
Atlanta, GA 30329
Parking is free; there is also a valet option.