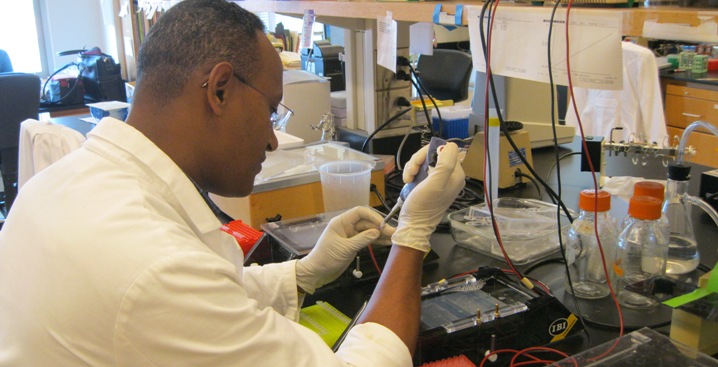 The Emory ALS Center is actively engaged in research ranging from basic questions about the causes of ALS to clinical trials of new drugs in people with ALS.  Please read below to learn more about our research program and projects.  We need your help and participation in the fight against ALS.
In our laboratories: Dr. Glass' laboratory in the Center for Neurodegenerative Disease is working on the basic mechanisms of motor neuron disease as well as potential new treatments for ALS.  Your contributions, whether monetary or participation in one of our studies, are essential for our continued productivity.  Thank you!
Dr. Glass is working on several projects and has been actively collaborating with other ALS investigators around the world on issues of ALS genetics, immunology, neuropathology, and animal and cellular models of ALS.  There are several ongoing and planned clinical trials outlined below.  Dr. Glass also continues his work on discovering "biomarkers" of ALS, which requires the participation of PALS and CALS.  We are collecting blood and spinal fluid samples from patients for our research.  Family members and non-related adults are also important participants in our studies, since we need to compare our results between those with and without ALS. Publications by Dr. Glass. 
Dr. Christina Fournier is well into a 5-year research grant from the Veterans Administration. Her project is to develop a new questionnaire to measure the progression of ALS. The first phase of the project is complete and the ROADS questionnaire has been validated for use. You can read the publication in JAMA Neurol.2019 Dec30. [Epub ahead of print] Many thanks to all the patients who helped by completing the questionnaire and then completing it again from home. We will now be using the ROADS along with the ALSFRSr in our clinics to help us get a clear picture on how our patients are doing. The research continues so that we can see if it is accurate when done by a caregiver or over the phone with the patient. The hope is that Dr. Fournier's new scale will be more sensitive to functional changes in PALS, making it useful both for clinical care and for research trials. Additional opportunities to participate in this important research may be available at your clinic visit. Please consider participating in this important effort. Publications by Dr. Fournier.
We at the Emory ALS Center understand the dire need for effective treatments for ALS.  The problems we face in developing new therapies for ALS will only be solved by rigorous scientific investigation, which takes team efforts of clinicians and scientists around the world, adequate research funding, and of course time.  Most importantly, we need to partner with you, our patients and your families to study and better understand YOUR disease!  Your participation in research is essential!

NEALS Educational Webinars: In partnership with The ALS Association, NEALS offers live webinars for people with ALS, caregivers and the broader ALS community. Topics include updates on clinical trials, best practices for clinical care, and current research efforts in ALS causes and treatments. Our webinars also offer participants the opportunity to ask questions directly of the experts running clinical trials and conducting research activities.
Click here for a listing of webinars for people with ALS and caregivers.